Never Tell Our Business To Strangers | With Ruth Wilson
Resume
"Never tell our business to strangers." That's what Jennifer Mascia was told growing up. But it wasn't until she was an adult that she learned the reason why.
Jennifer's essay is read by Ruth Wilson. Ruth has starred in "The Affair" and "Luther." You can see her now in "His Dark Materials" on HBO.
Where Are They Now?
Jennifer Mascia says that her love for her father has always run deep.
"My father and I were extremely close. He would be the one to drive me to school because he had to go clean carpets in the morning, and we would make up silly songs on the way. He would tell me stories about his crazy adventures as a kid in Coney Island, leaving out a lot," she says.
"He was really the guiding force in my younger life, which is why when the FBI and the police came for him when I was five, it was devastating. It was like a light went out."
After her Modern Love essay was published in 2007, Jennifer decided to keep investigating her father. She eventually wrote a book about what she discovered.
"In a way it's like there are two John Mascias," she says. "There's the father that I grew up with, and then there's the father I've come to know through all of my investigating. And in a way I'm glad that they never fused together, because it's extremely difficult knowing that someone you love, who gave you life, was responsible for ending lives — something that I couldn't even imagine in a self-defense scenario."
"It's hard to recognize being related to a murderer, and somebody who, I found out even after I published the book, was more of a murderer than I thought."
That's something Jennifer learned several years ago, when she went to brunch with the son of one of her father's former accomplices.
"He said, 'You know, some people who were in that life with your father were kind of disappointed at your portrayal of him,'" Jennifer says.
"I said, 'You mean because I did the one thing you're not supposed to do — I talked about the things he did?' And he said 'No, it's because you didn't portray him as brutally as he was in real life.' And I said, 'What do you mean?'"
"As I was sitting there eating my brunch, he told me that my father was rather brazen. He was responsible for a number of broad daylight hits. That was a soul-rattling day."
"Everyone wants to quantify these horrific experiences, and I said, 'How many people did my father kill?' And he said, 'Judging by my father's body count, and your father's body count, probably in the dozens.'"
Jennifer never talked to her father about his criminal past. But she's imagined conversations with him about it.
"My mom told me that my father came to believe that every life was precious, and that he had nightmares over what he did. I don't know if that's true. And that's the part I would want to discuss with him."
Jennifer is 42 now. Her parents died more than a decade ago. But she says theirs was the defining relationship of her life.
"I haven't been married, and I don't have children of my own," she says. "So that was my family. That was the family I got. And I still see myself as one of a unit of three. I live a very, very different life than they did though. I'm responsible. I pay my taxes. Nothing's off the books. But maybe because, when people start to lose their parents, they typically have their own families already. Because I don't, my identity is still very much wrapped up with theirs.
Today, Jennifer is a journalist writing about gun violence. She started on that beat when she worked alongside columnist Joe Nocera on a project that recorded daily incidents of gun violence in America.
"About six months into the project, he comes out and he says, 'It's interesting. Your father perpetrated gun violence — so do you feel like you're kind of making up for what he did?'"
"I sat there with my jaw on the floor. Because as journalists, we are taught to always look outward. I had not even put it together that this field, this beat, could be a way to try to atone for what my father did. My father put gun violence out into the world quite a bit, and by covering it — maybe, just maybe, it could contribute to a possible solution, whatever that solution is."
Voices In This Episode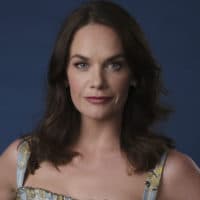 Two-time Olivier Award-winner, Golden Globe winner, and Tony Award nominated actress Ruth Wilson can currently be seen in HIS DARK MATERIALS opposite James McAvoy. The drama is a television adaptation of the trilogy written by Phillip Pullman. Most recently, she was seen starring in the BBC miniseries MRS. WILSON, which she also executive produced. It tells the story of Alison Wilson, who upon the death of her husband is visited by a woman claiming to have also been married to him.

Wilson was last seen making her Shakespeare debut in the Broadway production of KING LEAR starring Glenda Jackson and directed by Sam Gold. This summer, Ruth reprised her role as Alice in Series 5 of LUTHER alongside Idris Elba. Wilson was previously seen in the fourth season of Showtime's Golden Globe winning original series, THE AFFAIR, for which she won a Golden Globe for Best Actress in a Drama Series.

In 2015, Wilson was nominated for a Tony Award for her Broadway debut as Marianne in the critically acclaimed CONSTELLATIONS, starring alongside Jake Gyllenhaal and directed by Michael Longhurst. She also returned to the National Theatre to star in the title role of HEDDA GABLER, garnering her another Olivier Award nomination for Best Actress.

In 2013, Wilson starred in Disney's film SAVING MR. BANKS, opposite Colin Farrell, Tom Hanks and Emma Thompson. In 2012, Wilson starred in Joe Wright's adaptation of Tolstoy's ANNA KARENINA. Other film credits include Netflix's I AM THE PRETTY THING THAT LIVES IN THE HOUSE, DARK RIVER, Focus Features' THE LITTLE STRANGER, A24's HOW TO TALK TO GIRLS AT PARTIES; Disney's THE LONE RANGER, and the short film ELEANOR.

In 2006, Wilson starred in the title role in her breakout performance in the BBC miniseries, JANE EYRE, receiving a BAFTA nomination for "Best Actress," along with a Golden Globe nomination for "Best Actress – Miniseries or Television Film."

Wilson studied history at the University of Nottingham, graduating in 2003. She later graduated from the London Academy of Music and Dramatic Art. She currently resides in London.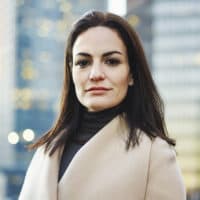 Jennifer Mascia is an engagement writer and founding staffer at The Trace, the nation's only news outlet covering gun violence and policy 24/7, which launched in 2015. She previously reported on gun violence for the Opinion desk of The New York Times, where she was an editorial assistant to Op-ed columnist Joe Nocera. Prior to that she was an editorial assistant on the Times's Metro desk, and spent two years as the lead writer for the annual Neediest Cases series, which profiled New Yorkers in need. She is a graduate of Columbia University's Graduate School of Journalism and CUNY Hunter College. In 2010, she authored a memoir about her father's violent past, Never Tell Our Business to Strangers.