State Trooper Killed In Mass Pike Crash Laid To Rest In His Hometown
03:52
Play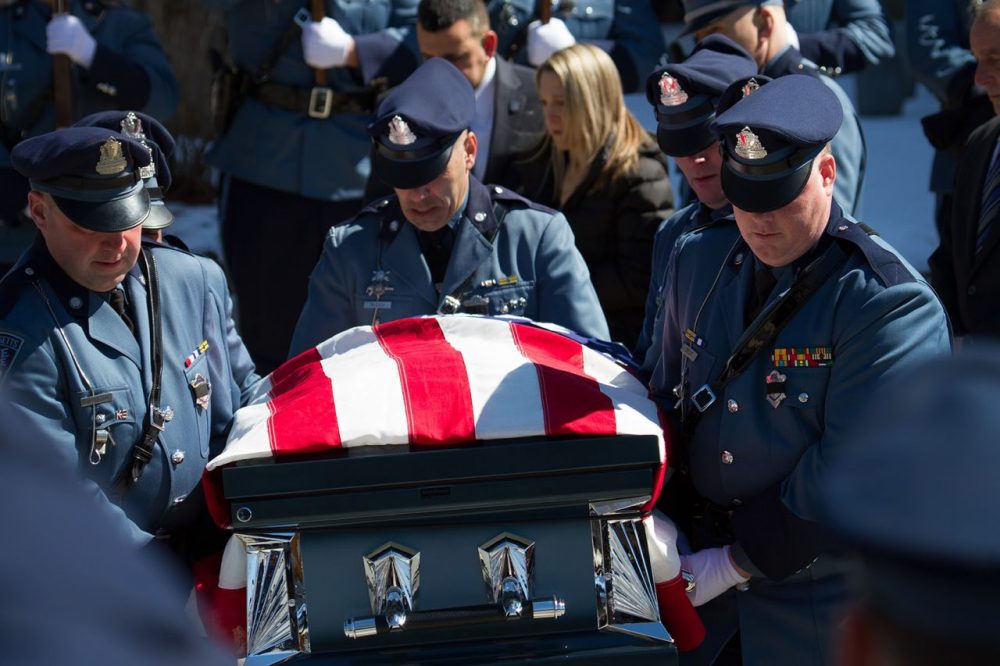 This article is more than 5 years old.
Friends, family and colleagues are remembering State Trooper Thomas Clardy, who was buried in his hometown of Hudson after an emotional funeral Tuesday.
Among those who spoke at Clardy's service was Trooper Jamie Magarian, a friend and fellow trooper. Magarian used his farewell message to lament the lack of appreciation for police officers in the United States.
"We police in a day when support for what we do and who we are is unmatched in a lack of support by those we serve," he said. "These special occasions, under the worst circumstances, remind us of humanity lost and gain appreciation for all of those who still care."
Clardy was killed during a routine traffic stop last week when a car swerved across the Mass Pike and slammed into his cruiser. The 30-year-old driver of that car remains hospitalized and faces charges of negligent operation of a motor vehicle and failing to stay in his lane.
Magarian was among those who rendered tribute.
"Police officers today have become that homeless person on the street, the invisible soul that's there but no one cares about. Recognize this," Magarian said.
Magarian illustrated Clardy's wit and love of writing by reading from one of his police reports. As Clardy once approached a vehicle he had stopped, he described being overcome by a strong smell.
"Which was so powerful and nauseating that it caused me to turn my head in physical discomfort," Magarian read Clardy's words. "I tried to have a conversation with the operator, but had difficulty communicating with him. The repugnant aroma of alcohol had thrown him into lethargy."
Another friend, Clardy's former sergeant, Al Toney, read notes from the 44-year-old Clardy's seven children.
"Daddy, I love you. Didn't care — I love the fact that you didn't care what other people thought. I loved how funny you were. I loved all the stories and jokes. I love you, Dad," Toney said, reading a letter from Clardy's daughter Emma.
"Daddy, I remember even though you were running late to work, you always had time to say goodbye, and you always had time to play a game and we always had time to play a game with you. I love you Daddy. Love, Eva."
And Trooper Magarian ended his tribute with a call to Clardy's cruiser.
"Thomas O. Clardy, ID 3090. Who's at 265 Echo? God bless. May you rest in peace," he said, choking back tears. "I love you and you should be here."
This segment aired on March 23, 2016.