The SJC Battle Over Whether Attleboro's La Salette Shrine Owes Property Taxes
08:03
Play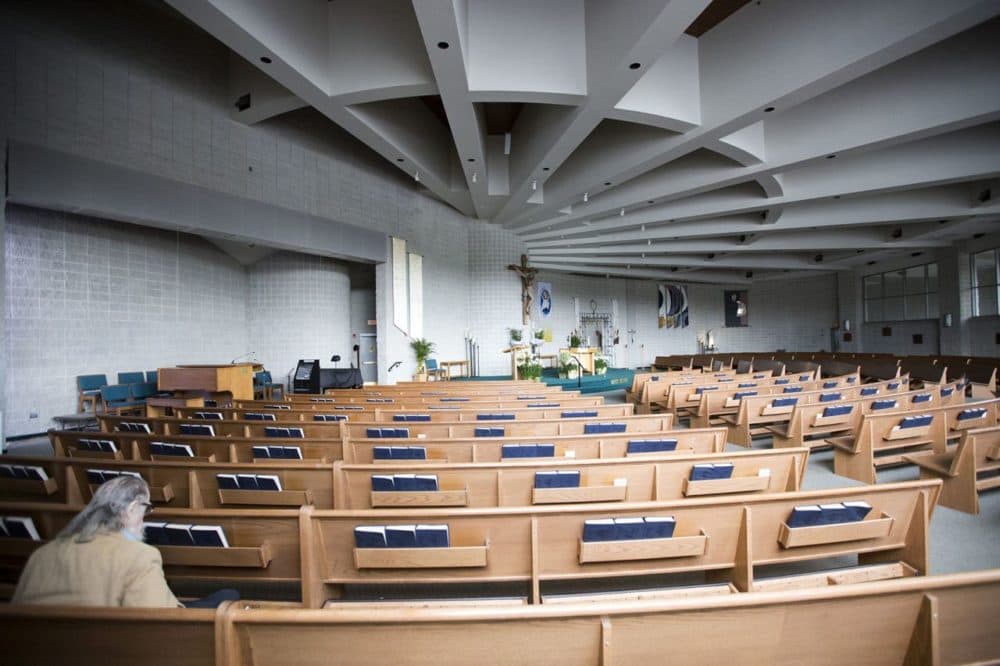 This article is more than 5 years old.
Perhaps best known for its huge display of Christmas lights, the Roman Catholic Shrine of Our Lady of La Salette in Attleboro is waiting to find out if it owes property taxes.
Since its founding in 1953, the shrine has been recognized by the city as a house of religious worship, exempt from property taxes.
That all changed three years ago.
Debating Properties' 'Religious Purposes'
Since colonial days, religious property in Massachusetts has been exempt from taxation.
Today, houses of worship and their parsonages are exempt as long as they are used for religious worship or instruction.
But how do you decide what buildings and lands are for religious worship or instruction?
In oral arguments before the Supreme Judicial Court last week, attorney Diane Tillotson, who represents the shrine, argued it is up to the religious institution to decide what parts of its property fulfill a religious function.
"Are there no limits that it has to be left to the religion to decide?" asked Justice Barbara Lenk. "I mean, for example, suppose there were a profit-making book publishing company, only portions of which seemed to be on spiritually related subjects."
"I think the inquiry, your honor, has to be: Is the property's dominant use for religious purposes?" Tillotson replied. "And if the answer to that question is yes, then the question becomes: Are these other activities, whether they're charitable or the running of a bookstore, are they — is there an appropriate nexus?"
Attleboro assessors decided that some parts of the shrine did not have a religious purpose.
The shrine's campus covers 200 acres.
After the financial crisis of 2008, Attleboro, like many cities and towns, saw property tax revenue dwindle. So the assessors decided that much of the shrine should be taxed.
In 2013, they valued the entire campus at $12.8 million. They decided that $4.9 million of that was not tax-exempt.
Included in the real estate that was taxed were a maintenance shed, the storage buildings for the Christmas decorations, a house occupied by another nonprofit and part of the welcome center, which contains a cafeteria, gift shop, a display of creches, a coffee shop and conference rooms.
Also taxed: 110 acres of wooded natural sanctuary used by priests and others who participate in retreats for meditation walks.
In The Woods
The La Salette Brothers dug a pond in the woods where people would draw water during Holy Week, get it blessed and take it home. The shrine had a "Way of the Cross" in the woods during Holy Week in 2013. And the shrine held an ecospirituality retreat in the woods to promote respect for creation and nature.
"Well, if there was no worship taking place, definitely there was instruction taking place as part of their experience with God in this place, and that's the reason why we put this place under conservation restriction, because we want to promote ecospirituality and reconciliation with creation," said Father Cyriac Mattathilanickal, whose voice sounded exasperated as he walked through the woods.
In the Supreme Judicial Court, Chief Justice Ralph Gants asked attorney Tillotson if the shrine bought more woods, whether they would be exempt under the Massachusetts law known as Clause Eleventh.
"If it were used for those religious worship purposes," Tillotson replied.
"Well, you say religious worship purposes, but every time one goes in the woods, one can say it's meditative," Gants posited. "You do have gardens and other areas which are described as prayer gardens, but this is a wildlife sanctuary. These are woods. What makes these woods different from all other woods?"
"It is connected with a church, and it is connected with an organized religion, which is the other requirement under Clause Eleventh, that an organized religion be using this property, a recognized religion," Tillotson said.
Neither the Attleboro Board of Assessors nor the mayor's office responded to requests for interviews.
'A House Of Worship Needs To Be A Building?'
Justice Barbara Lenk asked Michael Siddall, representing the board of assessors, why the woods were taxed.
"And a meditative walk for retreatants, and so forth, you would say that is or is not part of religious worship?" Lenk asked.
"It may be part of religious worship, and I contend that religious worship can happen anywhere," Siddall conceded.
"But you say that that portion of the land should always have been taxed?" Lenk asked.
"Yes, because it's not a house of worship, Siddall replied.
"It's not a house of worship?" Lenk pressed. "A house of worship has to be a building?"
"I do believe it does," Siddall replied.
Gants asked Siddall why the woods were taxed, but not the gardens.
"There are internal gardens around the chapel used for outdoor prayer," Gants said. "Those exempt?"
"My understanding is those are exempt," Siddall replied.
"So it need not be a building," Gants pressed. "You can have an outdoor cupola. You can have some outdoor area, an outdoor garden which is used for prayer, that can be viewed as a sanctuary, even though it's not a building."
"Again, we maintain that a house of worship is a building that is defined," Siddall insisted. "They used the discretion that I think they're entitled to to make an apportionment, and that apportionment turned into a 60-40 split between what was exempt and non-exempt."
The case is on appeal to the Supreme Judicial Court from the state's Appellate Tax Board.
Gants pointed out to Siddall that the city's assessors did not tax the shrine's parking lots.
"You agree that the parking lot was exempt," Gants pressed.
"The assessors did exempt about 60 percent of the property, because they found it to be accessory," Siddall replied. "You need a parking lot to accommodate the people who are going to go to church."
"So to the extent that it is an accessory, or incidental to the house of worship, it's within the scope," Gants pressed. "Why is the welcome center, where people come in and see a movie before they commence examining the grounds, not incidental to the act of worship?"
"Because the assessor's guided by the statute, and then when it went to the ATB, the ATB found that the welcome center was used for a variety of different uses, not always connected with religious worship or instruction," Siddall replied.
The case is being watched closely by religious institutions across Massachusetts.
"The idea that secular tax officials would come in and parse what is religious and what is not for religious institutions, we've grave concerns about the entanglement of government bodies acting to decide how a religion should practice," said the Rev. Laura Everett, executive director of the Massachusetts Council of Churches, to reporters in the hall of the Supreme Judicial Court.
"My immediate reactions is to caution that tax exclusions are normally interpreted very narrowly," said James Repetti, a Boston College professor who teaches tax law. But Repetti said there's another consideration too.
"The courts have been reluctant to challenge a church's characterization of what constitutes worship," he said.
Three of the justices are retiring this summer, so a decision is likely by then.
This segment aired on April 11, 2016.