Bridgewater 'Civility Forum' Seeks To Nurture A Community Of Respect
03:52
Play
This article is more than 5 years old.
One of the byproducts of the current presidential cycle has been an increase in confrontational and heated speech between supporters of various candidates, as well as between people with differing political and cultural views. A group that's recently formed in the town of Bridgewater seeks to stem the uptick in hate speech on the local level.
About 30 people, mostly older and all white, gathered in the activity room of the Bridgewater Senior Center as organizer Ray Ajemian welcomed them to the event, described as a forum to nurture a community of respect and understanding of cultural and religious differences.
"Prejudice, bigotry are always with us. How do we get rid of it?" asked Ajemian. "We obviously aren't always going to get rid of it, but the point is, we have to at least be aware of it and understand that bigotry is out there and we have to try and deal with it."
"We obviously aren't always going to get rid of it, but the point is, we have to at least be aware of it and understand that bigotry is out there and we have to try and deal with it."

Ray Ajemian
Ajemian and other residents formed the Bridgewater Citizens for Civility and Respect, after Mary Jane McCool witnessed what she called "hate speech" directed at a Muslim couple at the town's post office.
"I was rendered speechless," McCool told those gathered. "And so I posted on Facebook that night that I just wanted to be able to find the couple who had been offended in this instance. The purpose of my posting about the incident was totally apolitical, totally for the purposes of finding that couple and offering them some level of apology or comfort or something."
McCool never found the couple. Then she and some other residents began planning this forum aimed at answering questions their neighbors may have about those who are different, especially Muslims.
One of the guest speakers for the evening was Ghada Masri, a senior at Bridgewater State University and the president of the school's Muslim Students Association. It's a small group, with about 10 of BSU's 11,085 students making up the membership. Masri, who is from Saudi Arabia, made herself available to answer questions and demystify her faith for those unfamiliar with it. The first question is one she is asked often: Why does she cover her head with a scarf known as a hijab?
"The hijab is basically an act of devotion," Masri said. "As a Muslim woman, I believe I need to cover because it makes me closer to God, to my religion. And it also keeps reminding me of my identity, and how I have to be true to it. It also privatizes my sexuality, which is the main point of it. Unfortunately a lot of feminists think that it's against feminism, when it's not."
Organizers wished more people came out for the forum, but those who did come out said meetings like this are very important.
"But it's more important that from here, we get to contact other people that were not here tonight," said Ray Mack, of West Bridgewater. "How do we do that? Principally, through going to each other's churches, by going to each other's schools. We have to get to know the other."
Organizer Ajemian said he was pleased with the night's effort.
He's considering holding a session for town employees, and may expand beyond Bridgewater to work with groups from other communities to hold similar sessions around the region.
This segment aired on April 21, 2016.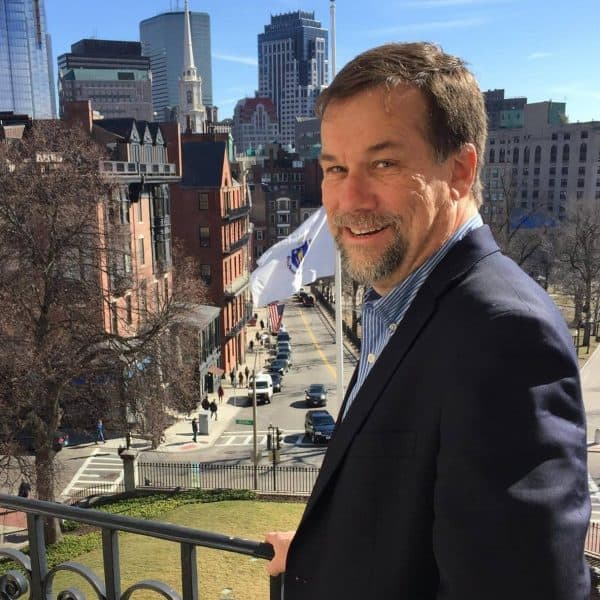 Steve Brown Senior Reporter/Anchor
Steve Brown is a veteran broadcast journalist who serves as WBUR's senior State House reporter.