Mass. Education Officials Review How Teachers Are Certified
05:38
Play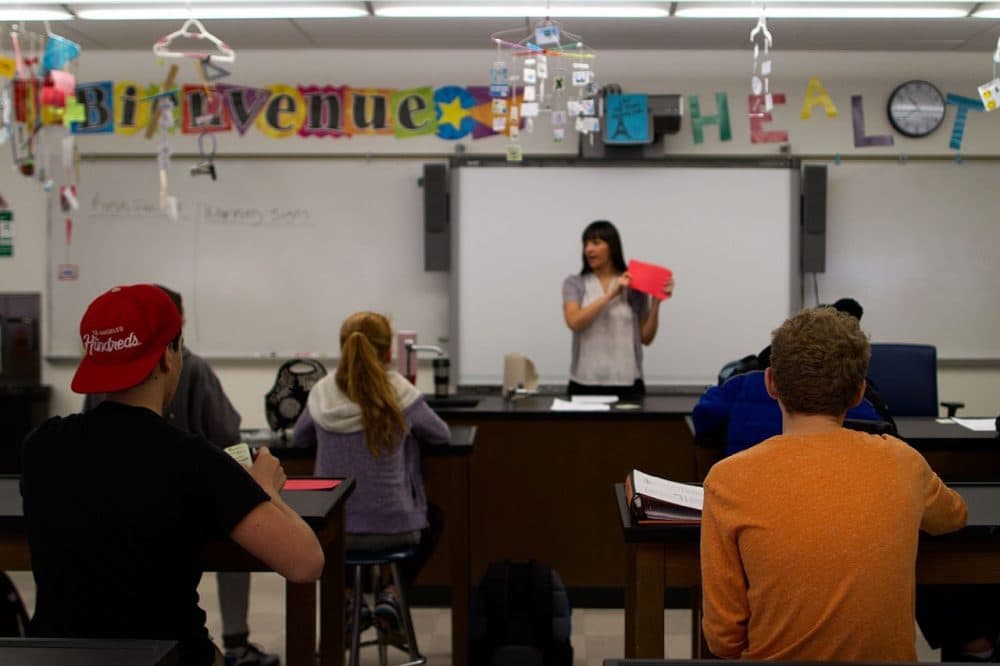 This article is more than 4 years old.
Massachusetts Secretary of Education Jim Peyser was recently the guest speaker at a public forum in Lexington. During the Q&A, someone asked him about teacher certification.
"I don't really understand teacher certification as a necessary requirement for teachers to be in the field," he replied.
Peyser, who was appointed by Gov. Charlie Baker, said he's probably a little "radical" on this point. But his comment is also timely.
Right now, the state Department of Elementary and Secondary Education is reviewing how it certifies teachers. The goal: to simplify the process. So which elements to keep and which to drop? It depends who you ask.
At that forum, Peyser added: "Teacher certification is a requirement that all teachers must have, and it's more of a bureaucratic exercise than one that actually, I think, has any connection -- at least from a research point of view, any connection — to teaching quality or student outcomes."
The research is, in fact, quite mixed on this. We wanted to hear more from Peyser and requested an interview.
His office instead sent an email. "Secretary Peyser believes that teacher certification should be streamlined, not eliminated," it said.
Massachusetts, like other states, has numerous levels of certification, starting with, if needed, "temporary" licenses for a limited time. Some requirements for licensure can be met while teaching. Every teacher in the state must have a bachelor's degree and pass the Massachusetts Tests for Educator Licensure (MTEL) in their subject matter. After five years of experience, unless an extension is granted, teachers must seek "professional" licensure, and that requires a master's degree.
While the advanced degree is a requirement for most Massachusetts teachers, it's not required for teachers in charter schools, though many charter school teachers do have them.
Peyser, who wants to see more charter schools in the state, says certification shouldn't be that complicated.
"In the charter sector, they're required to take assessments ... that every other teacher is required to take, but they're not required to do the coursework," he told the Lexington forum. "They're not required to have the other degrees or go through other hoops that other teachers have."
Barbara Madeloni, the newly reelected head of the Massachusetts Teachers Association, said Peyser has it "completely backwards."
"The level of disrespect for the profession [his statement] reveals, from our secretary of education, is actually kind of breathtaking," she said.
A staunch critic of charter schools, Madeloni says if she's not mistaken, she hears Peyser saying keep the MTEL standardized test for incoming teachers and get rid of the deep learning she says educators need.
We asked Madeloni and others the same question asked of those at the state department of education who, in the next few weeks, are reviewing certification requirements: "If you could change one thing about the existing regulation and licensure, what would you change?"
"As a teacher educator myself," Madeloni replied, "I know the kind of work that it takes, the kinds of questions that people need to be taught to ask themselves, what it means to even craft a question to be an excellent educator. That takes time and learning and thoughtfulness, and can't be tested. So the MTEL doesn't let us know us know if somebody has that, and [it] can't be rushed."
Teaching requires an understanding of human development, psychology, the social context of teaching and learning and, Madeloni said, it requires a knowledge of self, in relation to all of that. This is what prospective teachers get when they take education courses, she added.
But that's not what state Rep. Alice Peisch says she hears from teachers time and time again.
"The teacher preparation programs do not adequately prepare them to teach when they walk in the door," she said in an interview.
Peisch, a Wellesley Democrat and House chair of Massachusetts' Joint Committee on Education, says new teachers must demonstrate they can handle a classroom, no matter what kind of school.
"I would like to resist the temptation to compare charter and district schools as though all charters do this, and all district schools do that," Peisch said.
Phil Rogers, executive director of the National Association of State Directors of Teacher Education and Certification, is watching a similar debate unfold across the country. He says as Massachusetts puts its teacher certification on a diet, others will be watching. He says all state governments have an add-on mentality when it comes to regulations.
"Now, I think, they're trying to bring some of those features of high quality alternative certification programs into the regular certification programs," Rogers said.
He responded similarly to others when asked about refining teacher certification. Candidates should demonstrate they know how to teach, he says, not just what to teach.
"[Teachers need to] understand basic elementary dimensions of educational psychology. You understand the things that happen in the transaction between a teacher and a student," Rogers said. The student-teacher relationship is "incredibly complicated," he said. "And when you just say, 'Oh, we just want someone who has a degree in math,' you may get an excellent teacher. But it's really, literally, a roll of the dice."
That's not a whole lot different from what Rachel Romano sees when she hires teachers at Veritas Prep Charter School in Springfield. She is now the executive director of the fifth through eighth grade school.
More than 10 years ago, Romano was a state-certified teacher who taught in a Springfield middle school. What would she change about teacher certification? A lot, she says, starting with giving license reciprocity to highly experienced teachers from other states.
"It is incredibly difficult to come into Massachusetts from another state, even if you are licensed and certified and have been teaching for a number of years. That seems silly to me," Romano said.
As for the MTEL, that can stay, Romano says. Anyone who is going to work with students should be able to pass the MTEL. But Romano says Massachusetts gives master's degrees too high a premium.
"On one hand, it's like teachers need to be incredibly prepared to hit these classrooms," Romano said. "They do need that master's degree, but the master's programs need to change. This is not a job that we sit around and talk about what we're going to do. It's a doing job."
To get licensed, Romano -- who has a master's degree -- says teachers first need to know how to engage kids and how to get them to stop talking. Unless you're a curriculum developer, she says, you can skip that class on major 20th century child development theories. For now.
So where might the head of a charter school and the head of a teacher's union see common ground? If teachers don't have what they need when they land in the front of a class of 30 kids -- even if they're certified -- they feel like they failed, and they leave the field.
Everyone watching agrees: That's got to change.
This story was originally published by New England Public Radio.
This segment aired on May 24, 2016.