High Rises Bring Changes To Boston's 'Hobby Street'
Resume
Downtown Crossing is enjoying a renaissance. But the sprouting of high rises has cast doubt over the future of the neighborhood's small-scale commercial streets and shops, including Bromfield Street.
Bromfield Street is short, just two blocks long, and home to several specialty stores with lengthy histories. But now, diagonally across from the almost-fully constructed Millennium Tower, another skyscraper is being planned at the corner of Washington and Bromfield.
On Wednesday night, the Boston Redevelopment Authority will consider plans for this new curved, irregular tower at 1 Bromfield St. And that could portend huge changes for the little street once described as Boston's "hobby street," where there's still just a little bit of the old Boston left.
The proposed building would be 700 feet tall — as tall as Millennium Tower — which is in the final stretches of its construction across the street at 1 Franklin St. The New York developer, Midwood, would have to get the height restriction in the neighborhood changed to build the project.
And the changes to Bromfield don't end there.
'We'll Probably Have To Move'
One of the places that would likely have to go would be the Bromfield Pen Shop.
"We'll probably have to move," said Fred Rosenthal, whose grandfather first opened the store in 1948.
"I kinda took ownership in 1981," Rosenthal explained. "We were up the street at No. 37. We moved here to No. 5 in 1994."
The store was established in the days of fountain pens, and they still fill the cases along the walls and under the counters.
"The store has undergone a lot of changes through the years," Rosenthal said. "Back when I was in high school working summers for my grandfather, he had two full-time pen repair people."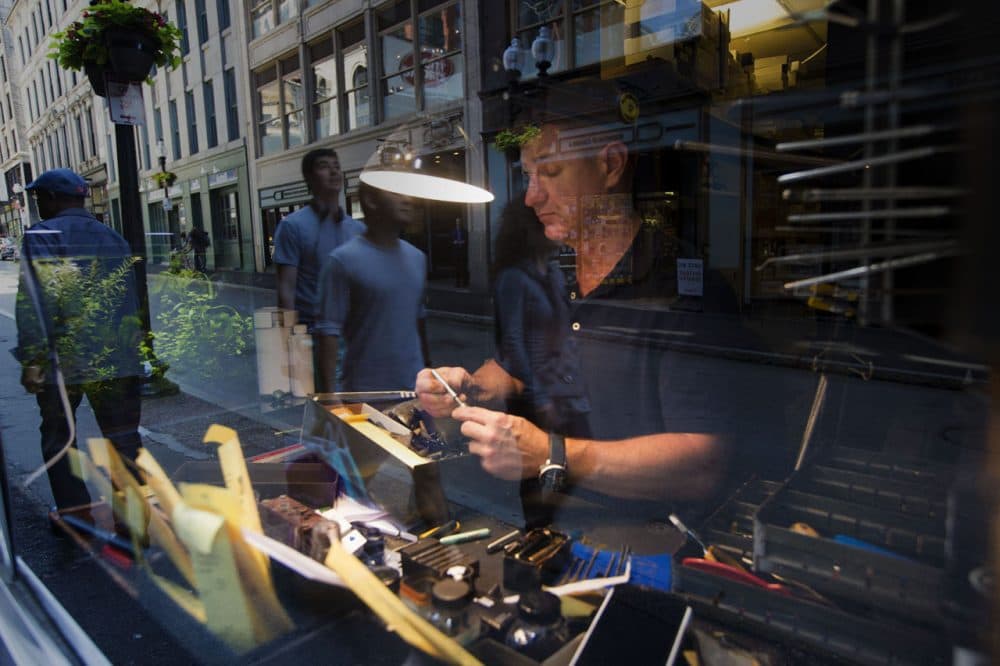 People can still bring their pens to be repaired here.
"We do have a full-time technician on site here, and we do a lot of pen repairs and we restore old pens, and sell vintage fountain pens," Rosenthal said.
You can see pen repair specialist Greg Byrne working as you walk by.
"His desk is in the window, so people walk by and they can see him doing his work, and he's very good at it," Rosenthal said. "He's been doing it for 25, 30 years, and he learned from someone who [did] repairs going back 40 years before that, so it's just been passed down."
The store used to do a lot of wholesale business, "which kind of changed in the '80s with the superstores, the big-box stores, so the business really boiled down at that point to just the retail of fine pens," Rosenthal said.
If his building is torn down to make way for the new tower, Rosenthal said he'd try to stay on the street.
'Kids' Shaking Up Sales Of The Polaroid Picture
Across the street, at No. 10, is Bromfield Camera.
"It's been a camera store, actually, since 1908," explained Steve Centamore. "It's the oldest camera store in New England."
Centamore's father bought it in 1965.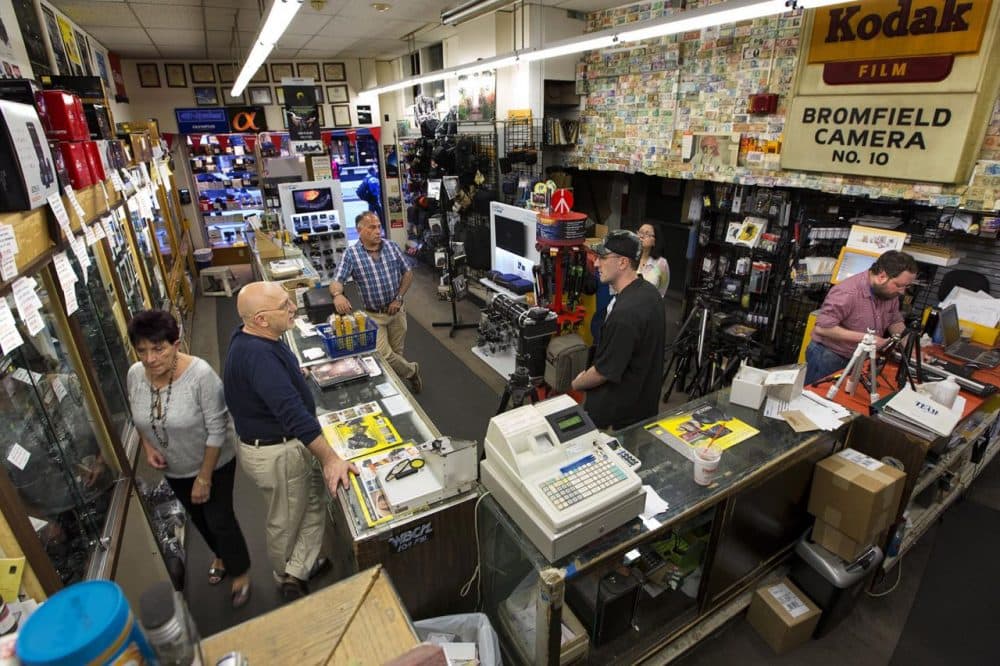 "We're the third owners," Centamore said. "In the early '40s, there were 16 actually on the street. This was called 'Camera Row.' If you, anybody in New England, wanted a camera, anybody in the Boston area, this was the street they came to."
Even though digital is big now, they still process film.
"Although film is making a huge comeback with the kids," Centamore said. "The college kids all want to shoot black-and-white film. And Polaroid, believe it or not. A company bought out Polaroid. It's called The Impossible Project, and right now, they're producing pretty much all the films and more that Polaroid ever produced, and the kids now, they think it's a great thing to get these little fuzzy pictures that they get out a plastic-lens Polaroid, but we sell quite a bit of it.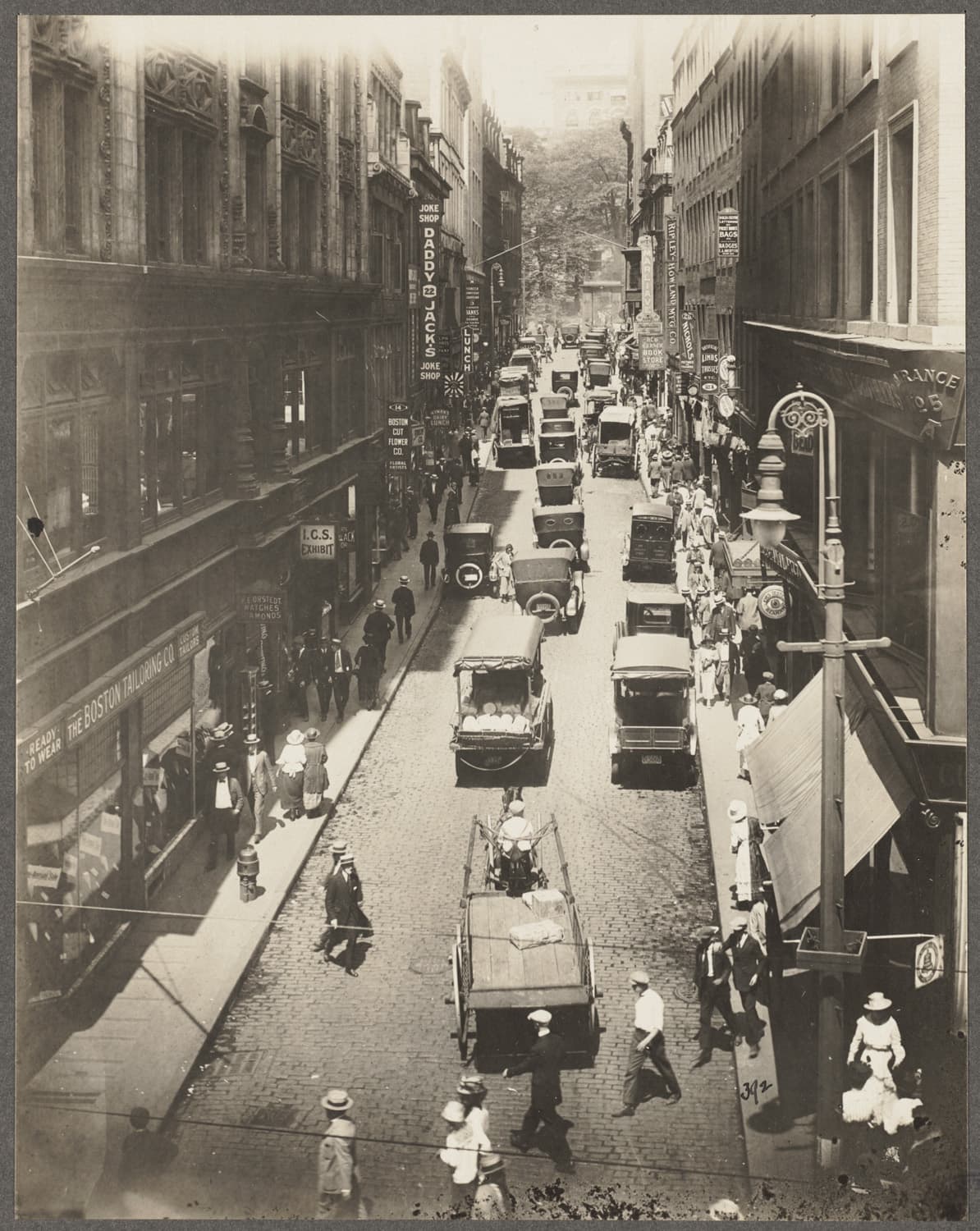 "Polaroid sort of renders colors different, and it's not razor-sharp. It's a nice, soft effect, and they like those muted colors, and they like the sort of soft focus that you get for portraits and things like that," he added. "It used to take up to 60 seconds. Now, it takes about 20 minutes to develop. But they love that idea of getting a picture immediately, which puzzles me, because nothing is quicker than digital."
Bromfield Camera still sells those old Polaroid cameras.
"We got a lineup of them," Centamore said. "We actively search them out. Ten years ago, I wouldn't have given you a dollar for any one of them, but now, they're hot commodities. We sell quite a few of them. Now, the film is really expensive now. It's about $3 per picture."
Centamore does not think the tower at 1 Bromfield will bring immediate change.
"Due to all the red tape involved between the state and the city, that'll be five or 10 years before that thing breaks ground," Centamore said.
Centamore does not think he'll be at the store by then. He does think the store will still be thriving.
No Longer 'Just Coins And Stamps'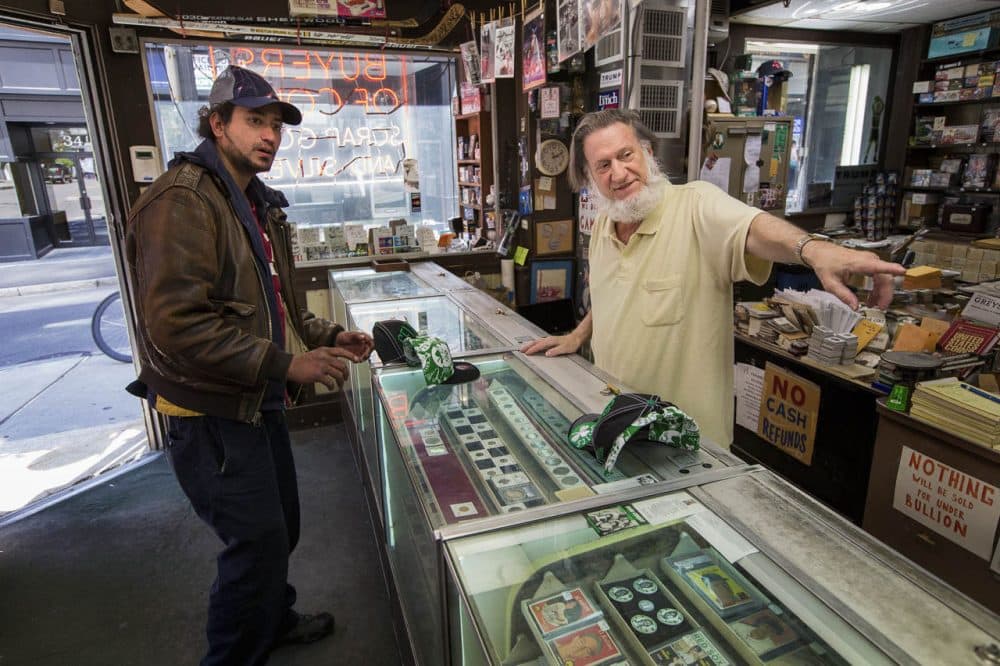 Across the street, at the corner of Province Street, is Andy Papertsian's baseball card shop. He's been working at the store since 1976.
"It was a coin shop, and there was a sign on that window saying, 'Manager Wanted; Apply Within,' " Papertsian recalled. "I was unemployed at the time, and I came in and I got the job."
In 1981, he bought the store.
"And I've always been a coin collector, so this was perfect for me, because it was my hobby," Papertsian said.
Papertsian remembers four or five coin shops on the street.
"Bromfield Street was known for coins, cameras, collectibles, the pen shop," Papertsian recalled. "It was a hobby place to go, Bromfield Street."
Collecting changed, and Papertsian started selling baseball cards and other collectibles. Behind the counter, there is a photo of Ted Williams in Korea in his Marine Corps pilot uniform.
"We have political buttons, as you can see if you look around," Papertsian said. "We have all kinds of different things, not just coins and stamps."
Over the decades, the rent's gone up. Papertsian wants to sell his business.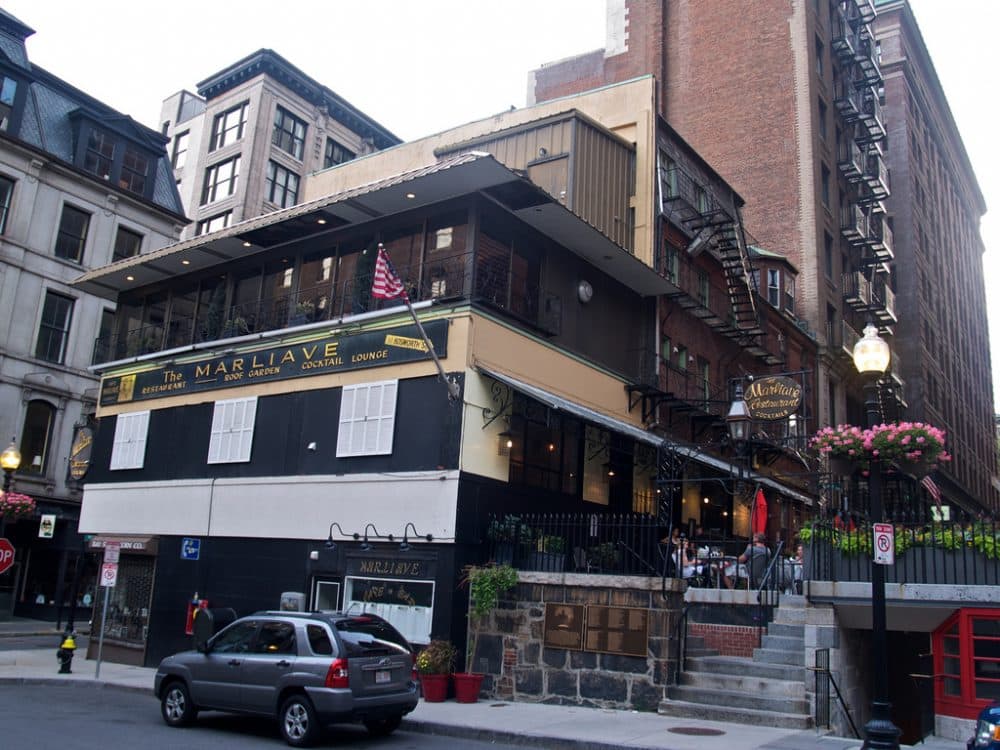 His store is surrounded by the Marliave. Strictly speaking, the restaurant is on Bosworth Street, but it has a long facade on Bromfield Street. It's been there since 1875. Scott Herritt bought it in 2008 and restored it to what he thinks it might have looked like in the '20s. He uncovered its once-hidden tin ceiling and its mosaic tile floor.
"The ladies' entrance was on Bromfield Street, I guess during the '20s, Roaring '20s, is when women started going out and eating," Herritt said. "Up until then, it was men only. And they put an entrance down on Bromfield Street, and the women had to enter on Bromfield Street, as opposed to the main entrance over here on Bosworth Street."
With all the renovations and new construction in the neighborhood, Herritt said it's a lot busier, day and night, than it was eight years ago.
"I hope it keeps the charm that it has," Herritt said. "I don't have anything against the high rises, but I don't want to lose that Boston feel, too. I like the old brownstones and the old facades on the buildings."
That old Boston feel still lives, for now, on Bromfield Street.
This segment aired on May 25, 2016.