How Mass. 'Gateway Cities' Are Crafting New Identities
Resume
The hum of textile looms once filled the 19th-century mill buildings throughout downtown Lawrence. Immigrant workers from Ireland and Germany were among some of the first laborers.
Today, many of the mill buildings in Lawrence are home to refurbished work spaces — buzzing with the sounds of artists, innovators and entrepreneurs like Angie Jimenez, who is arranging pots and pans in the site of her future cooking classroom.
"I'm going to be teaching pies, and cooking lessons -- cookies, different cookies for the holidays so people can, you know, make their own and give them as a gift," she says with a smile.
Jimenez is a graduate of Entrepreneurship for All, a business accelerator program. It's the first of its kind in the country to offer courses and training in Spanish. It's no surprise that such a program would launch in Lawrence, where more than 70 percent of the population is Hispanic or Latino.
EParaTodos — that's EforAll in Spanish — gathers would-be business owners, mentors and staff who collaborate in the program's shared co-working space.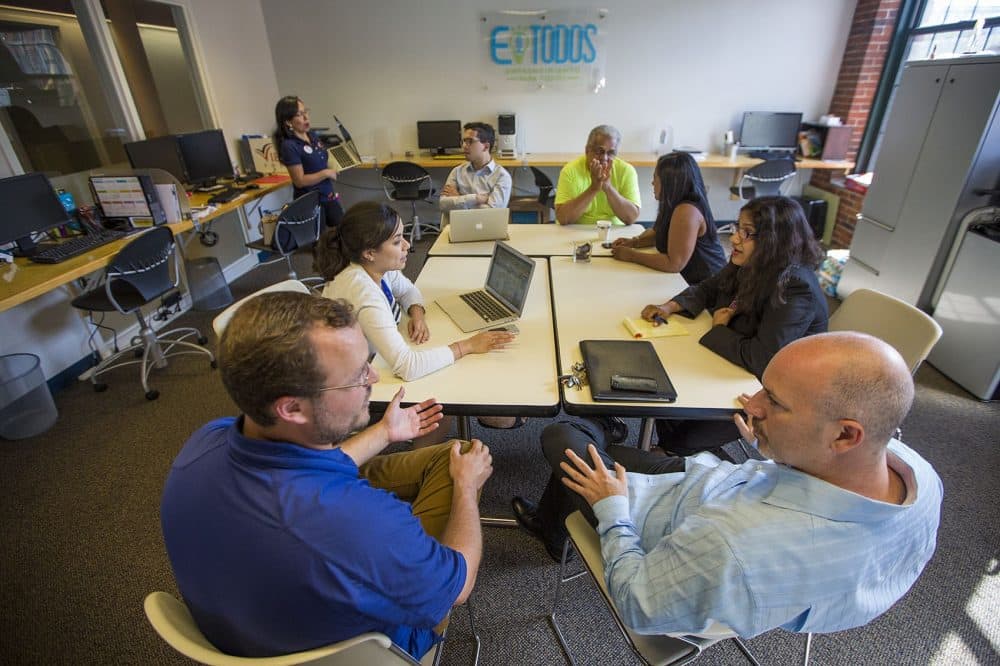 CEO David Parker says after two years, graduates of the program have created 150 jobs in Lawrence and nearby Lowell — a key measurement of the program's success.
"Because manufacturing across the U.S. and certainly here in these cities in Massachusetts has declined," Parker says, "the immigrant communities still exist, there's social services to help people, people who speak your language who have built neighborhoods now, except the jobs don't exist."
'Lawrence Is A Place Where People Work'
New England mill towns were once global manufacturing hubs, pumping out cotton, wool and paper products — attracting immigrant workers from around the world.
But, one by one, the mills closed when faced with factors like modernization and global trade.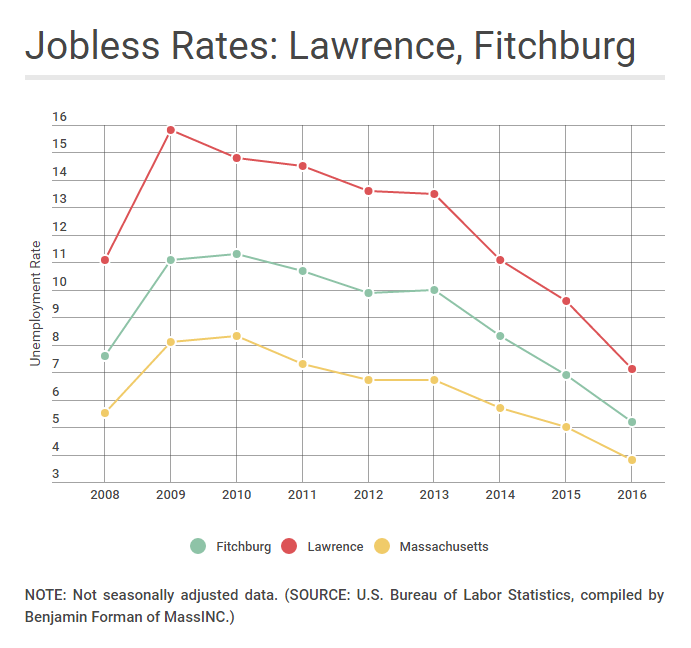 Unemployment in Lawrence is now among the highest in the state, a dubious distinction the city shares with places like Springfield and Holyoke — all former mill towns, now known as "Gateway Cities."
On paper, it might not be the most flattering title.
State law defines a Gateway City as a mid-sized municipality, where the median household income and rate of bachelor's degree holders are both below state averages.
But Lawrence Mayor Daniel Rivera says there's more to Gateway Cities than those metrics alone.
"Lawrence is a place where people work," he says. "We've always been a place where people work."
Rivera says he's proud of the city's immigrant heritage and the work ethic he believes accompanies those roots. He believes that owning that immigrant identity has helped shift the image of the city.
"We've already changed the way people talk about Lawrence," he says. "They used to talk about Lawrence in these whispered tones and, like, not so great intonations and now they're like, 'Wow, something good maybe's happening up there, maybe we should go check it out.' "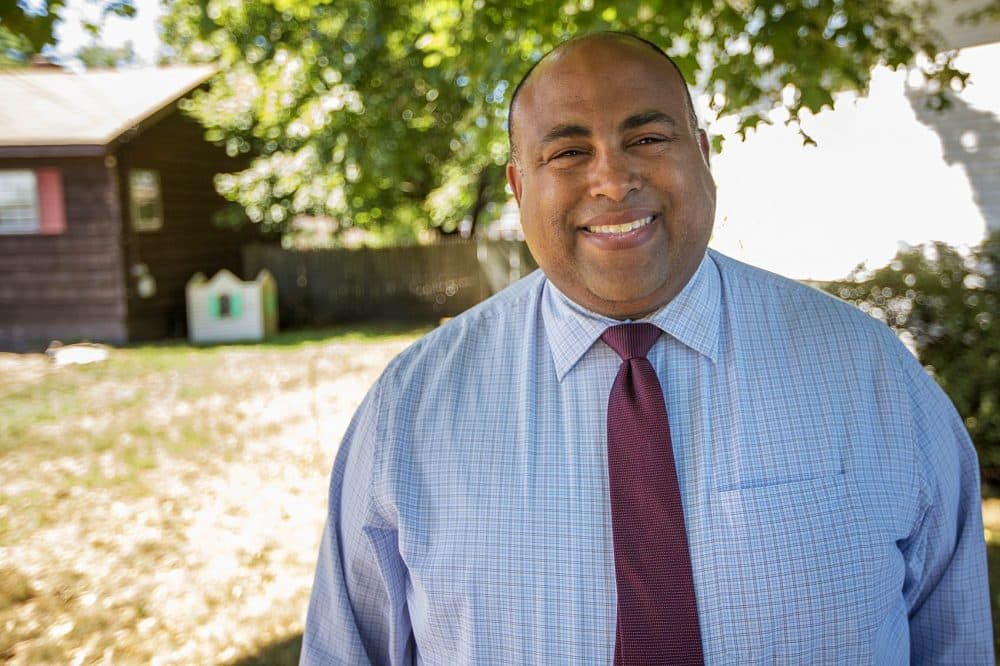 Despite ongoing challenges, Rivera says he's confident Lawrence is poised for progress, and he believes the city's geography plays a role.
"When you think about what's happening in Boston, and that's around the boom in housing, they're just doing great and we're so excited about that because at some point they're going to cap out and people are going to come toward our areas," he says.
That's the hope in many of the state's 26 Gateway Cities, some just close enough to see the glow of the red hot market in Boston.
But a recent report finds Boston's boom remains largely isolated from the rest of the state.
Benjamin Forman is research director at MassINC, a nonpartisan think tank. He's also co-author of the Gateway Cities report, "Rebuilding Renewal."
Forman says that while state investment in Gateway Cities is robust, it lacks coordination, which hinders significant impact, especially in places south and west of Boston.
"The biggest story in Massachusetts is the pull of Boston, how everything has been pulled into the orbit of the city," he says, "and so to that extent the closer you are to that action, the better off you are as a small, mid-sized regional city in our state."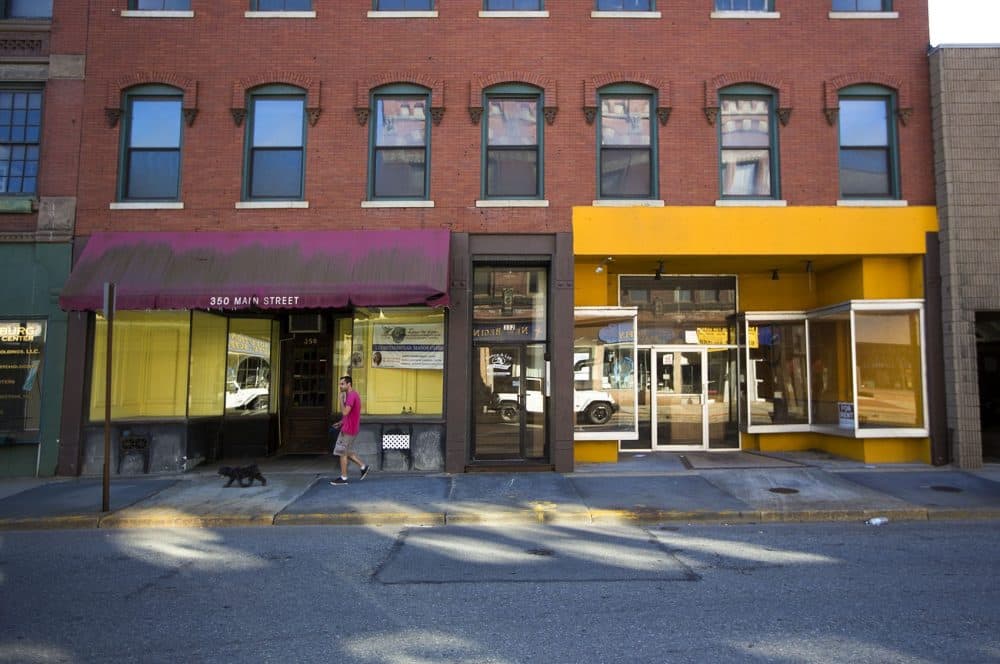 Embracing Change In Fitchburg
Forty miles west of Lawrence, another Gateway City is also planning a revival.
Fitchburg is a smaller city, about half the population of Lawrence.
And on this day, a group of six nonprofit leaders and city officials are gathered around a table to figure out how to pump a little more vitality into Fitchburg's downtown.
Mayor Stephen DiNatale, who took office in January, says the city's weak real estate market has yet to fully recover from the subprime mortgage crisis. Nearly one in five homes in Fitchburg are underwater on their mortgages, according to real estate tracking firm Zillow Inc.
An old housing stock and deteriorating commercial and civic buildings present another challenge — one that the mayor says the city is trying to address through demolition.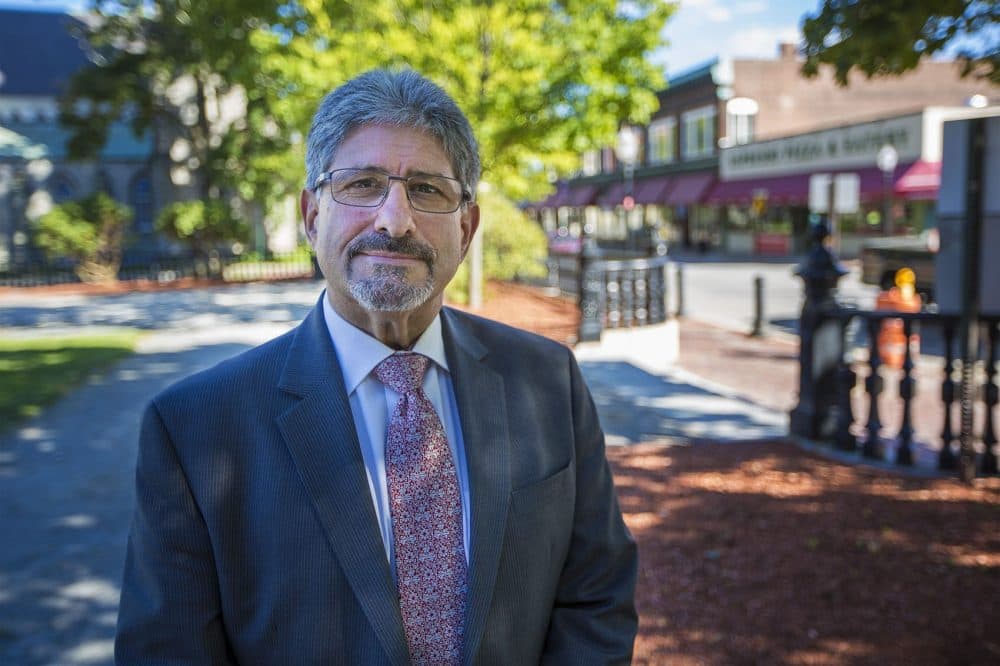 "When I took over, the demolition figure for Fitchburg was about $30,000," DiNatale says. "This year we're going to be spending close to a million."
DiNatale says that increase partially reflects a better system in place to identify blighted properties, as well as a renewed commitment to improving the community.
"That will take care of, in terms of removing some of those areas that bring a neighborhood down," he says. "I mean the challenge is, more of those buildings than we can deal with, so we're going to chip away at it every year."
Fitchburg, once known for its bustling paper mills, is also chipping away at a new identity.
Much of that work falls to NewVue Communities, a local community development corporation.
Walking out onto Main Street, Marc Dohan, NewVue's executive director, says he sees more than vacant storefronts and sparse sidewalks. He also sees opportunities and success stories.
Pointing just over his shoulder, he shares one such story.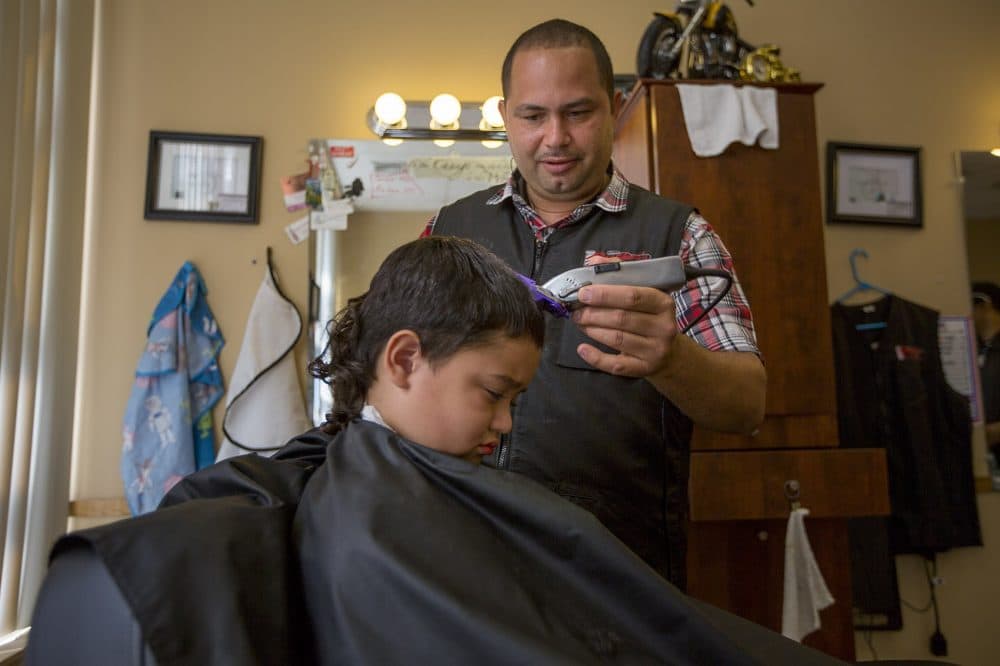 "We have about seven businesses just right in this little section of Main Street that we work with," he says. "So, Brother's Barber Shop, Luis started it on his own. He came in for us, got technical assistance. It's impossible to get your hair cut there now 'cause he has so many people with him."
Heading north of Main Street, Dohan stops to point out the vacant B.F. Brown School, NewVue's next big development project, which Dohan says will be renovated into artist apartments.
The old school is just across the street from the Fitchburg Art Museum, an institution that Dohan and others say is integral to Fitchburg's sense of place.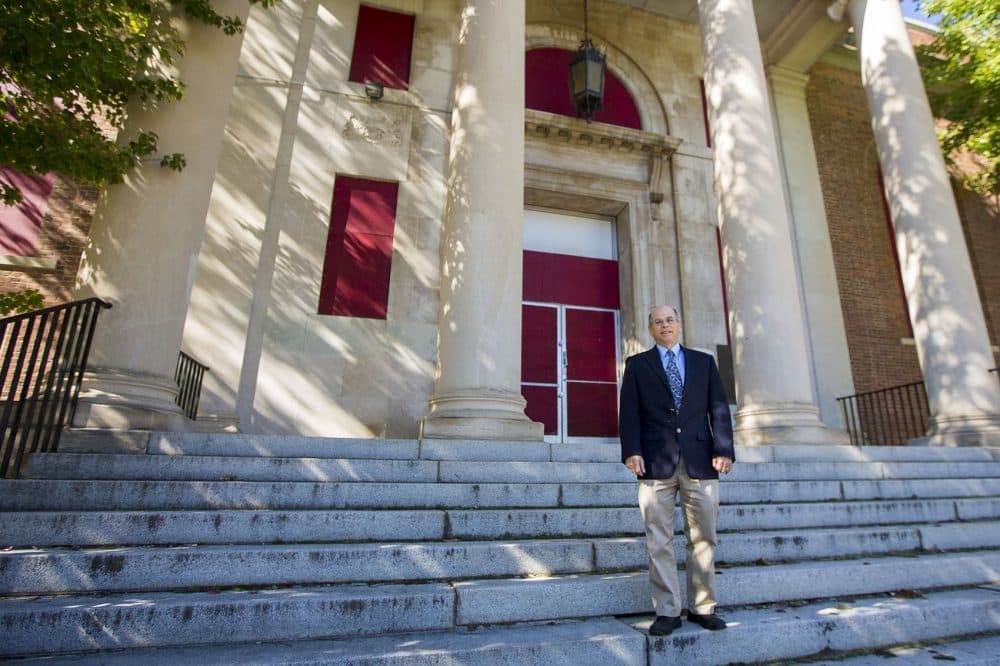 "One of the things that we think of for Fitchburg, it is one of the cultural hubs of the area. It has the art museum, it has the university, and we want to build on that asset," Dohan says. "This neighborhood in particular, it's one of the more diverse neighborhoods in north-central Massachusetts, and that's another type of culture that we want to take advantage of because people who live here want to celebrate their own culture."
Dohan says recognizing the importance of change is key to Fitchburg's success.
"I think all great places, it's not just the old, it's not just the new, but it's welcoming and being able to accept that change as opposed to being afraid of that change," Dohan says.
Fitchburg and Lawrence are trying to embrace change, recognizing their mill town histories while crafting a vision of their future as Gateway Cities.
And that willingness to change may be one of the most important indicators of success.
WBUR is participating in a national week of conversation, along with other NPR member stations, on economic opportunity. Find more from "A Nation Engaged" here.
This segment aired on September 21, 2016.