From Whispers Of Anti-Semitism To The Interests Of Israel, Boston Jews React To Trump's Win
Resume
Congregation Dorshei Tzedek in West Newton is a liberal temple. Of its more than 300 members, Rabbi Toba Spitzer knows of just one who voted for Donald Trump. In a spirit of reflection, she opened up the sanctuary the night after the election. Nearly a quarter of the congregation showed up.
Spitzer knew people were upset, so she told a joke. "I said, 'Now I know what it takes to get you to come to synagogue,' " she recalled, laughing.
But the gathering got serious.
"I think there was sort of an immediate, 'What can we do?' " Spitzer said. "And I was like, 'Let's just calm down, it's been a day.'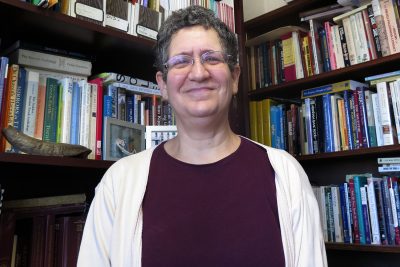 "And some people were like, 'I just want to listen to people of color right now. I don't want to hear more white men telling me their opinions.' And other people were like, 'Wow, there are whole parts of the country I don't understand. I need to listen to those people.' "
The Boston area is home to nearly a quarter million Jews — the fourth largest Jewish community in the country, according to a recent study by Combined Jewish Philanthropies. Exit polling suggests that nationwide, more than 70 percent of Jews went for Hillary Clinton, and experts say the number is likely higher in Boston, which has less than half the percentage of orthodox Jews than the rest of the country. According to Pew Research Center, religious conservatism among Jews mirrors political conservatism, just as less religious Jews trend to the left.
Boston's Jews may be less orthodox, but they are far from monolithic. They range from radical atheist leftists to orthodox Trump supporters like Joshua Katzen.
"Pro-Israel, pro-national security," Katzen said, describing his politics. "I see [these] as being two sides of the same coin."
Katzen is a Newton-based real estate developer who co-chairs the state branch of Jews Choose Trump. He says President Obama's nuclear deal with Iran was a clutch issue this election.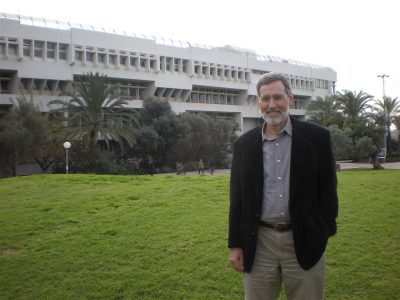 "The key criterion for me ... was who was going to try to undo the Iran deal, because I see the Iran deal as being the biggest threat not only to Israel, but to world peace and to the safety of the United States," he said.
Most of the Republican candidates opposed the Iran deal, but it was Trump who won the nomination, and that's when Katzen began supporting him.
Trump excited some American Jews when he said he'd move the American embassy from Tel Aviv to Jerusalem. But the campaign also faced charges that it exploited classic anti-Semitic tropes, including a campaign video that depicted three prominent Jews — Goldman Sachs CEO Lloyd Blankfein, Federal Reserve Chair Janet Yellen, and investor George Soros — as financial power brokers who serve global special interests.
Katzen rejects claims of anti-Semitism, even if a few Trump supporters who identify themselves as part of the so-called "alt-right" say "hail Trump" and hold out Nazi salutes.
"If some wacko in some faraway place says, 'I hate Jews and I support Donald Trump,' Trump is not guilty of anti-Semitism, he's not guilty by association," Katzen said. "Take a look at the people at Trump's highest levels of his business, many, many, many of them are Jewish — his operating people, his attorneys — throughout the organization."
To deflect claims of anti-Semitism, Trump defenders point to the Judaism of Trump's son-in-law and adviser Jared Kushner — as well as his daughter Ivanka, who converted, and their children.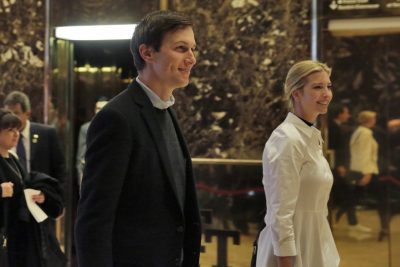 For Rabbi Spitzer, that argument invokes a reference from history: the court Jew of Medieval Europe -- the "Jews in power who tried to keep the Jews safe."
"Joseph of the Bible is sort of the prototype, the high-up Jew who is second in command," Spitzer explained. "And we saw this type in Europe, usually before expulsions, in times of ghettos: 'Who was the Jew in power who could protect the Jewish community?'
"It's an eerie echo seeing Kushner in this role," Spitzer added.
She points to Trump's chief strategist Steve Bannon, who's been criticized by national groups including the Anti-Defamation League for providing a platform for anti-Semitic voices while he headed Breitbart News — for example, in an article where anti-Trump conservative Bill Kristol is referred to as a "renegade Jew."
The Trump campaign did not respond to a request for an interview. But Kushner clarified his position on Bannon in a Forbes article.
"All I know about Steve is my experience working with him," Kushner is quoted as saying in the story. "He's an incredible Zionist and loves Israel. He was one of the leaders in the anti-divestiture campaign. And what I've seen from working together with him was somebody who did not fit the description that people are pushing on him."
Not all Republican-voting Jews voted for Trump. Bill Marcus, of Chestnut Hill, says he hasn't supported a Democratic presidential candidate since John F. Kennedy in 1960. This year he voted for Clinton.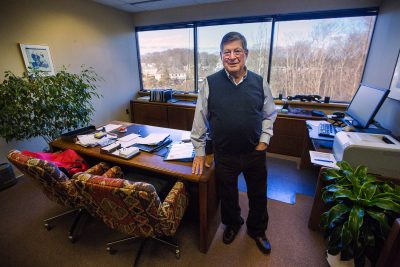 "I explain it two ways," Marcus said, sitting in his corner office at American Biltrite, a flooring manufacturing firm in Wellesley. "My wife had been on me and told me she would be embarrassed if I told anybody I voted for Trump, because of Trump's behavior issues. I didn't want my wife to be embarrassed and I don't lie about who I voted for."
Secondly, Marcus said, he knew voting for Clinton in the deep blue state of Massachusetts "wasn't going to do much either way."
But Marcus says Trump's post-election discourse and Cabinet nominations have changed his mind — he would have voted Trump if he'd had the same tone during the campaign.
"I don't believe from what I've seen to date that he's going to be as bad as he behaved during the campaign," Marcus said. "I think it was all campaign rhetoric, and he may wind up being one of the more astute campaigners that we've run into."
As the debate over a new anti-Semitism simmers in American politics, the Anti-Defamation League of New England says there has been a threefold increase in reports of bias incidents in this region since the election. And this year the group recorded more than 100 anti-Semitic acts in Massachusetts alone.
That's caught the eye of Boston College professor Matt Sienkiewicz. An orthodox Jew who lives in Brookline, Sienkiewicz says he doesn't want to equate "undertones of anti-Semitism" with the "obvious prejudice" he sees toward other minority groups by the Trump campaign.
"I would be much more worried for my son were we immigrants from Mexico, were we Muslims," Sienkiewicz said. "That said, I've gone from having zero concern for my son facing widespread anti-Semitism in the future, to having a little bit of that concern."
But Sienkiewicz says the specter of anti-Semitism — and its capacity to spiral out of control — is always in the back of his mind. He cites the German Jewish philosopher Hermann Cohen.
"In the early 20th century he wrote about how Germany was the perfect place to express the Jewish soul," Sienkiewicz said. "He seems to know what he was talking about, and then obviously 20 years later you're dealing with absolute horror."
Newton resident Edgar Klugman was there when the horror broke out. Now 91, he was a 13-year-old boy in Nuremberg on Kristallnacht, the Nazi pogrom known as the "night of broken glass."
"The storm troopers came up the stairs and the first thing they did was to smash the windows at the entryway of the apartment," Klugman recalled from the living room of his Newton home.
The Nazis beat his father and plundered the apartment. The family was instructed to report to the local police station. Had they followed the order, Klugman said they would have ended up in a concentration camp. Instead they fled Germany.
As Trump takes office nearly 80 years later, Klugman sees parallels between today's United States and the Germany he escaped.
"[Trump] is a father figure who said you're going to get a wall, a long wall, that protects you from those people trying to come to our country ... and that's a very nice, simple way of addressing people," Klugman said. "Hitler did that."
Klugman said that every year he went to see Hitler on the balcony of the hotel where Hitler stayed in Nuremberg. "'We want to see our Führer!'" Klugman recalled chanting. "You didn't have to [chant], but you felt out of place if you didn't. Then you raised your hand, the 'Heil Hitler.'
"It's exciting, you know, the whole city. You could compare it to the Boston Red Sox winning, how the whole city responds to that," Klugman said. "The whole city really participated from rooftops down to the first floor."
Asked if we're seeing a turn toward what happened in Europe in the 1930s and '40s, Klugman takes a deep breath.
"I hope not," he said. "But if we don't participate in democracy, you could get fascism into this country."
Preventing that, Klugman says, requires an appreciation of the freedoms afforded by this country.
This segment aired on December 6, 2016.