Lawyer For Widow Of Marathon Bomber Says 'Patriots Day' Portrays Her Unfairly
Play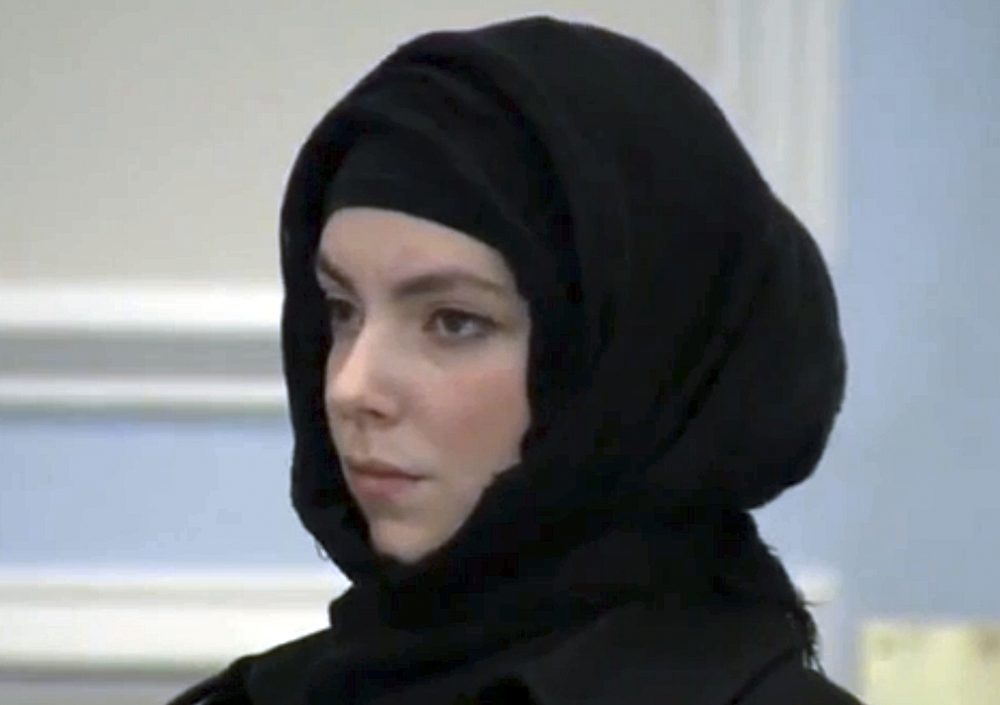 This article is more than 5 years old.
What did Tamerlan Tsarnaev's wife, Katherine Russell, know about her husband's plans to bomb the Boston Marathon?
The new movie "Patriots Day" suggests Russell may have suspected her husband and brother-in-law were making bombs — and then refused to cooperate with the FBI during an interrogation.
But Russell's attorney insists the film's depiction of his client is inaccurate and unfair.
Film Is 'At Odds With What Happened'
After the bombing, Russell moved to New Jersey.
"Katherine is, right now, she's being a mom, and she's working and she's trying to get on with her life," said attorney Amato DeLuca, who has represented Russell in the three-and-a-half years since her husband was identified as one of the marathon terrorists.
Russell has never testified in court or spoken publicly about the bombing.
"I can assure you that Katherine Russell was a patriot and put her country before herself and did everything that she could do in order to make sure the government had the information it needed in order to protect the lives of Americans," DeLuca said.
Deluca said Russell willingly talked with anti-terror investigators eight to 10 times. He said she was cooperative and the meetings were cordial. And he's critical of the way she's depicted in "Patriots Day."
He told The Associated Press, which was first to report the story, that the film was unfair and not true.
"So I don't know where the makers of this movie get their information from," DeLuca said. "It's at odds with what happened."
But in several scenes, the movie repeatedly casts suspicion on Russell.
As runners prepare for the start of the marathon, the film turns ominous. We see her in the Tsarnaevs' Cambridge apartment, caring for their infant daughter. Russell then walks by the bathroom in the film as her husband, Tamerlan, cuts off his beard. She then is shown glancing at her brother-in-law, Dzhokhar, who is watching an Arab language video of a bomb being assembled. In the immediate scene, Russell is shown within earshot as Tamerlan confronts Dzhokhar and says "You're my brother, you understand that? Are you ready for this?"
Four days after the bombing — and just hours after Russell learned her husband died in the Watertown shootout — the movie shows her defiant as she's interrogated by a federal agent from a special, but unnamed agency.
"Yes, my husband kissed me before he left and he will kiss me again when I see him in heaven, and you can't prove anything, Masha'Allah," says the actress portraying Russell in the film.
'Wasn't Meant To Be A Documentary'
In the film, the head of the Boston FBI tries to learn what the interrogator found out from grilling Russell.
"Excuse me, what do you think?" he asks.
"I think she knew, but you're never going to prove it," says the interrogator. "If there are more bombs out there, she'll never tell us. Good luck, huh?"
Richard DesLauriers, the special agent in charge of the Boston FBI at the time of the marathon, said he feels "there is nothing inaccurate about that aspect of the movie," or the way Russell is portrayed in those scenes.
"This movie wasn't meant to be a documentary," DesLauriers said. "I think you have to grant Hollywood a little bit of artistic license in the making of a movie that is not necessarily meant to be an exact replication of every detail of an investigation, shall we say."
Russell's attorney said before that first interrogation, her mother-in-law and her sisters-in-law told her not to say anything before she got legal advice.
In the film, Russell asks her interrogator for a lawyer but is told she isn't getting one.
We repeatedly tried to contact the makers of the movie to ask questions about how they depicted Russell in the film but got no response.
DesLauriers, now retired from the FBI, does agree that the overall takeaway from the movie is that Russell knew in advance about the plot to bomb the marathon. DesLauriers is less certain about what happened in real life.
"I'm not saying she did know, I'm not saying that at all," he said. "I have no information that she did or didn't know, but I think one of the conclusions you could reasonably draw is that since she lived in that residence, she might have had some foreknowledge."
At the end of "Patriots Day" appears a written epilogue. It states, "Law enforcement continues to seek information regarding Katherine Russell's possible involvement in the marathon bombings."
The Boston FBI office had no comment when asked if this was true.
This segment aired on December 23, 2016.