Thank you to everyone who joined us for Bright Nights, WBUR's 2022 Gala, a three-night series of exciting conversations in our state-of-the-art venue, CitySpace at The Lavine Broadcast Center. With your help, we raised over $600,000 to support WBUR's journalism.

---
Please view photos from the evenings by clicking here.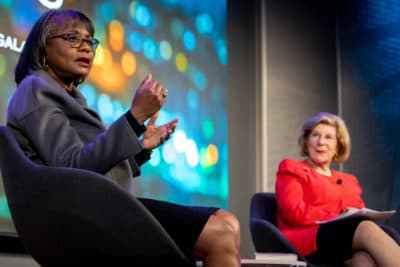 Interested in learning more about future events or have questions? Please contact Clint Cavanaugh at ccavanau@wbur.org or (617) 358-0422.
---
THANK YOU TO OUR SPONSORS
CEOS
Elizabeth & Phill Gross
Cathy & Jim Stone and Plymouth Rock Assurance
EXECUTIVE PRODUCERS
Linda C. Black
Dinah Buechner-Vischer
Margot & Jonathan Davis
The Gannon Family Charitable Foundation
Margaret & Clinton Harris
Fredericka & Howard Stevenson
Robert and Jennifer Waldron Civic Fund
PRODUCERS
Doug Rauch
Molly Shannon
DIRECTORS
Nancy Benchoff
The Boston Foundation
Melissa & Trevor Fetter
Penny & Bruns Grayson
Bob Hildreth
Barbara & Amos Hostetter
Income Research + Management
Barbara R. O'Connor
Judith Obermayer
Allison Picott & Michael Goldstein
Regina S. Pyle
Susan & Matt Ryan
Elizabeth Shelburne
State Street Corporation
DANIEL SCHORR JOURNALISM PRIZE PRESENTERS
Nancy & Jim Bildner and The Draper Richards Kaplan Foundation