We are pleased to invite members of WBUR's Edward R. Murrow Society to a special reception and program.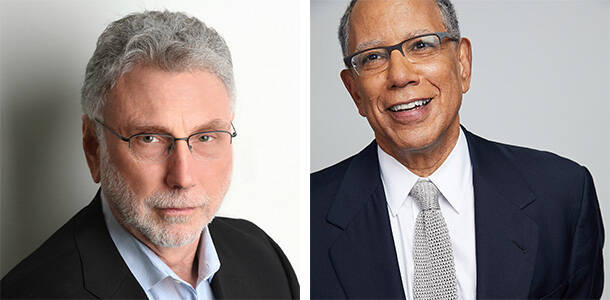 Former Washington Post executive editor Marty Baron will talk about his forthcoming book: "Collision of Power: Trump, Bezos and The Washington Post" — and former New York Times executive editor Dean Baquet will lead the conversation.
Wednesday, October 5 6–8 p.m.
CitySpace at The Lavine Broadcast Center
890 Commonwealth Avenue
This event will be live-streamed for Murrow Members watching at home.

To RSVP to either the event at CitySpace or the virtual program please email Adeola at development@wbur.org by Thursday, September 28.
---
Martin Baron is a longtime journalist and newspaper editor. He ran the newsrooms of The Miami Herald and The Boston Globe before being named executive editor of The Washington Post in 2013. His role in launching an investigation of the Catholic Church's cover-up of sexual abuse by clergy was portrayed in the Academy Award-winning movie "Spotlight." Baron retired from daily journalism in early 2021 and now splits his time between Western Massachusetts and New York City. Collision of Power is his first book.
Dean Baquet leads a local investigative Times fellowship. He served as executive editor of The New York Times from May 2014 until June 2022. Baquet served in the highest ranked position in The Times's newsroom and oversaw The New York Times news report in all its various forms. Before being named executive editor, Baquet was managing editor of The Times. He previously served as Washington bureau chief for the paper from March 2007 to September 2011. Baquet rejoined The Times after several years at the Los Angeles Times, where he was editor of the newspaper since 2005, after serving as managing editor since 2000.
---
For information on how to join the WBUR Murrow Society, please visit this page.