"Tackling Health Care Reform" by Leslie Kirwan
This article is more than 14 years old.
When I was asked by Governor Patrick to become his Secretary of Administration and Finance, I was of course greatly honored – and also mindful of the major challenges that awaited me in helping to assemble the Governor's first budget in a difficult fiscal environment.
I have to admit that, at the time, I wasn't thinking about health care reform as a significant part of my job portfolio. But I quickly learned otherwise.
As Chair of the Commonwealth Health Insurance Connector, I've found myself steeped in the details and decisions of helping to implement Massachusetts' historic health care reform law. In truth, barely a day goes by when I'm not spending at least some of my time wrestling with the particulars of putting health care reform into action.
Now, my prior professional experience centered on public finance – not public health – so I've had a steep learning curve for this task. Fortunately, I've had the benefit (truly, the privilege) of being able to work with and learn from some extraordinary people whose vast knowledge about health care is matched by a deep commitment to making our groundbreaking reform effort a success: Jon Kingsdale and his terrific staff at the Connector; my fellow Connector Board members; Health and Human Services Secretary Judy Bigby; and health care advocates from diverse interests that helped forge common ground and make health care reform a reality in Massachusetts.
Upon becoming Chair of the Connector, I was immediately struck by the progress that had already been made in implementing health care reform – particularly the creation of the Commonwealth Care subsidized health insurance program (now with over 50,000 enrollees) and the enrollment of tens of thousands of previously uninsured individuals in the MassHealth (Medicaid) program. I was also deeply impressed by the commitment and collegiality exhibited by the Connector's Board members. Despite having other (very demanding) jobs, they have spent enormous amounts of time and energy wrestling with complicated health care decisions that will affect the lives of countless residents of Massachusetts – throughout the process always striving for consensus and treating one another with respect and courtesy. It's truly a great honor to work with them towards expandi! ng acce ss to quality, affordable health insurance and achieving the immense promise of health care reform in the Commonwealth.
Last week was a major milestone in that effort. On Thursday, the Connector awarded its "Seal of Approval" to a wide variety of health care insurance plans. These plans will be available for individuals and small businesses to purchase through the Connector starting in May. This was the culmination of a process that started with initial bids that came in at higher prices than many of us hoped for. But through cooperation between the Connector, insurers, and Governor Patrick – who personally asked insurers to "sharpen their pencils" and help find ways to reduce costs – a second round of bids yielded much better prices. With the final bids, the average uninsured person living in the eastern part of Massachusetts will be able to buy quality health insurance including drug coverage for as! low as $175 per month. Notably, even the most "basic" plans to be offered through the Connector cover preventive care prior to the payment of deductibles – and many cover all doctors' office visits pre-deductible.
Of course, many important decisions lie ahead for the Connector. For example, on March 20, the Board will meet to vote on draft regulations to define minimum creditable coverage – the minimum level of health insurance that would satisfy the health care reform law's "individual mandate" (requiring Massachusetts residents to have health insurance coverage). In developing these regulations, the Board will have to address and balance issues of affordability, choice, and the importance of ensuring quality coverage and care. Then, in April, the Connector will begin considering how to implement the "individual mandate," including providing exceptions for people who lack access to affordable health insurance.
Meanwhile, the Legislature has begun working on the state budget for fiscal year 2008, which includes funding for health care reform. I was very proud that, in a challenging fiscal environment, the budget filed by Governor Patrick in late February provided the resources to keep health care reform moving forward. I know that the Administration looks forward to working with the Legislature in the coming months to make the needed investments in health care reform and other crucial health initiatives.
There are many challenges that lie ahead in implementing health care reform. But I am confident that all who have a part in making this law the success it can and should be will rise to the occasion – and keep Massachusetts moving forward on the path towards offering the quality, affordable health insurance that the people of our state need and deserve.
Leslie Kirwan is the Secretary of Administration and Finance for Governor Deval Patrick
This program aired on March 12, 2007. The audio for this program is not available.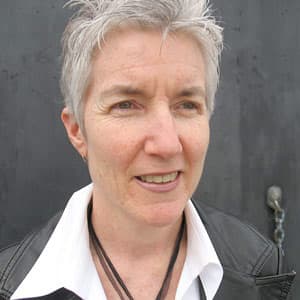 Martha Bebinger Reporter
Martha Bebinger covers health care and other general assignments for WBUR.