When one size does not fit all...by Kathleen Bitetti
This article is more than 14 years old.
The population the Artists Foundation serves, working artists in all
disciplines, is a key test population for Massachusetts health care reform law. If a system can be created that is affordable and accessible for this population and their unique needs, the system will be as close to foolproof as it can possibly be.
Our industry/market has several important characteristics:
1) The vast majorities of living/contemporary artists of all disciplines — with the exception of the very few who have become "stars" — cannot and do not earn a living from their work as artists and must supplement their income with jobs that may or may not be related to their artistic discipline.
2) Artists spend a significant amount of their gross income on their art making. These are not optional expenses. The largest subsidy to the arts in this country does not come from the government or the private sector, but from artists subsidizing their art making with their unpaid labor, underpaid labor and from their own income (earned and credit cards). So, assessing an artist's gross
income before taxes in not a fair method to judge their income by. The same holds true for the self-employed. What they earn after taxes (adjusted gross income) is probably the fairest method to use.
3) Many artists do not hold one 9-5 job, but rather have combination sources for their income (multiple part-time jobs, jobs that are semester based and not yearly based, freelance income, contract jobs, self employed income, seasonal jobs, temporary jobs, very sporadic grants, etc.). Artists' incomes fluctuate from year to year, and from month to month. This fluctuation makes it hard
to determine if artists are eligible for free care or the sliding scale fee-based systems used by health care providers in the Commonwealth.
It will be important to keep these issues in mind when creating a system to process people who do not have regular pay stubs and/or those who are self-employed. Here are some suggestions: 1) The Connector and those enrolling people into the health care reform options, may want to create a specific form or process for residents who have multiple sources of fluctuating income, those who do not have regular pays stubs, and/or for those who are self-employed.
2) The Connector and health care advocates might want to create specific outreach materials and web based information for these populations.
3) The Connector will need to specifically target businesses/industries that employ these types of workers. The Insurance Partnership is a model that works well with the self-employed and small businesses and might be good to replicate.
I am quite confident that these concerns will be addressed effectively. After all, artists create things that never existed on a regular basis and public policy makers do the same. The Artists Foundation is ready to co-found a working group to address these issues!
Kathleen Bitetti
Artist
Executive Director of the Artists Foundation
executivedirector@artistsfoundation.org
Related web sites:
click here for more information about the Artists Foundation
click here for more information about health care for artists
This program aired on March 17, 2007. The audio for this program is not available.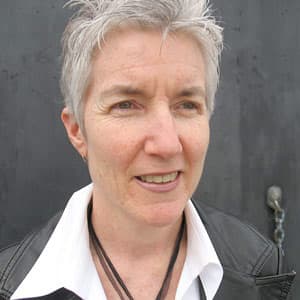 Martha Bebinger Reporter
Martha Bebinger covers health care and other general assignments for WBUR.