"Fat Pig" Opens in Boston
This article is more than 14 years old.
Playwright and filmmaker Neil LaBute has been called a misogynist and a misanthrope, but also a master at dramatizing how cruel people can be.
While the title of his play that's just opened in Boston, "Fat Pig", is ugly, the play is actually a love story about an average guy who falls for a plus-sized woman.
WBUR's Andrea Shea has more.
TEXT OF STORY
ANDREA SHEA: As a writer Neil LaBute comes off as part Edward Albee, part P.T. Barnum, part Marquis de Sade. On stage and film he pits friends, co-workers and lovers against one another.
Vile behavior and nasty words are weapons. The title of the LaBute play premiering at the Boston Center for the Arts in the South End accosts passersby who see it on the marquee.
VOX POP: 'I'm just shocked. Fat Pig!' 'It's either about a fat pig or a person who's a fat pig.' ''Fat Pig' you instantly think of a guy's opinion on a girl, that's what you think.'
SHEA: Inside the theater 'Fat Pig' lead actress Liliane Klein wants to set the record straight.
LILIANE KLEIN: This isn't a play about being grotesquely obese, this is a play about a plus size woman who is very healthy, who is beautiful and energetic and smart and she is the antithesis of the title in many ways.
SHEA: Klein plays Helen, a witty librarian with a taste for war flicks.
Helen captures a good-looking businessman's heart in the first scene. His name is Tom.
Tom and Helen 'meet cute' in a crowded cafeteria and sparks fly. Soon they're dating.
SCENE FROM PLAY: 'And have you always been you know. What" Big Boned? (she laughs) Oh that was kind of precious. My mom used to throw that one around too. Well, I'm just trying to be. Don't. Not for me. I want you to be truthful with me.'
SHEA: As it turns out honesty isn't Tom's strong suit. But still, his relationship with Helen intensifies. Again, actress Liliane Klein.
KLEIN: What really attracted me to her was really just how meaty the role was.' It's so rare for a character actress, which is what I am, to first of all get a dramatic role.
People see a plus-sized woman and assume, 'oh, she's a comedian.
SHEA: Klein is 5-feet 9 inches tall and about 240 pounds. She says she gets a lot of work, but usually plays.
KLEIN: Older mother characters, supporting characters, funny sidekicks, maids, stuff like that.
PAUL MALONE: It's an industry, let's face it, that's based a lot on appearance.
SHEA: That's 'Fat Pig' Director Paul Malone. Malone says Klein uses her size, beauty and confidence to full effect in the play.
Writer Neil LaBute is notorious for putting his characters through emotional hell. In 'Fat Pig' though, Malone says Helen and Tom display a tenderness not often seen in LaBute's work.
MALONE: Usually relationships are sort of a battle ground, they're places where men and women sort of fight out for control for agendas, for anything but the connection between the 2 people and in this play the connection in many senses is the goal.
SHEA: Neil LaBute says Malone isn't the first to make that observation since this play premiered off-Broadway in 2004.
NEIL LABUTE: When Fat Pig arrived on the scene it marked for a lot of critics a kind of softer, warmer glow around some of the characters and they felt that there was more compassion there was more...um, gosh, I can barely choke down the word, more humanity (laughs) in it then some of the other plays I had written.
SHEA: LaBute admits that might be because there's more of himself in 'Fat Pig.'
LABUTE: I certainly have gone up and down in weight myself and yet feel pretty adjusted as a person and who I am and all of that.
SHEA: In the play Helen echoes that sentiment. And while she says she's ok with her body, Tom's co-workers react viciously when they learn about his new girlfriend's girth. Especially a brute named Carter.
SCENE FROM PLAY: 'Dude, this is not her. This is not the her her, is it? Yes Carter. Oh my god! Oh my god! (laughs) I mean, oh my god.'
SHEA: Boston Pheonix Theater Critic Carolyn Clay notes the relentless brutality, but says on stage it serves a purpose.
CAROLYN CLAY: What Neil Labute is doing is making comments first of all about the individual and his inability to go with his own instincts and not to cave to social pressure.
And he's writing a play also about the really mean, dismissive way people are treated on the basis of their looks and in this case on the basis of weight and I don't think anybody realistically behaves as badly as Tom's office co-workers do.
SCENE FROM PLAY: 'She makes me happy and I want to make her happy, too. I'm not saying she can't be happy, that she shouldn't meet somebody, but it ought to be a fat somebody or a bald one, whatever. Like her. A somebody that fits her.'
SHEA: After a recent performance an audience member who describes herself as 'chunky' reacts to 'Fat Pig.'
AUDIENCE MEMBER: I thought the title was wonderful, I grew up with my brother calling me fat pig, and when you're struggling with your weight and trying to be pretty and all the other good American beauty stuff it's a horrible thing to be called, but fat girls are called fat pig.
Fat boys are called fat pig, too, but I think girls are more.
SHEA: Actress Liliane Klein thinks the play raises some big questions about the prejudice against plus-size people in this country. Weight, as an issue, she says, is very different than gender or race.
KLEIN: Being fat is the one thing that is technically a choice, but then again is it? Because if it was a choice would people choose to be fat, does anybody choose to be fat? Do I choose to be fat?
And the answer is no, not really. Or the question is 'well then why don't you just change that? I don't know what the right answers are and I think that's why it's such a touchy subject and such an issue and really one of the few remaining big taboo things.
SHEA: And so Neil LaBute's 'Fat Pig' serves up food for thought, even if the meal - harsh language and all - is tough to swallow.
For WBUR, I'm Andrea Shea.
HOST TAG:
The Speakeasy Stage Company production of "Fat Pig" is at the Boston Center for the Arts through April 7th.
This program aired on March 26, 2007. The audio for this program is not available.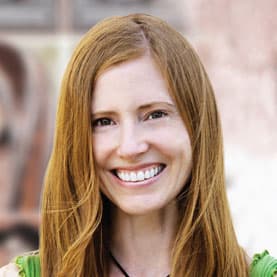 Andrea Shea Senior Arts Reporter
Andrea Shea is WBUR's arts reporter.