This article is more than 13 years old.
TEXT OF STORY
BOB OAKES: The cost of housing has gotten so high that the state and some employers are making it their business to help workers find a place to live. In the first program of it's type, the Patrick administration is matching $250,000 raised by a group of employers on Cape Cod. The money will be used for homeowner counseling and to offer renters and homebuyers modest loans that may be forgiven, in part, if employees stay on the job. Tina Brooks is the state's undersecretary for housing and community development.
TINA BROOKS: To have many employers all in different sectors saying the same thing, that the cost of housing in Massachusetts is a hindrance to the economic growth and development of Massachusetts, we need to believe them. And if they are stepping up as leaders in their community to help us find answers to this problem, we need to support them.
OAKES: The administration hopes to expand this program with businesses across the state. A few employers are already in the game. UMass Memorial Medical Center is helping fund supplemental home loans for hospital employees who buy houses near the medical area. So far, eight have. Citizens Bank has approved close to 600 loans for Massachusetts bank employees. The loans of up to $8,000 will be forgiven if the workers stay in their jobs for five years. President and CEO of Citizens Bank in Massachusetts Robert Smyth says the money is well spent.
ROBERT SMYTH: All employers want to retain good people. What they don't want is for them to decide; I can buy double the house somewhere else. So what our program does is it helps with their down payment and their closing costs. It's clearly a win-win.
OAKES: Smythe, who co-chairs the Commonwealth Housing Task Force, says with more publicity and assistance, more employers will create similar loan programs.
In the meantime, one company is taking a different approach to the same problem. WBUR's Martha Bebinger visited a small factory that could easily be overlooked in Brockton.
SOUND OF A FACTORY MACHINE
MARTHA BEBINGER: Raspberry, nectar vinaigrette, raspberry nectar vinaigrette. Labels stamped, bottles filled, boxes packed, 20 hours a day, seven days a week at Cindy's Kitchen in Brockton. Eddie Byers, who owns the company with his wife, Cindy, says the pace is even more frenetic since celebrity chef Rachael Ray named the company's buttermilk dressing the best in the nation last month.
EDDIE BYERS: The phones have been ringing off the hook. We did $300,000 in our first year in 1997, and we expect to finish this year around $10 million. And that's in our old plant. We expect to double once we get over here.
BEBINGER: The Byerses are moving this weekend into a new manufacturing plant, also in Brockton. But at the moment, Eddie Byers is preoccupied with another project.
BYERS: We want to build these homes for our employees. This is two levels, a lot of greenery. We have a lot of single mothers with children so I really want it as green as possible.
BEBINGER: A series of architectural drawings line a wall in what will be the new employee cafeteria. They show 38 three-bedroom townhouses along a cul de sac. Byers has asked the architect to hold building costs to $150,000 for each unit, a price he says most of his employees could afford.
BYERS: The labor force here is absolutely spectacular. They give their heart and soul and that's the reason we've been able to put this company on a national basis. So what I want to do is give back, and housing is really a key element.
BEBINGER: Micheline Thomas from Haiti and Anastatia Martins from Cape Verde beam at the prospect of becoming homeowners.
MICHELINE THOMAS: They think about us, like children, you know. I think maybe God put the idea in the heart.
ANASTATIA MARTINS: It's an excellent idea Mr. Byers has. This is a dream come true for all of us.
BYERS: We've become a rich society. Companies should be more socially responsible. They can do more, they can do better. We don't need the government to do everything for us. So what I want to do is to set a business model. If I can do it, then surely the big companies can do it.
BEBINGER: The Byerses say several lenders have committed to financing the project. The couple has already invested several hundred thousand dollars and plans to help employees with down payments. The next step is to partner with or set up a non-profit that would buy and develop the land. For WBUR I'm Martha Bebinger.
This program aired on June 7, 2007. The audio for this program is not available.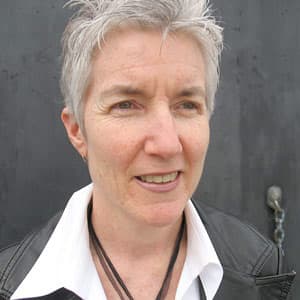 Martha Bebinger Reporter
Martha Bebinger covers health care and other general assignments for WBUR.