This article is more than 14 years old.
Edward Hopper is known for his provocative, shadowy oil paintings of people in urban settings. Diners, offices, and bedrooms are the backdrops for "Nighthawks," "Automat," and "Chop Suey," among others.
But the work that first put Hopper on the map is a watercolor of an elegant, light-drenched home in Gloucester in the 1920s.
Houses, not people, were Hopper's muse during the summers he spent in the seaside city. His paintings from that time are part of a new retrospective at the Museum of Fine Arts. WBUR's Andrea Shea tours "Hopper's Gloucester" with the curator.TEXT OF STORY
ANDREA SHEA: During his summers in Gloucester Edward Hopper painted houses all over this city, rather than sailboats or beach vistas like other artists of his day. For that MFA curator Carol Troyen calls him a 'contrarian.' She walks through Gloucester's downtown, gripping a map she plotted out as she and her team searched for the homes Hopper captured here with his brush. Many of the addresses were unknown.
CAROL TROYEN: We knew what a lot of them looked like but we didn't know where they were and it's always fun to be in the footsteps of an artist you're studying getting a little sense of how his mind worked and it's hard to say what it was that struck him about any given house but the consistent theme is that they were all made between 1860 and about 1900.
ANDREA SHEA: Troyen explains Hopper's attraction to Victorian architecture, even though it was out of fashion in the 20's.
CAROL TROYEN: He really liked the way these houses with their turrets and towers and porches and mansard roofs and ornament cast wonderful shadows, he always said that his favorite thing was painting sunlight on the side of a house.
ANDREA SHEA: Like the sunlight in Hopper's painting, 'The Mansard Roof.' It dances through trees making shadows on a large porch with flowing yellow awnings. The real-life house is located a few miles from downtown in the area known as Rocky Neck.
CAROL TROYEN: The watercolor that he made of this house really was his break through work.
ANDREA SHEA: Hopper painted 'The Mansard Roof' in 1923 during his first summer in Gloucester. He was forty years old and unknown as an artist, according to Troyen. But an art school classmate, who later became his wife, saw something in 'The Mansard Roof' painting. Joan Nivison urged Hopper to submit it to the Brooklyn Museum for its big watercolor show.
CAROL TROYEN: I suspect he didn't have much hope for his likelihood of his success for the 10 years previous he hadn't sold a single painting, he'd been in very few exhibitions, critics ignored him but at her encouragement he sent a few watercolors to Brooklyn. To his amazement they not only selected it for the show but it was one of a very small handful of pictures they bought for the permanent collection.
ANDREA SHEA: And how much did Hopper get?
CAROL TROYEN: He got $100 for that watercolor in 1923, that isn't bad money, and more important it was a real vote of confidence not only a sale but a sale to a prominent museum. And from this point his career took off.
TORY BAGSHAW: My dad tried to purchase the painting in the 60's from the Brooklyn Museum of art, he's very fond of the house and anything associated with it.
ANDREA SHEA: Tory Bagshaw grew up in 'The Mansard Roof' house and still lives here. His parents bought the place in 1962. Bagshaw says art students often set up shop outside trying to replicate Hopper's perspective. He adds that he himself painted the exterior in '96...as a contractor. These days Bagshaw's renovating the house, but finds time to take Carol Troyen and this reporter up to the widows walk.
SOUND OF WIDOW'S WALK HATCH OPENING
ANDREA SHEA: 'This is about as close as you can get to the Mansard Roof. It is the roof!'
CAROL TROYEN: I don't think Hopper ever had this view from the top of the house looking over the harbor.
TORY BAGSHAW: The sunsets here are beautiful, it faces southwest and northwest. The light here is enchanting it's different almost every night.
ANDREA SHEA: Hopper was enchanted by the light in Gloucester too. His watercolors are saturated. But he's not the only artist who was, or is. A few blocks away, in her second-floor, harbor-view gallery, painter Elynn Kroger explains why the light here is so unique.
SOUND OF DOOR OPENING AND BELLS RINING
ELYNN KROGER: Any peninsula or any cape that juts out into the water has at least 3 sides of reflecting sunlight. That's why you see so many flowers in places where normally with wind and salt you don't see them and a lot of artists end up in places like that, like Cape Cod as well as up here. And on the Cape there's a pink or a golden glow to the light but up here it's just bright white to me.
ANDREA SHEA: Kroger is a fan of Hopper's work saying he 'makes architecture pure.' She's been in Gloucester for twelve years and relates to Hopper's affection for the location.
ELYNN KROGER: It's just a nice place to paint, and there's hundreds and hundreds of artists up here.
ANDREA SHEA: Just as there were in Hopper's day, according to Curator Carol Troyen. But she says Hopper wasn't part of that 'scene.'
CAROL TROYEN: He was not terribly social although his wife was and seemed not to have exhibited with local arts organizations, he did socialize a bit with some of the artists, especially those that he knew from New York but he was on the sidelines rather than the center of the social world.
ANDREA SHEA: While Hopper was more worker bee than party animal, Troyen says the artist actually painted slowly, finishing twelve to fiftenn watercolors each summer.
STREET NOISE
ANDREA SHEA: Hopper lived in a modest room here on Middle Street between 1926 and '28. His decision to use watercolors rather than oils in Gloucester was dictated by practical reasons, says Troyen, as well as aesthetic ones.
CAROL TROYEN: Oil is a much more cumbersome medium, you need an easel you need a stretch canvas you need paints and it's something you can't do in a small room and you can't readily carry your materials from one place to another without a car or help. Hopper didn't have a car for first couple of summers in Gloucester so watercolor was the inevitable choice.
ANDREA SHEA: In 1928 Hopper bought his first car, and he painted 'Sun on Prospect Street,' one of his final works here.
CAROL TROYEN: By 1928 the number of pictures he produced over the summer had dropped and in fact he was running out of paintable subjects and this would be his last working summer in Gloucester.
ANDREA SHEA: Troyen says Hopper's gift was making commonplace subjects evocative and handsome via paint. When he looked past the houses on Cape Anne for new inspiration the painter set his sights on Cape Cod, where he and his classmate-turned-wife Joan Nivison eventually built a house in Truro. They summered there for the rest of their lives.
For WBUR I'm Andrea Shea.
This program aired on July 6, 2007. The audio for this program is not available.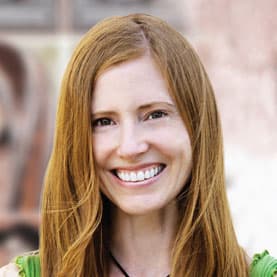 Andrea Shea Senior Arts Reporter
Andrea Shea is WBUR's arts reporter.