HEALTH CARE REFORM AND OUR PRIMARY CARE PHYSICIAN SHORTAGE by JudyAnn Bigby, MD
This article is more than 13 years old.
Massachusetts' health care reform means that more than 300,000 people in Massachusetts have signed up for health insurance in the past year and no longer have to fear getting sick or waiting until they are severely ill before they seek care. By all measures, this is good news, and ongoing outreach and enrollment efforts are moving the Commonwealth closer toward universal coverage.
As more and more individuals acquire insurance, we must recognize that insurance does not ensure access. Having a regular provider and a regular place to go for health care is necessary to ensure that people get the right care in the right place.
The demand for primary care providers in Massachusetts is on a lot of people's minds. Anecdotally, people relate that primary care providers are a scarcity, that wait times to see a provider are often unacceptably long and that too many providers are not taking new patients.
Despite one of the highest physician to population ratios in the country, a smaller percentage of physicians in Massachusetts practice primary care. There are simply not enough providers to meet Massachusetts' evolving health care needs, given the increasing enrollment in managed care plans.
Who would ever guess that a small state with four medical schools and two dental schools could have Health Professional Shortage Areas (HPSAs)? But we do - 23 Primary Care HPSAs; 16 Dental HPSAs; and six (6) Mental Health HPSAs.
There are many reasons for the shortage of primary care providers. Fewer medical school graduates are choosing primary care as a career, a national trend that has increased in the last decade. Primary care physicians have among the lowest salaries of all physicians but have just as much medical debt as other specialists. The relatively low salaries and the cost of living in Massachusetts present significant challenges for new primary care practitioners.
Although Massachusetts is rich in health care professionals—given our nationally recognized medical and dental schools, as well as schools for nursing and other mid-level training programs—there is uneven distribution of primary care and other providers. As a result, health and access disparities across racial, ethnic, geographic (including rural areas) and economic groups are prevalent. Barring a change in the current trend, these shortages can only be expected to increase over time. We are committed to working with all stakeholders to develop an effective strategy for recruiting and retaining PCPs.
First, we must do a better job of understanding the extent of the shortage in Massachusetts. We know how many physicians we have per capita—again significantly higher than the national average. What these data do not tell us is where these physicians practice; whether they practice full-time or part-time; if they plan to retire soon; or whether they spend more time as researchers than as providers of patient care. The Department of Public Health and Commonwealth Medicine are discussing a strategy to develop a Massachusetts-based determination for shortage areas and to identify guidelines for targeting state resources and dollars that are not constrained by federal guidelines.
Second, we must expand our base of primary care providers through programs like the Bank of America-funded initiative developed by Partners HealthCare with the Massachusetts League of Community Health Centers, which provides loan repayment for primary care physicians who practice in community health centers. The state added money to this program to ensure that all health centers across the state can participate. We must also explore how this program can benefit other communities served by community hospitals and how other providers, such as nurse practitioners and dentists, can benefit from the program.
Third, we must demonstrate that we value primary care providers by recognizing their complex and very important role as providers of preventive services and primary care, managers of chronic disease, and leaders of teams of health care providers caring for people around the clock and in a variety of health care settings. Primary care physicians deserved to be paid for all the care they deliver. We must make it possible for primary care providers to take time to develop relationships with their patients and address the wide range of social and medical issues their patients present.
The state is reviewing ways that we can streamline administrative practices, such as prior approval, so that physicians and other members of the primary care team can spend more time on direct care. Reimbursement must recognize the value of the medical "home" in promoting prevention and wellness, managing chronic illnesses, and in decreasing disparities in health care with the primary care physician as the team leader responsible for this care.
Fourth, we must acknowledge that medicine has evolved over the last several decades. There are new opportunities for delivering some aspects of primary care that emphasize the role of nurse practitioners and others and that promote care for acute problems in settings that are convenient and accessible to individuals, while still coordinating that care with their primary care provider.
Being a primary care physician is a privilege and provides a unique opportunity to make a difference—I know from first-hand experience. It is unfortunate that there are so many forces leading smart and talented people away from a field of medicine that is so rewarding. We have made many advances in medicine and understand the potential that delivering primary care has in improving the lives of individuals and their families. We must make sure that everyone has the opportunity to benefit from having a good primary care doctor.
JudyAnn Bigby, Secretary for Health and Human Services
This program aired on December 8, 2007. The audio for this program is not available.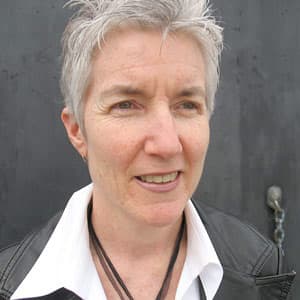 Martha Bebinger Reporter
Martha Bebinger covers health care and other general assignments for WBUR.