HOW MANY PEOPLE ARE UNINSURED? by Richard T. Moore
This article is more than 13 years old.
Last week, state leaders, business organization, health care advocates and others joined to celebrate the fact that by the end of this calendar year, some 300,000 Massachusetts residents who were uninsured a year ago now have health insurance. This is an accomplishment that no other state can claim, and it is a substantial improvement over the trend in health insurance on the national level.
One of the media representatives in the audience that day at the State House asked, "How many uninsured residents are left?"
At this point, no one really knows. There are, of course, estimates, but they vary widely depending on timing and methodology.
What is particularly puzzling is that "America's Health Rankings" produced by United Health Care Foundation uses the U.S. Census Bureau numbers which project a growth in the uninsured in Massachusetts since last year.
The percentage of uninsured in Massachusetts as stated in the most recent edition of "America's Health Rankings" lacks credibility in view of the nearly 300,000 previously uninsured individuals who are now insured either through MassHealth (Medicaid), Commonwealth Care, or private insurance. Yet the AHR suggests that the number of uninsured in Massachusetts have grown. While it's possible, even likely, that some people have dropped coverage from the previous year because of increases in premiums, it's highly unlikely that this number has been sufficient to reverse the substantial gains in the insured as a result of the Massachusetts Health Reform law.
The Massachusetts Division of Health Care Finance and Policy's 2007 Survey of Health Insurance Status of Massachusetts residents found 355,000 or 5.7% of Massachusetts residents do not have health insurance. The survey found that the overall uninsured rate dropped from 6.4% in 2006 (395,000) to 5.7% in 2007, representing a 10% decrease in the number of uninsured.
As noted earlier, the AHR uses U. S. Census Bureau statistics which indicated an uninsured rate of 657,000. Massachusetts contends that the Census Bureau overestimates the uninsured and has done so for many years. There are a number of explanations for the differences in estimates:
• Timing Differences. The CPS survey was in the field during March 2006 while the Massachusetts HCFP survey was conducted during the months of January through July 2007.
• Medicaid Undercount. It is widely believed that the CPS undercounts the number of people unenrolled in Medicaid, resulting in an overestimate of the number of uninsured. This is a particular issue in Massachusetts and other states with extensive Medicaid programs.
• Imputation of Insurance Coverage. When data on insurance is missing, the CPS imputes insurance coverage utilizing national average data on the relationships between various individual characteristics and insurance coverage. Because Massachusetts has a low uninsurance rate relative to other states, this is believed to disproportionately affect estimates for Massachusetts.
• Survey focus. The CPS is a labor market survey and is not designed to exclusively measure the rate of health insurance coverage. In contrast, the Massachusetts HCFP survey was specifically designed to genera health insurance coverage estimates.
Because of these factors, it is unfair to Massachusetts, and probably to other states, to utilize the Census Bureau results. Either the AHR should rely on a methodology more appropriately designed to collect health insurance status information, or the number of uninsured should no longer be included in the rankings.
Despite this difference in computation for the uninsured, Massachusetts is among the top ten states on 11 of the 20 measures used in the health rankings. Strengths include high immunization coverage with 86.9 percent of children ages 19 to 35 months receiving complete immunizations, a low occupational fatalities rate at 3.1 deaths per 100,000 workers, a low prevalence of obesity at 20.3 percent of the population, and ready access to primary care with 187.3 primary care physicians per 100,000 population. This later statistic, while better than other states, is, however, a matter of concern as we expand access to health insurance.
Massachusetts, the survey notes, faces some challenges apart from its questionable calculation of the number of uninsured. There is a high prevalence of binge drinking at 17.7 percent of the population. Of course, the survey does not take into account the very high number of college students drawn to Massachusetts compared to the numbers in other states. There is also a high rate of infectious disease at 20.9 cases per 100,000 population, a high rate of preventable hospitalizations with 79.9 discharges per 1,000 Medicare enrollees, and a high violent crime rate at 447 offenses per 100,000 population.
Report cards, even when they are accurate, mean little beyond "bragging rights," unless we are prepared to do something to improve the grades. We are making progress in reducing the number of uninsured, and our priority for next year is to improve health care quality while containing cost increases.
Senator Richard T. Moore
Senate chair of the Joint Committee on Health Care Financing
This program aired on December 13, 2007. The audio for this program is not available.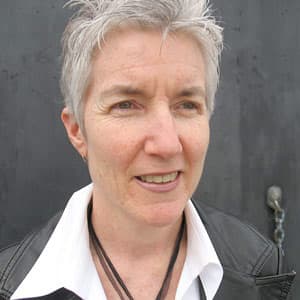 Martha Bebinger Reporter
Martha Bebinger covers health care and other general assignments for WBUR.