Obama's Primary Eve Rally
This article is more than 11 years old.
On the eve of the Democratic primary in Massachusetts, candidate Barack Obama held a rally in South Boston. WBUR's Martha Bebinger was there and has this report.
TEXT OF STORY
(Open with rally sound, supporters cheering, "Yes we can. Yes we can.")
MARTHA BEBINGER: ...A rally that drew thousands to the World Trade Center in South Boston last night. Senator Ted Kennedy urged voters to do the same thing for Obama that they have done for all the Kennedys from Massachusetts.
SEN. TED KENEDY: If you care about our future, if you care about Massachusetts, you're going to go out and vote for Barack Obama.
MARTHA BEBINGER: Obama tried to reassure voters who have had heard opponents say he isn't ready.
SEN. BARACK OBAMA: We need to season and stew him a little bit longer, and boil all the hope out of him, and maybe then he'll be ready. Most Americans don't seem to be buying this argument. They understand that risk would be to have the same old folks doing the same old things over and over again.
BEBINGER: The Senator from Illinois says voters are tired of a political culture that has given up on fundamental problems.
OBAMA: That children will always be poor that racism will always exist, that women will always be treated differently, and I am hear to tell you that if you believe that we can bring about change in America, right here and right now.
BEBINGER: Supporters who waited for hours in a line that stretched a third of a mile down the road were buoyant after the rally. Nandie Varris of Framingham said she felt blessed.
NANDIE VARRIS: It's been a long time coming...the hope.
BEBINGER: Obama won over 29 year old Charlie Mills of Somerville.
CHARLIE MILLS: I was convinced that Obama had a lot of big plans and I wasn't sure that he had enough experience to do it; I was convinced tonight that he can do it.
BEBINGER: Obama's supporters say he has the momentum to overcome the longstanding popularity of the Clintons in Massachusetts and the political machinery that is backing Senator Hillary Clinton.
For WBUR, I'm Martha Bebinger.
This program aired on February 5, 2008. The audio for this program is not available.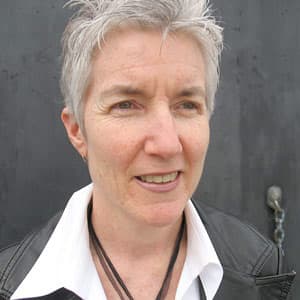 Martha Bebinger Reporter
Martha Bebinger covers health care and other general assignments for WBUR.