HEALTH CARE REFORM II by Jon B. Hurst
This article is more than 13 years old.
Steve Bailey of the Boston Globe is at his best when dissecting where business and politics intersect. His column Wednesday was 99% on target on the cost challenges the state is facing on the new health care law. The projected costs he cited from Alice Dembner's article a few days earlier are indeed staggering. And his conclusion that the next step of reform--seeking to rein in those costs--may be harder to pass than the access measure in the face of the political power of the health care industry is all too true.
But I take exception to one point that Steve made, that the "business community was largely left off the hook." This is an inaccurate notion that some in the access, mandated benefits and health care provider communities would like to perpetuate. That conclusion is certainly not what I am hearing from our 3000 small business members! Insurance premiums continue their double digit annual climb; take up rates with employees are obviously going up due to the individual mandate, further raising the employer's premium costs; and compliance requirements and thresholds, such as defining full-time as 35 hours rather than 40, or requiring prescription drugs and lower deductibles, further escalate costs and limit alternatives.
Small businesses in Massachusetts are struggling in this economy, and basic operating costs like rising health insurance and energy bills are slashing or eliminating profitability.
Health insurance premiums are causing enormous frustration and pain for those barely able to keep the doors open. But it isn't just the actual cost of their premiums that frustrates them, it is also the lack of transparency of insurance costs for big business—their competitors in the marketplace.
As I have noted before in this blog, small employers are prohibited from group buying arrangements in order to achieve discounts and economies of scale. Furthermore the insurers are not required to file their rates for large, fully insured employers, nor for self-insured companies. No one—including the state—knows how much premiums can vary between the smallest of purchasers and the largest purchasers. Nor does anyone know whether big, national, self-insured employers that are exempted from state regulation under ERISA follow all of the current state mandates. Since they don't have to cover the mandates, we can only assume many do not include all in their plans. So large purchasers of health care quite likely pay far less for their individual and family policies than do small employers and consumers for two reasons—their shear buying clout and their greater flexibility in avoiding state mandates granted under ERISA.
In this new environment under which everyone must have health insurance, it is surprising that we don't have a better understanding on premium pricing disparities from the smallest to largest purchasers. Aggregated transparency filings by the insurers and plan administrators would help show whether premium rates are similar enough or unfairly skewed; and whether the lack of buying clout and the existing state mandated benefits are disproportionately hurting local, small employers. If there are disparities in price and compliance, common sense dictates that small businesses and individual consumers should be afforded new opportunities, lower prices, more flexibility and less regulation which is already granted to big business and big government. Certainly in a time of mandated insurance coverage, it is incumbent upon state government to make sure that current or future health care requirements do not create winners and losers in the marketplace.
As the debate on cost containment goes forward, it is important to not only stop this incredible wealth shift from consumers, employers and taxpayers to the health care industry, but to also make sure that everyone is being treated fairly under the law and in the marketplace.Jon B. Hurst is the President of the Retailers Association of Massachusetts
This program aired on February 8, 2008. The audio for this program is not available.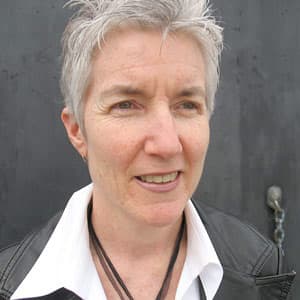 Martha Bebinger Reporter
Martha Bebinger covers health care and other general assignments for WBUR.