This article is more than 13 years old.
Robert Frost once said he wanted to write "a few poems it will be hard to get rid of." As time has proven, he succeeded. Frost's poetry endures to this day. Witness the lasting love for "The Road Not Taken."
Two roads diverged in a yellow wood,
And sorry I could not travel both
And be one traveler, long I stood
And looked down one as far as I could
To where it bent in the undergrowth;
Then took the other, as just as fair,
And having perhaps the better claim,
Because it was grassy and wanted wear;
Though as for that the passing there
Had worn them really about the same,
And both that morning equally lay
In leaves no step had trodden black.
Oh, I kept the first for another day!
Yet knowing how way leads on to way,
I doubted if I should ever come back.
I shall be telling this with a sigh
Somewhere ages and ages hence:
Two roads diverged in a wood, and I,
I took the one less traveled by,
And that has made all the difference.
Frost was a polished poet but he also had a folksy side. We can hear that style now in recordings of Frost's lectures at Dartmouth College in the 1940s. They've just been published for the first time. WBUR's Andrea Shea explores Robert Frost'unplugged.'
TEXT OF STORY:
ANDREA SHEA: Robert Frost's connection to Dartmouth College goes back a long way...all the way to 1892...the year the poet arrived in Hanover, New Hampshire as a freshman. But scholar James Sitar says Frost's initial run at the Ivy League school was a short one.
JAMES SITAR: His grandparents thought that Harvard was too much of a drinking school so they sent him up to Dartmouth and he spent all of about two months there before dropping out.
ANDREA SHEA: Sitar says Frost, an iconoclast, wasn't well-suited to the rigidity of higher education. But later in life the Yankee poet returned to Dartmouth, where he received not one but two honorary doctorates. Sitar himself went to Dartmouth and...as a sophomore in 1999...he says he stumbled on an overlooked trove in the school's special collections library: audio recordings of lectures Frost delivered at Dartmouth in the 1940s. You could call them the forgotten Frost bootlegs...more like talks really... with seniors.
JAMES SITAR: He didn't have any prepared notes for most of these lectures, not any that we know of at least, and so he was mostly shooting from the hip, but you get a sense that he's honed his thoughts and these are the thoughts that he's sharing with these young students.
ROBERT FROST LECTURE: 'Somebody will say to me, "I understand your poem, but...but,' they want to know, 'what are you getting at?' (Laughter) I think they mean under what head does that come? See under what head? How is it classified? Is it pessimistic or optimistic or something like that?' I can't find out. But I always say to them defensively, you know, 'if I wanted you to know I'd had told you in the poem.' (Laughter)
ANDREA SHEA: James Sitar had a hunch the tapes were unique. For the past nine years he's been transcribing and studying the recordings. The lecture you just heard...titled 'Sometimes It Seems As If'... has just been published in 'Literary Imagination.' Peter Campion edits the scholarly journal and says Frost is in his element here, revealing a side of himself you can't get in biographies, letters or essays.
JAMES CAMPION: Here he is talking about how figurative language works, here he is making a mild diss on Whitman who was his beloved yet troublesome forbearer in American letters, here he is making a mild diss on Ezra Pound, we're really going to have a lot more of a sense about Frost's imagination and intelligence that he brought to bear in his own poems from these recordings.
ROBERT FROST LECTURE: No poem is intelligible except in light of all the other poems, and the poems that were ever written, so you better get about them, circulating among them. That's what I say in the spirit of poetry too, and you take as much stock in it as I'm telling you to take...'
ANDREA SHEA: For 'Literary Imagination' Editor Peter Campion listening to Frost like this is groupie's dream come true.
JAMES CAMPION: It was like having a guitar hero walk into your living room with an acoustic guitar and sit down and start to give you off the cuff little lessons and play what he wanted to play and here we have this icon of American literature unplugged.
JAY PARINI: It's a bit like seeing Bob Dylan at Newport when he was only 20, 21 years old, 22 years old.
ANDREA SHEA: Jay Parini is a poet and Frost Biographer who teaches at Middlebury College in Vermont. He says dozens of tapes of Frost speaking about his poems exist...but the Dartmouth lectures provide a snap shot of the poet on the cusp of becoming an American icon. Frost was in his 60s when he delivered this lecture at Dartmouth and Parini says the poet was developing an 'act' he would take on the road hundreds of times in the decades to come.
JAY PARINI: He was a song and dance man, Robert Frost. He was out there on the stage; he was playing the role of Robert Frost. In many ways it was kind of a shtick, and reading this material it's very familiar to any body who knows Frost well. He's using some of the same old lines over and over and over again and he was in many ways perfecting the mask of the rambling old Yankee farmer-slash-poet-slash-philosopher.
ANDREA SHEA: Frost was born in San Francisco, not New England, Parini reminds us. He went on to become something of a Mount Rushmore figure two years after this lecture at Dartmouth with the publication of his collected poems in 1949. A year later 'Time Magazine' put the poet on its cover. And while the newly published lecture captures a fine point in evolution of Frost's career Parini says hearing Frost on Frost is the real treasure.
ROBERT FROST LECTURE: 'Then I'm going to wander around without any...without keeping to it. Sometimes, for instance, I might in taking up the first one here of a new one that I'll read slowly to you. It's not specifically made — not as much made as a good many of mine for reading aloud — but I want to read it to you. And somebody took it the wrong way and spoke to me about it lately and surprised me...and takes me too seriously I guess or something: too unmirthfully, too unpoetically. It sometimes seems as if: Back out of all this now too much for us, Back in a time made simple by the loss Of detail, burned, dissolved and broken off...' - FADE
ANDREA SHEA: That's Frost introducing 'Directive' in '47...a poem he wrote that year. Alas, the Dartmouth tapes aren't available to the public. They're currently held by Robert Frost's estate. Three more Frost lectures from Dartmouth are about to published in the poetry journal, 'Fulcrum.' And so hard-core Robert Frost fans who yearn for the poet's rambling 'on-tour' style will have to satisfy themselves with his words in print.
For WBUR I'm Andrea Shea.
Many thanks to the estate of Robert Frost for granting WBUR permission to broadcast excerpts of the recordings of his lectures at Dartmouth College in the 1940s.
This program aired on March 7, 2008. The audio for this program is not available.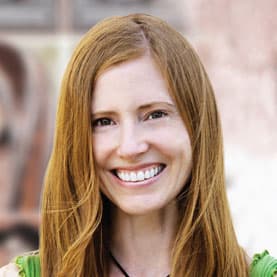 Andrea Shea Senior Arts Reporter
Andrea Shea is WBUR's arts reporter.