Remembering The Depression, Amid A New Crisis
As the pall of a recession blankets the country, the shadow of history is also looming over our experiences today. Many people say this downturn could turn out to be as dire as the Great Depression.
For some perspective of then and now, we want to draw on the wisdom of those who have lived through both times. We'll hear their recollections and opinions in a special series this week.
In this story, four people who live at the Goddard House in Brookline, Mass., talk about their memories of the 1930s — and their thoughts about the crisis today.
MICHAEL KUSHNER
I'm Michael Kushner, I was born in 1918 so that makes me 90 years old. And in 1930 I was 12 years old in the height of the Depression.
That was the Great Depression. In this area, here in Boston, everybody was poor.
BETTY LIEDERMAN
There are poor, and poorer and destitute.
My name is Betty Liederman, I'm 89 years old, I was in Brooklyn New York during the Depression. I was only 10 years old at the time so I was in grade school.
My father was a carpenter. Sooner or later he did lose his job and it was up to us to go to work.
ETHEL REED
I was in high school, I graduated in '31, and I got a job.
My name is Ethel Reed. I'm 95 years old. During the Depression I spent most of my life in Hyde Park, which is a part of Boston.
I remember that my father, who was a railroad engineer, and had worked for many years, usually six days a week in those days, he was cut back to two days a week. That of course made a big difference in our finances.
PEARL KOSBY RUSSO
It was a rough time.
I'm Pearl Kosby Russo. I was born on January 21, 1912, which means I'm closer to 97 than I am to 96 at the moment.
My father and mother had a little neighborhood grocery store. During the beginning of the depression, about 1929, many of the people who shopped in the store they would get what we would call 'credit,' and my father had slips of paper and would write down how much they owed, and many of them didn't pay.
My father had no money to pay the bills and he was devastated that he would have to declare bankruptcy and he committed suicide.
And my mother went into a deep depression from which she never recovered.
MICHAEL KUSHNER
My father was in the produce business. We had fruit and vegetables so we didn't starve to death, you know?
BETTY LIEDERMAN
At that time potatoes were 25 pounds for a quarter, so you could manage somehow to put food on the table, nothing fancy. But I had a friend who could not go back to school because she did not have shoes.
It was not unusual to see somebody's furniture out on the sidewalk because they couldn't pay the rent. Landlords were desperate. Everybody was looking for ways to get some money.
PEARL KOSBY RUSSO
There were no jobs, nothing to do.
ETHEL REED
Many of my friends lost their houses.
Unlike the people who are losing their houses today, those people had worked hard and didn't live beyond their means, but they were the people most sorely affected.
BETTY LIEDERMAN
Things were simpler in those days, it's very complicated now.
PEARL KOSBY RUSSO
The difference between then and now is that people's expectations before the Depression were not as high as people's expectations today. There wasn't this talk about the American Dream of owning a house.
ETHEL REED
Of course in those days if you had a bank account, and the bank failed, there was no FDIC to bail you out, it was a total loss.
MICHAEL KUSHNER
I gotta say this now. A depression comes in when people are not acting fair and square. The banks have no business not to be solvent.
ETHEL REED
This should never have happened. It's been in the making for years.
MICHAEL KUSHNER
And it's just heart breaking to see that happening. It's greed, greed, greed, greed.
PEARL KOSBY RUSSO
We don't have a sense of community today, as we did in the '30s and '40s.
Despite the fact we had no money it was rich and we had many friends who were in the same boat as we were. And there was there this sense of people helping each other, you shared whatever you had. It was very little (laughs) but we enjoyed ourselves even though we were very very poor according to today's standards.
ETHEL REED
People now who have lost their jobs they're going to have quite a number of weeks of unemployment, which is a great help. There was nothing like that, nothing! For the people during the depression there was zero! Now they are not as bad off as they think they are. That is, by comparison.
This story was produced by WBUR's Andrea Shea.
This program aired on December 15, 2008. The audio for this program is not available.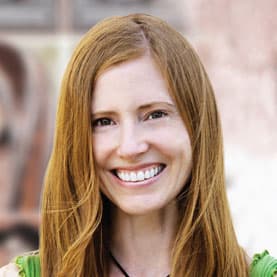 Andrea Shea Senior Arts Reporter
Andrea Shea is WBUR's arts reporter.