"In Defense of the Safety Net" by Elaine Ullian
This article is more than 12 years old.
We all know the phrase, "working without a net." It is no better an idea for a health care system than it is for a tightrope walker. Yet, if we do not make some important changes soon, Massachusetts may be on the brink of losing its safety net hospitals.
Given the state of the economy, everyone in the health care community acknowledges the need for shared sacrifice. But we, as a Commonwealth, must work together to ensure that short-term cutbacks do not have unintended long-term ruinous effects on our ability to care for those in need. Historically, we in Massachusetts have been able to turn fiscal crises into opportunities to reshape priorities around essential needs. This is one of those times, and caring for the poorest and most vulnerable among us ought to be one of those priorities.
While a private institution, Boston Medical Center operates with a very public mission to provide exceptional care without exception. As with all other safety net hospitals, public or private, BMC could not do what it does without consistent public support. Nearly three decades ago, Congress recognized the necessity and special nature of safety net hospitals. It acknowledged the financial realities these hospitals have with a payer mix so heavily weighted toward public, not private, insurance, and required state Medicaid programs to make adequate payments to hospitals that serve a disproportionate share of low-income and uninsured patients. People may debate the amount and nature of the payments, but the underlying principles certainly have not changed.
Massachusetts is in the midst of a bold experiment in health care. Our success in covering hundreds of thousands of previously uninsured people gets the most public attention. But much less focus has been paid to the plan to pay for this coverage.
Health care reform will not be successful if the current trend continues: significantly decreasing funds previously targeted for safety net hospitals, and grossly underpaying those hospitals for services they provide their patients. The result will be a negative impact on the care and services provided to their patients and on the ability of hospitals such as BMC to continue to operate.
This past year, we saw what the future may hold for "disproportionate share hospitals." Sadly for BMC in 2008, that meant taking a disproportionate share of state budget cuts.
There is a misconception that somehow BMC can withstand a drastic reduction in public support. This is not true. If the state does not pay BMC fairly for the services we provide, BMC will not be able to survive. Perhaps other hospitals that care for patients with higher incomes and private insurance plans could make up such a shortfall in the form of higher payments from insurers. But at BMC, where 51 percent of our patients are low-income and 31 percent receive Medicaid, that is simply not an option. It is also not an option for the physicians and nurses and caregivers at BMC to contemplate the notion that our patients should receive a secondary standard of care simply because of who they are.
It is becoming apparent that some in state government may actually believe we no longer need a health care safety net. The exact opposite is true. In this troubled economy, with jobs and benefits at greater risk than ever, we need our safety net hospitals now more than ever. What good is it to expand coverage if the result is to diminish the access that the newly insured count on? What good is it to give everyone an insurance card if they don't have access to health care? For everyone who cares about access and quality of care for the most vulnerable, as well as the future of health care reform, the future of our health care safety net is a very serious issue and one that deserves to be front and center in 2009.
Elaine Ullian
Boston Medical Center President & CEO
This program aired on January 9, 2009. The audio for this program is not available.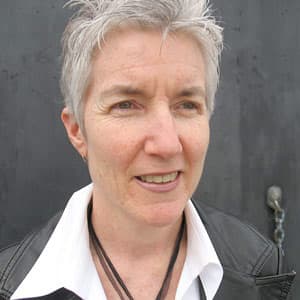 Martha Bebinger Reporter
Martha Bebinger covers health care and other general assignments for WBUR.