Dying Of A Broken Heart: A Diagnosis For Grief
This article is more than 12 years old.
Many of us have known someone who loses a spouse or child and just never seems to get over it. Some researchers say that is not just folklore but a diagnosible mental illness they call "Prolonged Grief Disorder." As the American Psychiatric Association considers establishing this new diagnosis, we survey divided opinion on how to deal with prolonged grief.
Joyce Lopes met her soul mate at a bowling alley in Fairhaven in 1988. Ten years after a whirlwind romance and marriage, Tony was diagnosed with cancer of the esophagus.
He died six weeks later.
Joyce fell apart. She couldn't go back to work and only got out of bed to deal with her 6-year-old daughter's basic needs. She held out hope that her blanket of despair would lift if she could make it to the one-year anniversary.
JOYCE LOPES: I had been told you get through all the firsts and then you start to heal. Unfortunately, it didn't work that way. Month 15, I was suicidal. They talk about steps going through grief. I think I probably got stuck many times in all the steps.
Lopes hung on, trying different medications. She joined a widows' support group which helped. Five years after Tony died, she was diagnosed with breast cancer, which Lopes believes was a result of her poor mental and physical health.
Ten years later, Lopes is still grieving. She has not returned to work and only leaves home when necessary.
LOPES: A day does not go by that I do not think about my husband. I say goodb night to him, I feel his presence, don't have any desire to go out and do things. What my activities are right now is based on my 16-year-old daughter and her school functions.
HOLLY PRIGERSON: It's just really sad. That's the whole motivation for wanting to identify it and treat it. It's just people wasting and waiting. It's needless.
Holly Prigerson is the lead proponent in a movement to establish "Prolonged Grief Disorder" as a new mental-health diagnosis. Therapists would consider it for clients who, six months after the loss of a loved one, do not seem to be working through their grief and aren't moving on with their lives.
The proposed symptoms include confusion about who you are without your spouse or child, inability to trust or care about even other close relatives, avoiding reminders of the loss and persistent numbness, emptiness and shock.
But Prigerson, who studies bereavement at Dana Farber Cancer Institute, says the key symptom that makes Prolonged Grief Disorder different from depression or anxiety is an intense yearning.
PRIGERSON: What grief is, is wanting what you can't have. That hankering and yearning and pining and craving for something that you think is essential to your sense of happiness and well-being.
In the current "DSM," or "Diagnostic and Statistical Manual of Mental Disorders," grief is defined as the normal response to loss. It is not considered a medical diagnosis and isn't something doctors are paid to treat.
If it is approved as a new disorder, there would be established symptoms, treatment for patients and doctors could be reimbursed. Prigerson's research suggests that 10 to 20 percent of Americans who suffer a loss experience prolonged grief.
Joyce Lopes believes she is among them and is relieved to think there may be a diagnosis that would acknowledge her struggle.
LOPES: It's knowledge, it's I'm not crazy, it's something written that this happens sometimes. And it might even educate friends and families.
But others who find themselves grieving years after a loved one has died object to calling their experience is a mental-health condition.
ALLISON: I'm not keen on the idea or it being called a syndrome or a disorder.
That's Allison, who lost her husband John to lung cancer in 2006.
ALLISON: Life is almost back to as normal as it is going to get, but I still feel very alone.
CRAIG: I don't think that we disagree that there is prolonged grief. It's more that grief by definition is prolonged.
Craig and Allison, who ask to use just their first names, belong to a bereavement group that began at Dana Farber a little more than three years ago and continues now, informally, in members' homes. They are both frustrated by the widespread expectation that they should have finished grieving after six months or a year.
CRAIG: It's pretty universal. People will just sort of, have enough of it, and there's a sort of pressure to not bring it up.
Some psychiatrists are not convinced that the research shows a clear difference between normal and prolonged grief. Karl Goodkin, a psychiatry professor at Cedars-Sinai Medical Center and UCLA's school of medicine, has been working in the field for 18 years. He believes prolonged grief is much more common than is generally acknowledged and is worried about patients who aren't getting help. But he's also worried about the effects of diagnosing people who don't have it.
KARL GOODKIN: Part of that involves differentiating people who are termed pathological because their grief is on going. That can become stigmatizing. And in addition we still really don't know where this cutoff should be.
Prigerson counters that numerous studies in the US and Europe have confirmed the criteria for Prolonged Grief Disorder. But she and colleagues also face skepticism from some leading psychologists who study loss. They argue, as Craig and Allison did earlier, that prolonged grief is not a separate medical or mental state but rather one end of a continuum. And they question whether the push to establish this new disorder is largely about creating a billable diagnosis, a new area of research or a problem that pharmaceutical companies can develop medicine to treat.
WILLIAM NARROW: We definitely are very sensitive to the relationship between medicine in general and the pharmaceutical industry.
William Narrow is the research director for the American Psychiatric Association's task force on revising the DSM…the manual that defines mental disorders…where prolonged grief is under review.
NARROW: We've had a detailed and painstaking process to make sure that conflict of interest issues are minimized to the extent that pretty much is humanly possible.
It will be several years before the APA decides if Prolonged Grief Disorder will be included in its next manual. In the meantime, testing for possible drug, online and interpersonal treatment is underway. Joyce Lopes may enroll in one of the studies... hoping for something that might help her find meaning in life again.
Martha Bebinger
Thanks to Dr. Michael Miovic at Dana Farber for his help with this story.
This program aired on April 2, 2009. The audio for this program is not available.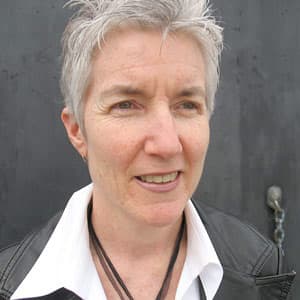 Martha Bebinger Reporter
Martha Bebinger covers health care and other general assignments for WBUR.