Mass. House Budget Proposal Slashes Local Aid
This article is more than 11 years old.
The scope of state spending is shrinking again. A House budget proposal released Wednesday slashes state aid to cities and towns, public health prevention initiatives, home care for the elderly and ends state funding for 55 programs.
"This budget is a string of regrettable choices counterbalanced only by the understanding that it is the responsible thing to do," says House Ways and Means Chairman Charley Murphy.
House Ways and Means FY 2010 Budget recommendations
Murphy says "responsible" is what the state can afford as tax revenues slide.
The bad news hit Lewis Finfer within minutes as he scanned the proposed House budget. Three youth anti-violence programs he has worked to build are gone, for a savings of $25 million.
"I've been working at this stuff for almost 40 years and this is the worst budget that I've seen," Finfer says. "These are decades of work that are being shredded and I don't think people are willing to give up the fight yet."
Finfer, with the Massachusetts Communities Action Network, is one of dozens of advocates who jumped on the phone Wednesday to sympathetic state representatives.
Some of them have already filed amendments to restore cuts — in community policing, the METCO program, rental vouchers for homeless families and to the disabilities employment program that supervises 45-year-old Lucy Haroutunian on the dish line at a Brandeis University cafeteria.
"I put the dishes away; do the silverware. I like it," Haroutunian says. "I'm working my way up to get a job outside the community, like a dish room or something."
Instead of graduating on to an unsupervised position, Haroutunian may lose the opportunity to work at all with these cuts.
But perhaps the biggest and most immediate outcry is from cities and towns across the Commonwealth. Massachusetts Municipal Association Director Geoff Beckwith says the House budget shrinks state aid to 1987-funding levels.
"This budget will reduce thousands of jobs at the local level," Beckwith says. "Class sizes will be higher, roads will not be repaired, libraries will have their hours cut or the library will be closed. And police stations and fire stations will have fewer public safety officials serving the people."
A few priorities are spared. There are, for example, no cuts to the state's free and subsidized health coverage plans. The House budget avoids deeper cuts by including $1.4 billion in federal stimulus funds, although leaders are worried about how the state will fare when that money runs out in 2012.
Some state representatives say the only way to offer more relief is to raise taxes, and the only way to build political support for higher taxes is to deliver a budget that cuts as deeply as needed without new revenues or drawing on reserves.
But House Ways and Means Chairman Charley Murphy says these cuts are not a scare tactic.
"That's a very cynical premise," Murphy says. "This reflects reality. Tax revenues are not there. We have to recalibrate how we do business as a government, because it's not coming back anytime soon. Expectations internally, expectations externally have to change. This budget starts that conversation."
The anti-tax side of that conversation rallied on Boston Common Wednesday, with Carla Howell from the Center for Small Government.
"We must vote for candidates who campaign for, promise and vote to give back every dollar to the taxpayers," Howell yells.
Inside the State House, the Rev. Hurmon Hamilton, with the Greater Boston Interfaith Organization, lead a crowd rallying to restore funding for Boston Medical Center and other health-care providers, in a prayer.
"Now tell somebody it's time to fund justice, Rev. Hamilton says. "We gather in this hall because we're stuck on the side of horrendous budget cuts that threaten the safety nets upon which life and death hangs."
The House will consider tax increases during the budget debate that begins at the end of the month. Groups who know that getting funding for their project back into the state budget won't happen without some new money are launching phone trees, scheduling community meetings and trying to create a virtual rally through Facebook and Twitter.
The message: Call your state representative and tell them you support tax increases to stop these cuts.  If momentum in the House swings in favor of tax hikes, lawmakers would likely vote on one package, so they are recorded as taking one tax vote.
It's not clear what would be in that package. What it won't include is clear.
"I think all three members – The House, the governor and myself – have agreed not to do an income tax," Senate President Therese Murray says. But, Murray agrees, the state does need new revenues.
Murray told members of the Greater Boston Chamber of Commerce Wednesday that the three statehouse leaders have agreed to debate some form of expanded gambling, casinos or slot machines at the race tracks this fall.
"To see that over $900 million leaves the Commonwealth every year and goes to Connecticut and Rhode Island for gaming, I think that — even if we picked up $700 million of that — that we would all take that," Murray said.
Murray says the Senate does not expect to have gambling revenue in its version of next year's budget. The Senate may in fact have to cut deeper than the House proposal, if revenue from capital gains comes up short and the economy continues to fall.
This program aired on April 16, 2009. The audio for this program is not available.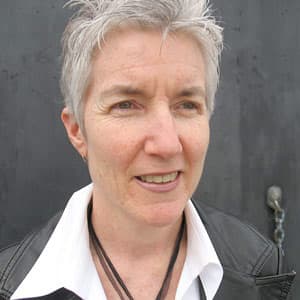 Martha Bebinger Reporter
Martha Bebinger covers health care and other general assignments for WBUR.