'Investing in Healthcare To Boost the Massachusetts Economy' by Lynn Nicholas
This article is more than 12 years old.
As President Obama embarks on his second 100 days in office, our nation continues to slog through an extraordinary economic downturn that now has Massachusetts lawmakers struggling to create a viable state budget in the face of rising unemployment and continuously plummeting revenues. April receipts were nearly 35 percent below the same month last year– down almost $1 billion from last April's collections – and $456 million under already lowered projections for the month. The Commonwealth's lawmakers are starting to use words like "catastrophic" and plain old "awful" to describe next year's budget.
Both nationally and at the state level, healthcare reform is correctly being linked to economic recovery. In the face of such severe deficits, the temptation will be to make even more widespread cutbacks. But we must pursue our goals of economic recovery through investments in healthcare, or risk doing irreparable damage not only to our healthcare infrastructure but to the broader economy.
There are three powerful reasons for investing in Massachusetts healthcare:
• Keeping the state population healthy is invaluable as a humanitarian goal, but it also helps keep our workforce productive;
• Healthcare employment is well positioned to help stabilize and invigorate the state's economy; and
• Healthcare services provided to Medicaid (MassHealth) patients generated the federal Medicaid stimulus funding to our state. And Medicaid spending drives additional federal funding. Conversely, Medicaid payment reductions have a magnifying effect – a little Medicaid cut results in a great loss of federal funds.
Investing in healthcare and hospitals makes good economic sense, good healthcare sense and good common sense. Consider this…
Healthcare is an economic driver that offers well-paying jobs across all levels of the economic spectrum, and has long been viewed as "recession proof," particularly in Massachusetts. Yet a new, nationwide American Hospital Association survey shows that the current economic downturn is negatively affecting hospitals across the U.S., and the survey's results for Massachusetts are consistent with the Massachusetts Hospital Association's own recent report showing how hospitals have historically bolstered the economy and are now suffering due to the recession.
The AHA survey reveals that as the economy worsens, hospitals nationwide are being forced to make tough decisions. Seventy percent of U.S. hospitals responding to the survey reported declining financial health, and 90 percent have cut services, expenses and/or staff to address economic concerns. The MHA report, "Massachusetts Hospitals: Critical to the Commonwealth and Threatened in the Economic Downturn," also shows a systemic decline in hospital finances, particularly during the current economic downturn.
The statistics are grim. In Massachusetts, 59 percent of Massachusetts hospitals are reporting a decline in elective surgeries, and 24 percent report that they have – or will – cut services. Sixty-four percent of our hospitals are reporting staffing cuts. Bay State hospitals had to cut 1,000 positions in 2008, and that number will climb this year. And these jobs have a "multiplier effect" of two – each hospital job supports another job in the state's economy.
The emergency budget cuts implemented by the Patrick Administration this fiscal year impact health care providers significantly. Even with the Governor's recent proposed restoration of funding to two of our hospitals that provide a disproportionate share of care to the poor, hospitals state-wide are faced with at least $93 million in payment reductions in FY09.
The proposed 2010 budget now being debated in the legislature includes even deeper cuts to hospitals totaling $262 million. MHA estimates that each million dollars cut from healthcare revenue is equivalent to about 16 hospital jobs. And the economic "multiplier effect" mentioned earlier also works in reverse, so the current proposed cuts if translated into employment terms, could mean more than 10,000 lost jobs.
While the state is facing difficult financial circumstances, this reduction in Medicaid payments is nevertheless an erosion of the Massachusetts Healthcare Reform commitment to align hospital and physician payments to the cost of care. Though progress was made initially on this important initiative, MHA projects that the underpayment gap will be larger in 2010 than before the reform law was enacted – by up to $500 million annually.
The administration has also announced efforts to extend this financial loss throughout the Medicaid program by requiring all Medicaid Managed Care Organizations "to contract at no more than MassHealth Fee-For-Service (FFS) rates" with hospitals. This would cost hospitals more than $200 million in fiscal year 2010. Recent thoughtful and bold action by our state House of Representatives could help to prevent the latter reduction, but the matter has moved on to the Senate, and the larger issue of the Medicaid payment adequacy remains.
Instead of Medicaid payment reductions, the commonwealth should use the new federal Medicaid funds to restore as many of the FY2009 Medicaid and state health care cuts as possible, and prevent further cuts to this sector. This new Medicaid funding for Massachusetts should also be placed in a state account separate from the general fund to allow for greater transparency.
The federal Government Accountability Office (GAO) estimates that Massachusetts will receive an additional $3.09 billion in Medicaid funding over the next two and ¼ years. Under the America Recovery and Reinvestment Act (ARRA), the federal government's share of MassHealth's costs will be increased from 50 percent to approximately 60 percent. This means for every dollar spent on the MassHealth program, the net cost to the state is only 40 cents. Conversely every dollar cut from MassHealth payments for provider services saves Massachusetts only 40 cents.
We need to ensure our state's economic engine does not stall, along with its multiplier effect. Using the federal Medicaid revenue to restore and prevent Medicaid and healthcare budget cuts will preserve the excellent provider access so important to Massachusetts patients and communities, and spark effective stimulus to the state's overall economy.
Lynn Nicholas, FACHE,
President & CEO, Massachusetts Hospital Association
This program aired on May 7, 2009. The audio for this program is not available.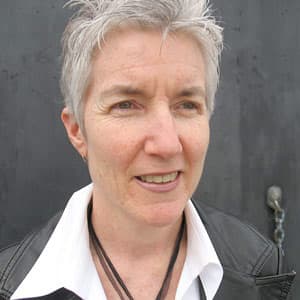 Martha Bebinger Reporter
Martha Bebinger covers health care and other general assignments for WBUR.