Kennedy Remembered As The Senate's Hardest-Working Man
12:01
Play
This article is more than 11 years old.
Edward Moore Kennedy was 14 when his brother, John F. Kennedy, was elected to Congress — and the youngest of the nine Kennedy children started imagining his own political career.
"The idea that you had a brother that was a congressman was just the biggest deal that could possibly ever happen to any family," Kennedy said. "When I'd go down and visit him, I'd come in for breakfast and hear them talking about such interesting things. It was really the power of example."
A power that infused Kennedy's early years. He spoke often about the influence of his grandparents, including former Boston mayor John "Honey Fitz" Fitzgerald, his mother's father.
On vacations in Florida, Kennedy was assigned to drive his grandfather to the main hotel in Palm Beach, where the teenager would watch the master politician at work.
"I'd bring Grampa down at 9 o'clock in the morning to the Breakers hotel and he'd go and sit in the lobby with 12 newspapers. He'd go up to the concierge and give the concierge $10, for the concierge to ring the bell once if the person was from Massachusetts and twice if they were from Boston. And just as I would be ready to walk out I'd hear, ding, ding, and Grandpa would go up, "I'm Honey Fitz from Boston, you must be from Boston, too!"
Kennedy launched his own political career well before even close family members thought he was ready. But he persuaded his brother, the president, to help him win JFK's former U.S. Senate seat. Ted was elected in 1962. He was 30. Kennedy was interested, early on, as were his brothers, in issues rooted in their family experience.
"All eight of my great grandparents arrived in East Boston, at the dock, I can look out my window at the JFK building in Boston, I can see the dock they arrived in, every one of them, not knowing what was going to happen, and they were fortunate, and we were able to participate in the democracy, it's a great gift."
Keeping the path to immigration open became one of Kennedy's signature issues. The first bill he managed in the Senate was the Immigration and Naturalization Act of 1965. His biographer, Adam Clymer says it was one of several that Ted Kennedy took over after his brother Jack was assassinated.
"That was a bill that Jack had drafted and hadn't gotten through the Congress," Clymer said. "Jack had written the book called 'A Nation of Immigrants.' Ted carried that forward. He picked up a number of Robert's causes."
Including work on Native American affairs and pressing to end the war in Vietnam. But early on Kennedy adopted the issue that would become his passion. "There probably has not been, a family in this country that has been touched by sickness, illness and disease, like my own family," Kennedy told a gathering of Democrats in 1978.
Kennedy mentions his sister Rosemary's mental retardation, his father's need for constant care after he survived after a stroke, the extraordinary cost of Kennedy's children's cancer treatment and the seven months he spent in the hospital healing a broken back. "We were able to get the very best in terms of health care, because we were able to afford it, " Kennedy continued. " It would have bankrupted any average family in this nation."
Kennedy's first health care bill established federal funding for what was, in 1966, a new model for health care: community health centers. In 1969, four years after the creation of Medicaid and Medicare, Kennedy filed his first attempt at a national health program for all Americans. Stan Jones was Kennedy's first health policy aide.
"Medicare was thought of as the first step. It was intended from the get go that it would cover the whole country," Jones said. "Kennedy shouldered that mantel to finish that job."
Kennedy hoped to finish that job this year. For 40 years, he filed a bill to expand health coverage in almost every session of Congress. David Blumenthal , a longtime health care adviser, said Kennedy "always saw himself as working toward universal coverage. He was willing to do children, if that was the available opportunity. He was about getting real help to people rather than standing on principle when the principle doesn't get real help to people."
So in the early 1980s, when it seemed clear to Kennedy that national health insurance was not politically viable, he began a series of what some former aides called incremental steps toward universal health care. He won passage of a plan to cover the unemployed. There were bills that preserved insurance when workers changed jobs and a measured that expanded coverage for moderate-income children.
This shift in strategy frustrated supporters of a national health program that would cover everyone. Harvard Medical School professor emeritus Rashi Fein, who helped draft some of Kennedy's national health bills, remembers a hearing on one of the incremental bills.
"During the testimony, he turned to the audience and said, there are those who would argue that a universal comprehensive system is really the best approach, and I would not deny that," Fein recalled. "But that's not where we are politically, and I will not hold hostage those people who can be helped today because I want to argue for something bigger and better but which they can't have and wouldn't help them now."
In his later years, Kennedy adopted that pragmatic approach to the politics of the Senate as well as the issues. But he didn't start off that way, said Sen. Orrin Hatch, "Ted had a fire-breathing, far-left liberal reputation that even about 20 Democrats didn't like and would vote against."
But the Utah Republican says Kennedy, unlike some other liberals, adapted when Republicans took control of the Senate in 1980. "In the process, Ted has become the greatest liberal legislator in our land, maybe one of the greatest of all time, and frankly, it's been a privilege to work with him. We are very close. We fight each other most of the time; I mean we're like fighting brothers," Hatch added with a soft laugh.
Hatch, against pressure from Republican leaders, co-sponsored several health care bills with Kennedy, including SCHIP, a law that expanded coverage for moderate-income children. Kennedy balanced that pragmatic sense of how to get things done in the Senate with a role he cherished — as a champion of liberal causes and the Democratic party.
Former press secretary Scott Ferson remembers one afternoon in 1996 when his boss was working with Sen. Bob Dole to pass a national-parks bill while simultaneously working against Dole, the Republican presidential nominee.
"Sen. Kennedy had been on the floor for a very long time," Ferson remembers, "red-faced, yelling about Sen. Dole's lack of ability to be president and yet at the end, was able as a colleague to go over and if it were somebody else, maybe Sen. Dole would have had a different reaction from, of course Ted, let's go ahead and do this."
Former aides describe Kennedy's three-stage approach to passing major bills. First he would immerse himself in a subject with briefings from experts. Rashi Fein remembers the first time he went to Kennedy's home in Virginia to talk about national health insurance.
"And I said to myself, Why did I fly down, the senator is sitting there, he's basically asleep, although, with his eyes open, which is kind of interesting. Then at about 10 p.m., he gathered himself up and then for a half-hour, 40 minutes, he was questioning things we'd said, probing deeper, and all of this without a piece of paper in front of him, without any notes. I thought it was a tour de force," Fein said.
Dozens of people who briefed Kennedy over the years describe the intense listener who zeroed in on critical issues weeks or months after absorbing information. When Kennedy was satisfied with his grasp on an issue, he would map the politics — who in and outside Congress he could bring on as supporters and how. And then he'd design a strategy for selling the idea to the press and general public. His staff worked at a pace that exhausted many if they tried to keep up.
Scott Ferson says most communicated with Kennedy through daily memos he would read at home or on the road at night.
"Every evening he would leave with what the staff would call 'the bag.' It was called 'bag time.' You had to make it," said Ferson. "And it was interesting, you'd always say, the bag would be leaving, not that the senator would be leaving, but the bag will be leaving at 7 o'clock, if that was the case."
Ferson says the memos from as many as 100 staffers always came back the next day, marked up with questions or suggestions, no matter what Kennedy was doing that evening. And the evenings were often full. Tom Glynn, now the COO at Partners Healthcare, was deputy labor secretary in 1994 when he went to dinner one night at Kennedy's home to brief him on proposed welfare changes.
"In the middle of dinner and active discussion, he motioned me to follow him . So I followed him down the hallway to a private phone, where he was getting ready to call Gerry Adams to tell him that the State Department had approved his visa, which was a very significant thing at that moment," Glynn recalled, "so while he's immersed in welfare reform, he's also working on an important international issue."
And sharing that moment when the then-controversial Sein Fein leader would get the OK to enter the United States, with Glynn who, like Kennedy, is Irish-American.
For many who knew Kennedy, it's the personal touches they will remember. Glynn cherishes the thank-you notes the senator would send, like clockwork, for many occasions.
"If you don't get a thank-you note within 24 hours, it's because the mail system is broken," Glynn said. "He is just completely courteous with everyone. I have at home a stack of these notes I've received, which someday my kids will have."
For special occasions, staff or acquaintances might get a print of one of Kennedy's paintings — of the compound in Hyannis Port, his sailboat or daffodils — signed with a brief message. And staff say he loved to leave phone messages to stay in touch with constituents.
"It's pretty amazing to have the mundane sorts of messages that are on the answering machine and then, 'Ken, this is Ted, Ted Kennedy.' And there he is. It did mean a lot. It did mean a lot," said Ken Jones of Wenham.
Jones met Ted Kennedy in 1989, shortly after his son Christopher was killed in the explosion of Pan Am flight 103 over Lockerbie, Scotland. Kennedy assigned a staff member to handle the personal and political ramifications, and he would call or send notes to family members to keep them up-to-date on governments' response to their concern.
Jones says most of this work, including an initial meeting with families of Lockerbie victims, was done quietly, without fanfare, but had a deeply reassuring effect.
"This legend, this Mt. Rushmore kind of person, he took the time, it wasn't like he was looking at the watch, off to the next meeting or whatever," Jones said. "He talked to us about his losses and shared his stories with us and we shared our stories with him. That was what was really important, someone like Ted Kennedy caring at a time when caring mattered, caring mattered."
Sen. Kennedy returned the compliment many times over the years, "I've been very lucky as an individual and honored to represent a state that has so many people that really care about their fellow human beings." Kennedy's voice softened as he accepted the "Irishman of the Year" award in Boston in 1990, "this has been especially meaningful to me to have that extraordinary opportunity to represent a state, proud of its tradition and its heritage and with people who really do care so much about their fellow citizens. That has been extremely meaningful to me."
This program aired on August 26, 2009.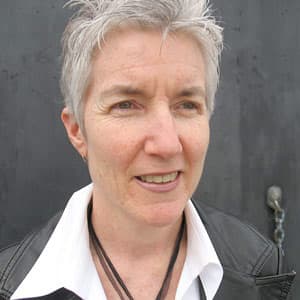 Martha Bebinger Reporter
Martha Bebinger covers health care and other general assignments for WBUR.