Home Or Hospital: The Natural Birth Debate
This article is more than 11 years old.
As the flames dance in the wood stove and dogs bark amiably in the background, Nicole Andrade, who is 36 weeks into her first pregnancy, lies on her back in a living room surrounded by photographs of children as two midwives feel her stomach.
"This baby is in a perfect spot," says one, Joyce Kimball, of Worcester. "Head down, totally compact, not too big, not too small, I feel a little feet over here and a leg over here."
Fellow midwife Lauren Olson Silford, of Newburyport, murmurs in agreement. "It loves to have its feet tickled."
This is no doctor's office — it's a home — and if all goes well, Joyce and Lauren will soon be delivering Nicole's baby — at home.
"Most people don't know that home birth is an option," Joyce says.
In all, there are about 400 nurse-midwives in Massachusetts. They practice in homes, hospitals and birthing centers, but not as medical professionals, according to current Massachusetts law. A little-known bill that would regulate all midwives who practice in the state appears to be languishing in the Legislature.
Cheerful, encouraging and informative, Joyce personifies the spirit of midwifery. The young mother has delivered 200 babies at homes across the state, and she has attended another 150 births as a labor coach, a doula, to women who have hired her to support them at the hospital.
A hospital birth is just what Nicole Andrade doesn't want. "Because that's what hospitals are for — emergencies," she says, bursting in laughter.
A 35-year-old tri-athlete and a doctor of chiropractic, Nicole registers blood pressure of 90 over 62. She's healthy and has had a normal pregnancy. Midwives say she's an ideal candidate for having a natural delivery, without drugs or other medical interventions. If she does, Nicole will belong to a distinct minority of American women.
"Our society as a whole believes that, you know, there are drugs," Nicole says. "Why would you ever want to feel pain during childbirth?"
Indeed, according to a national survey of women who gave birth in 2005, 75 percent were injected with a spinal anesthetic called an epidural. And 50 percent were given the drug pitocin to speed up or to induce their labor. Moreover, state statistics show that 34 percent of women in Massachusetts delivered by Caeserean section.
At the pre-natal visit in Newburyport, Joyce questions Nicole's boyfriend, Matt Service.
"Do you have any worries or fears or concerns?" she asks him.
"I mean, you know, I'm always concerned that, what if something goes wrong?" he says.
Here the discussion turns to a back-up plan: Which hospital will they go to if a problem does arise?
"It's very uncommon to transfer. It's about 10 percent," Joyce says. "It's very rare — you know, twice in 10 years I've called an ambulance."
The major reasons for going to the hospital, Joyce says, are exhaustion from prolonged labor or relief from the pain if it becomes too great. Matt and Nicole, who could have had the birth totally covered by insurance if they'd scheduled a hospital birth, express confidence in their choice — and their midwives.
Nicole says she would "not be psyched" if she ended up needing to go to the hospital, but she trusts the judgment of the women guiding her. "Having two experienced midwives looking at me saying, 'this is really best for you and best for the baby,' — I'd go."
Joyce Kimball is not a doctor, she's not a nurse, and she isn't regulated or licensed by the state. She is called a certified professional midwife, or CPM. There are some 30 or so in the state and they receive their training through schooling and apprenticeships.
Because CPMs like Joyce are not nurses, they can't practice in hospitals or birthing centers.
Maryanne Bomba of the Massachusetts Medical Society says they shouldn't be delivering babies at home, either. "Most births are very uneventful and uncomplicated," she says. "But if there is a problem, there's no one else there, there's no help there."
Except for the midwives, of course. But Bomba says they have minimal training and experience. "Sure people give birth in cars on the side of the road," she says. "Is that optimal? I don't think so."
Few women choose to have home births, and over the years the number hasn't grown. Twenty years ago, when my wife gave birth to our second child at home, 329 babies were born at home in Massachusetts. In 2006, the number was 325. Even hospital births attended by certified nurse midwives have fallen in the last 10 years.
Yet Nicole and her boyfriend Matt are determined to follow their choice.
"These issues are not up for discussion or debate," Nicole says firmly. "Unless the midwife tells us to go to the hospital, we won't be going there."
---
Want to hear more? Listen to Radio Boston's hour-long show on midwifery in Massachusetts.
This program aired on December 11, 2009. The audio for this program is not available.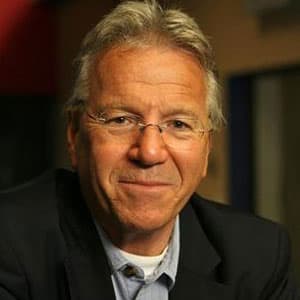 David Boeri Senior Reporter
Now retired, David Boeri was a senior reporter at WBUR.