Pops Goes Punk For New Year's Eve
This article is more than 11 years old.
Jazz standards, move over.
Punk cabaret singer Amanda Palmer - formerly of the Boston duo, the Dresden Dolls - will share the New Year's Eve stage at Symphony Hall with the Boston Pops Orchestra and conductor Keith Lockhart.
"New Years is always a special show for me, traditionally," said Palmer. "I always put a lot of time and energy into making it unique. Symphony Hall and Keith and the Pops give me a lot of toys in my toolbox."
According to Lockhart, a prior performance forged the relationship.
"We worked with Amanda two years ago on our Edgefest series and I really found her, I think, the most successful thing we've ever presented on that," said Lockhart. "It's a true collaboration between the two forces and we thought what a great, different way to celebrate New Year's Eve, so we're going for it!"
Lockhart hopes the underground musician will attract a younger, different crowd.
At the same time, he acknowledges the risk that comes with selling Symphony Hall to people more accustomed to rock clubs.
"Yes, the difficulty and the risk with this is the people who would normally come to Amanda's show may not be the same people who would normally come to a Boston Pops New Year's show," said Lockhart. "So to convince them that this is not going to be your mother's Boston Pops New Year's show is, I suppose, the goal of marketing a concert like this.
"But I really think it's well worth the risk for the people we'll bring in and the fact that we'll play to a whole new audience."
Palmer is a bit more bullish towards any perceived risks associated with the collaboration.
"Risks? Well, I suppose I run the risk of people who were expecting the classic New Year's Pops show to run screaming from the hall, shouting, 'Heresy!' But I think I'd actually like that," said Palmer.
Palmer also dismissed concerns about mixing relative "high" and "low" culture on such a night.
"I think 'low culture' and 'high culture' mean very little - especially to young people - nowadays," said Palmer. "We're a mash-up society, a postmodern generation. What I've found in my many years of being a performer is that people love feeling real emotion from a performance, witnessing passion and being authentically entertained, feeling connected. Sometimes you use Tchaikovsky, sometimes you use Queen. [It] doesn't matter, and shouldn't matter. We need it all and anything goes, baby."
For the concert the Pops will perform songs from Palmer's recent solo album, "Who Killed Amanda Palmer".
Other edgy artists will also help to transform Symphony Hall's traditional atmosphere into something a bit more carnivalesque. Composer, sound designer and storyteller Sxip Shirey will perform on "found object" instrument inventions. The retro pop band, The Great Picture Show, will also be there, along with local singer-songwriter Miss Tess and the Bon Ton Parade.
This program aired on December 31, 2009. The audio for this program is not available.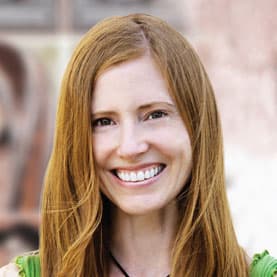 Andrea Shea Senior Arts Reporter
Andrea Shea is WBUR's arts reporter.