A Rumored Da Vinci Generates Buzz In Boston
03:31
Play
This article is more than 11 years old.
A juicy rumor is causing a buzz in the art world.
It's about a work that may — or may not be — by Renaissance master Leonardo da Vinci. The mystery piece may — or may not be — possessed by the Museum of Fine Arts in Boston.
The MFA said it will not "comment on works that the museum may be studying or considering for acquisition." Even so, just the idea of a da Vinci in Boston is generating chatter.
A Page Out Of 'The Da Vinci Code'
It's one of the great mysteries of the history of Western art: A mural by Leonardo da Vinci that has not been seen for 500 years: Battle of Anghiari.
In a real-life "Da Vinci Code," complete with tantalizing clues and a cunning art sleuth, an Italian engineer has joined his scientific knowledge with his passion for art in a decades-long quest for the truth. He believes the mural is hidden behind a frescoed wall, and says he can prove it.
Here's how the rumor started:
It was over the holidays. On The Washington Post Web site, reporter Sarah Kaufman cited an anonymous tip about the possible da Vinci and then chronicled her search for the truth. It didn't pan out. But still, a number of blogs picked up on the story.
"This would be, if the story is right, a previously unknown Leonardo, which is just fascinating," said Martha Lufkin, a Cambridge-area lawyer and legal correspondent for The Art Newspaper. She said the prospect of a newly discovered work by da Vinci would strike a chord in collectors, curators, scholars and art lovers everywhere.
"When you go to the Louvre and you see the Mona Lisa, or if you go to the National Gallery of Art in Washington and see the Leonardo that they have there — it's a two-sided one — those rooms are in awe," Lufkin said. "There's a hush in those rooms, there's more space given around those paintings. What could be more thrilling?"
Author John Brewer agrees the news would be very interesting and exciting — if it were true. He's highly skeptical. Brewer wrote, "The American Leonardo: A Tale of Obsession, Art and Money." The book chronicles a 1920's legal battle over a supposed-da Vinci's authenticity.
As Brewer tells it, a lawyer involved in that controversial case proclaimed: "To discover a new da Vinci was rather like discovering a new planet."
"The number of da Vincis is roughly about a dozen paintings that we know of," Brewer explained, "and, you know, the number of copies is legion."
And that makes it tough, Brewer said, to determine authorship in a mystery involving an artist as revered — and replicated — as da Vinci, even for an institution as prestigious as the MFA.
"The problem is that to demonstrate that you got a Leonardo is an extremely complicated and difficult process and you're going to have to make sure that you get it right," Brewer said, "because otherwise, especially if you're a respectable art institution, you're going to end up with egg on your face."
That explains why the MFA is keeping whatever may be going on under wraps, said Nancy Netzer, director of the McMullen Museum at Boston College.
"If the rumors are true, it would suggest that the MFA curators and research scientists are in the process of doing their homework," Netzer said. And they're being responsible, she added, because leaking one bit of evidence before all of the evidence is in and corroborated would be reckless.
The McMullen Museum handled some controversial paintings two years ago for an exhibition featuring works believed by some to be by abstract artist Jackson Pollock. During the process, Netzer said, "We bound each of the investigators to an oath of not sharing any of their evidence until it was all available together." In the end the evidence pointed in too many directions to be conclusive.
If the MFA ultimately reveals that it does have a bona fide da Vinci, Netzer said, it would be a major coup for Boston. But even if the rumor becomes a reality, nothing is written in stone. New research could surface in, say, a decade, that could question the findings.
So, for now, we'll just have to be satisfied with a tantalizing rumor about a work by the ultimate Renaissance man.
Correction: This article was updated to reflect that the study of the purported Pollock paintings ended with evidence that could not be deemed conclusive for all works.
This program aired on January 11, 2010.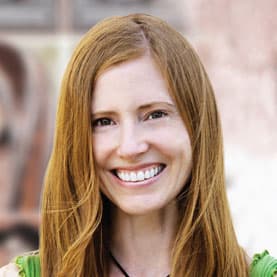 Andrea Shea Senior Arts Reporter
Andrea Shea is WBUR's arts reporter.