Isabella Gardner Museum Unveils New Design
This article is more than 11 years old.
As if the $118 million price tag isn't enough to convince one that the Isabella Stewart Gardner Museum is serious about its expansion project, rock star architect Renzo Piano flew in from Italy to attend Thursday's unveiling of the design plans.
Museum Director Anne Hawley said they "chased" Piano back in 2004 hoping the Italian architect would sign onto the project. Thursday represents a moment of truth for the Gardner after nearly 10 years of planning, cheerleading and fundraising.
Piano, a Pritzker Prize-winning designer, has completed a slew of high-profile projects. Among them, the Centre Georges Pompidou in Paris, the Modern Wing of the Art Institute of Chicago and the expansion of the Morgan Library and Museum in New York City.
His final rendering for the Gardner reveals a crisp, boxy, 70,000 square-foot glass structure. It's four stories high and 59 feet tall. The old building is 70 feet in height.
Piano called Stewart's Venetian palazzo "magic" and said the new building's demure stature was intentional. "If you make a building too big or too massive then you compete with the old building," he explained. It was very important to him that the new design respect the historic structure.
Piano said more than once that the palace will be a constant reference point to the new building. It will not be forgotten or overwhelmed, he promised, saying, "you never lose contact with the palace because it's there, it's the constant object of your desire."
When construction is completed, though, visitors will enter through the new building, not through Isabella Stewart Gardner's former home.
But the architect also explained how the two buildings would work together. They are set 50 feet apart, and the architect wants them to have a natural dialogue.
"You know when you talk to a person like we are doing," he said, "you put yourself at a natural distance that is not too close and is not too far. It's the same with the building. You have to put the new building at a distance that makes sense. Not too close, not too far."
The structures will be united by a walkway. Piano referred to as "an umbilical cord made of crystal." He wants the two buildings to be seen as one.
The new will be very functional, Piano said, housing offices, classrooms, coat-check, a cafe and space for conservation as well as resident artists.
Then there's the cutting-edge performance hall.
Piano was particularly giddy about the space. He referred to it as an "acoustical chamber" and revealed that when he was young he wanted to be a musician, not an architect.
For the architect, maintaining the spirit and soul of Mrs. Gardner's Venetian palace was hugely important. Her wishes have been a concern for some preservationists. The new wing is located where the museum's former Carriage House once was. It was demolished in July after a long battle over whether or not it's destruction would go against wishes Mrs. Gardner included in her will.
But through all the new construction, the Venetian palace will remain virtually untouched.
Mayor Thomas Menino was also on hand at Thursday's event. He called the museum "one of the hidden gems of Boston," and praised it's ambition to be a LEED certified, energy-efficient new construction.
If all goes as planned, the Isabella Stewart Gardner Museum's new annex will open in early 2012.
This program aired on January 21, 2010. The audio for this program is not available.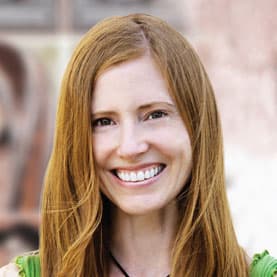 Andrea Shea Senior Arts Reporter
Andrea Shea is WBUR's arts reporter.