Cyclists Race Through A 'Canyon Of Beer'
04:29
Play
This article is more than 10 years old.
The warehouse at the Harpoon Brewery in South Boston is essentially a canyon of beer. Its long aisle is lined on either side with pallets holding cases of beer stacked 25-feet high.
But on this afternoon, there are no forklifts at work. Cyclists warming up for the Harpoon Indoor Time Trial crowd the aisle between the palettes. The temperature outside is 22 degrees and for professional triathlete Karen Smyers the indoor event is a welcome winter break.
"Anything you can do to give yourself a little motivation to get yourself on the bike is good," Smyers said. "Having an event like this as a carrot when you're doing your indoor workouts, it's really fun."
Smyers and the other cyclists waiting for the next heat are in a long row, riding bikes mounted onto stationary training machines. Smyers, 48, won the Hawaiian Ironman in 1995 and the U.S. Triathlon title six times, but the Lincoln resident said this day's venue might throw her off a bit.
"I get distracted by the smell of the hops. I'm a very well-known beer drinker," Smyers said. "It's hard, it's hard to stay focused."
Around the corner, 24 stationary trainers are set up in a large room normally filled with the brewery's packaging materials, right next to Harpoon's bottling line, which has been marked off with caution tape. The trainers, which are organized in groups of eight, facing a tall metal tower with large video screens, are metal stands that lock onto the bikes' rear axles.
Dave Nerrow owns the 24 devices and Fast Splits Multi-Sport, a triathlon retail store in Newton. He has networked the machines and the video screens, as each cyclist is represented onscreen by a colored box. Riders can also see a diagram of the course, their speeds and the distance to the leader.
"These are very sophisticated, commercial-grade equipment," Nerrow said. "The software talks to the hardware and, using electromagnetic signals, changes the amount of force applied to the rear wheel of a bicycle on a fixed trainer."
Last year's inaugural Harpoon event drew about 180 riders. This day there are nearly 300. According to Nerrow, it is the largest indoor time trial of its kind in the country.
Charlie Storey, Harpoon's senior vice president of marketing, said the brewery has a long relationship with cycling.
"A lot of the employees, a lot of people who work here really enjoy cycling and we've gotten involved with some charity cycling events over the years," Storey said. "What that led to was starting to produce bicycle events on our own."
Harpoon opened in Boston in 1986 and later added a second brewery in Vermont. Ten years ago the company held the first Brewery to Brewery Ride, or B-2-B. Each June, more than 800 cyclists ride the approximately 150 miles to raise money for charity.
Nerrow has set the trainers to simulate the B-2-B's final eight miles, which follow the New Hampshire side of the Connecticut River Valley before crossing a covered bridge into Vermont.
"Then it's effectively straight up a 5 or 6 percent hill, which doesn't sound like a lot," Nerrow said. "You would hardly notice it in your car. But it's a golf course hill and at this point in a cycling race it's an excruciating amount of power one needs to generate to get over the hill and down the other side."
Most of the races are open heats, but some — elite women, elite men, men over 200 pounds, as examples — are specific. Scott Hammond, 54, won the 50 and older category. Hammond has been competing in triathlons since 1985 and normally keeps his heart rate under 140 while riding, but the simulated course was too tough for that.
"This was just 20 minutes of just all out. It went to 160 in the first minute," said Hammond, who lives in Austin, Texas. "I kept saying, 'Oh, God, don't let me die here away from my home and family.'"
Although the event attracts world-class athletes, there are also more casual riders, as riding in place gives amateurs a rare opportunity to "keep up" with elite riders for an entire race.
Clinton Becker, of Brookline, normally limits riding to his commute, but came at the urging of a more serious cyclist friend. In a roomful of spandex, he is sporting denim cut-off shorts and a 1970's-style mustache, grown just for the occasion.
"It started off a lot of fun and then I hit the wall and it became a lot less fun," Becker said. "But then I had my friends cheering me on and those endorphins start kicking in and then you just kind of put your head down and start going for it, knowing that there's beer at the end."
The top male and female in each heat get — you guessed it — a case of beer. Ethan Brown, 24, of Lowell, was the overall winner. The professional triathlete set a course record, at 18:37. Forty-eight-year-old Smyers led the women, finishing in just over 21 minutes.
There was also a team-based heat. The computers are set to provide virtual drafting, allowing the lead riders to create air pockets for racers behind them.
Smyers was again victorious, this time as part of the eight-member mixed "Team Psycho." A highly-anticipated Harpoon IPA awaited as her reward.
"I actually had arranged beforehand with some people. I said, 'Just do me one favor and have a beer waiting for me when I finish,'" Smyers said. "I probably should have been finished about a minute or two ahead of where I was, so they had it there early and they were taunting me."
Though the venue hosted 12 hours of cycling, the brewery's primary purpose is not forgotten by Harpoon promotions manager Jessie Cox.
"We like to have events," Cox said, "but we need to make sure our focus is putting things back in place after all this so we can brew a whole new batch of beer on Monday."
This program aired on February 5, 2010.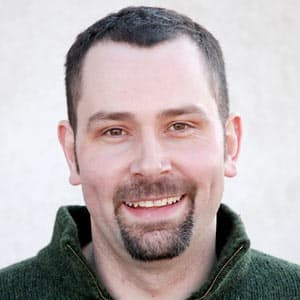 Doug Tribou Reporter/Producer
Doug Tribou was formerly a reporter and producer at WBUR and for WBUR's Only A Game.