St. Patrick's Roast As Comedy Club? 'No, Nay, Never No More'
03:28
Play
This article is more than 11 years old.
"We're the Southie Irish as our fathers were before. We come from the heart of Boston and we're Irish to the core."
The potted shamrocks sit atop green tablecloths, just as they always have, and the political clan is singing in its annual variety show — though there's less variety these days than before. And soon they'll be losing state Rep. Brian Wallace, who goes a good way back to the first Southie St. Patrick's Day Breakfast in 1957.
Wallace is telling a joke to the 800 or so people who've assembled in the Boston Convention Center.
"A married couple is driving down a road in Kerry, when the husband out of nowhere says: 'I want a divorce. I've been having an affair with your best friend for the last three years.'

The wife says nothing but increases the speed to 55 miles an hour."
Because Wallace isn't running for re-election, this is his last time sitting at the head table and being called upon to speak. Like most of the politicians at the head table, he's nervous and he's not delivering — he's reading his joke.
At the same long head table, Attorney General Martha Coakley is scribbling notes like she's cribbing for a cross-examination. Most of the elected officials at the head table, especially those who can't sing "Southie Is My Home Town," dread their coming moment at the mic.
And for good reason, Wallace says. "Yeah, we're usually not funny," he admits, then laughs.
So, imagine a well-fed tourist stumbling into a village of cannibals on hard times and you can feel the anticipatory thrill over the arrival of new Sen. Scott Brown at the Southie Breakfast. Brown meant fresh material after years of old meat.
"Where is the rock star?" calls Sen. Jack Hart, who by virtue of representing Southie and according to custom, gets to play clan chieftain and fomenter of this Friars Club-like roasting of fellow politicians.
Hart recognized state Treasurer Tim Cahill, who in his turn at the mic brought visual props and had a present for the governor he's running against. At the St. Patrick's Day Breakfast, it's always better to give than to receive, and Cahill wanted to give it good.
"Not to be undone by anyone in this race — our fearless leader, and I do mean fearless leader," pronounces Cahill, as he unveils the blown-up image of the Cosmo centerfold of young Scott Brown, only with Deval Patrick's head superimposed.
"And I do mean letting it all hang out as the true heir to the Scott Brown throne," Cahill says, "or we might say the Scott Brown couch."
Had it been late night television, the gag would have lasted 10 seconds. Here it seemed an eternity. But it got a laugh, and they were hard to come by.
Senate President Therese Murray brought up the same Cosmo photo. Her prop showed it as a cover for the book Scott Brown has been signed up to write for a major publisher. Murray's suggestion for a title? "Cosmo to Congress: Posing All the Way."
I suppose the Cosmo gag was as sure a bet as the the singing of "Wild Rover" ("I've been a wild rover for many a year, and I've spent all me money on whiskey and beer"), but it was turning into a one-trick pony.
Coakley, who was at pains during her losing campaign against Brown to convince people she was funny and down to earth, pulls out a letter she says she got from him with a return address of "Scott Brown, the People's Seat, Washington, D.C."
One or two people can be heard laughing. Then Coakley pulls out a gift she says Brown gave her to keep warm while shaking hands, which got a ripple of laughter.
She puts on a tan barn jacket to laughter soft enough for the master of chieftains Jack Hart to shout, "Hey, it's a barn jacket. Look at that. Wow."
As Brian Wallace has learned, and the current run of St. Patrick's Day Breakfasts demonstrate, many are called, few are funny. Coakley and company are flat lining more than the economy.
Wallace is making his best attempt at his joke.
"So the husband, getting bolder, says, 'I want the house and I want this car and I want the bank accounts and the credit cards.' And the car is now traveling well past 80 miles an hour, veers toward a huge concrete embankment and the wife says nothing."
Wallace is playing to a house that's sure different than the earlier venue for the breakfast. That was the Bayside Club, in the heart of Southie, long ago dubbed "Halitosis Hall" by columnist Howie Carr, the self-described nemesis of hackorama.
On the slope of Eighth Street, the Bayside was a fire trap where hundreds crammed the upstairs room, some even crawling in on the fire escapes.
At least one politician who was "carrying a foreign load," as they say in Southie, and had to get to the bathroom too badly to try to part the crowd, would stand up on the tables, tiptoe over the plates of corn beef and climb out the window to use the fire escape.
In the small-room commingling of red-faced sweat, corned beef, cabbage boiled into oblivion and stale beer on a Sunday morning, the diminutive former Southie Sen. Billy Bulger held court with savage wit. King leprechaun threw down the gauntlet to outsiders from presidents to governors to see if they could take a punch from Southie. He settled scores with comic timing and an iron fist in a velvet glove.
Saying grace over Sunday's breakfast, the local bishop Robert Hennessy acknowledges the trait well-known in Southie.
"If somebody goes over the line, give everyone of us here the gift of an Irish memory to know that we have the rest of our lives to get even," he says. "Amen."
With that, the bishop gets a bigger laugh than almost all the contestants.
For some, the Bulger Breakfasts stopped being funny back in the mid-90s, when Bulger and Gov. William Weld joked and sang about the killer, brother and mobster Whitey Bulger — Billy referred to him as "the reverend." Despite having been the former U.S. attorney, Weld joined Sen. Bulger in a gag about Whitey winning the lottery — and then broke into song at the killer becoming a fugitive.
"Did he ever return, No he never returned, And his fate is still unlearn'd. He may ride forever 'neath the streets of Boston, He's the man who never returned."
They may have been wretched affairs — or embarrassing ones — but nowadays, the St. Patrick's Day Breakfasts have become merely mediocre, and far less interesting.
The breakfast itself has been lifted out of the neighborhood, just like so many of the Southie Irish replaced by yuppies, and moved to the bright, institutionalized feel of the convention center.
The air is certainly cleaner, but even the corned beef and cabbage is gone from the menu. Yesterday's conventioneers were served with canned hash.
"Well believe it or not," says the production manager for the event, "what they're serving here is canned Hormel hash. Jack thought that was homey."
The breakfast could have used some canned laughter too. The governor comes, says he is glad to see all his cousins, "the Patricks," and jokingly blames his writers for the material.
Polite laughter ensued.
Nobody came up with the idea of using stimulus money to hire professional laughers, but it might have gotten more laughs than the governor's material.
He reads from a children's story he calls "If I Ran The Zoo."
And about Cahill's candidacy, the governor notes: "Tim Cahill wants to be governor; now that's funny, OK?"
It would have been funnier if he hadn't delivered the same line at another event the day before.
"It's hard being funny," Brian Wallace has observed, as if we need reminders. But, gamely, Wallace is pushing on.
" 'Isn't there anything you want?' he says to his wife. And with the car driving at 90 miles an hour, his wife says, 'No, I've got everything I need.' "
Next to the Southie emcee, Scott Brown gets the warmest reception. He is the headliner, the one who has given the others so much material. But he doesn't bring much of his own, though he did present a full-blown image to breakfast host Jack Hart.
And what would that be? Well, here's what he says as he unveils it: "I'd like to introduce you to Jackie Heartthrob, right here. Jackie Heartthrob."
And if you guessed it was the same Cosmo centerfold the others have used, you'd be right. Brown's only personal touch to the one-trick pony was to put a shamrock over the naughty bits and Hart's head superimposed on Brown's.
Much laughter and a quick exit. The breakfast is almost over and Wallace works his way to his last hurrah.
" 'Isn't there anything you want?' the husband asks. And the wife says 'No, I've got everything I need.'

And the husband says, 'Oh really. What do you got?'

And just before slamming into the embankment, she turns to him and says 'I have the only airbag.' "
Three seconds of laughter, then applause, and Wallace has told the last joke he will ever have to tell at Southie's St. Patrick's Day Breakfast.
Others at the head table envy him. And his is probably the funniest joke of the day.
This program aired on March 15, 2010.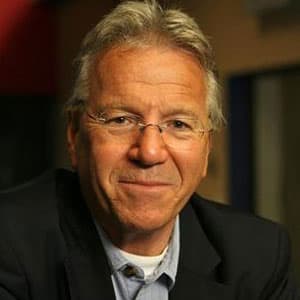 David Boeri Senior Reporter
Now retired, David Boeri was a senior reporter at WBUR.