Tricks Of The Trade: Kids Show Skills In Regional Yo-Yo Competition
07:19
Play
This article is more than 10 years old.
The patter of public address announcer and disc jockey Brett Outchcunis — whose friends call him "Oootch" — was a constant presence in the auditorium of the John F. Kennedy Middle School here on Sunday.
"You guys can practice," Outchcunis said over the loudspeaker. "We've got Kylee and Trent here. They're getting ready."
Kylee and Trent, ages 8 and 9, respectively, were about to face off in a playoff round of the 2010 Northeast Regional Yo-Yo Contest.
Challenged to pull off the trapeze move, Kylee Livernois hit it flawlessly, and agreed shortly thereafter to speak to the press.
"I was just lucky, because I usually don't get the trapeze, and I did it," she said. "That's what I was happy about, that I actually got it (on the first try)."
She not only got it, Livernois finished first in the tightly-contested age 5-9 division, which, according to Outchcunis, may constitute the beginning of a new beginning.
"In the, I believe it was the 90s, we had a world champion who was a girl," Outchcunis said. "We haven't had one since, and I think we're seeing some real promising talent in western Massachusetts and you saw it here first."
I saw a lot of things for the first time on Sunday: Judges counting sought-after and challenging "string hits" with clickers, keeping strict track of how closely the movement of each high-tech, ball-bearing yo-yo coincided with the beat of the accompanying music each competitor had chosen. A trick yo-yo made entirely of plumbing supplies. There was also a unique kind of danger.
"You certainly want to look out for rogue yo-yos. That's the one thing I would look out for," Outchcunis said. "You can hear, in the background, yo-yos crashing. We're narrowly avoiding full contact with these yo-yos."
The culture of the yo-yo is vibrant, even rampant, in Northampton, thanks in large part to Jack Finn, proprietor of A2Z Science & Learning Store in town. For years, Finn has provided clinics for the yo-yoers, fed them pizza and encouraged their efforts in various other ways. Among Finn's flock is 10-year-old Shane O'Donnell, who would like to compete someday in the National Championships — held each fall in California. O'Donnell began yo-yoing when he was six and he has a plan.
"I hope to get sponsored, like, by a company, and I hope to be really good at yo-yoing," O'Donnell said. "Like, you don't really make money yo-yoing, so it can't be your main job of something, but, yeah, I love yo-yoing."
Yo-yoing, in Northampton and elsewhere, is not strictly a pastime for children, and Finn's store is not just a place for kids to trade yo-yo tricks. In fact, according to Shane's dad, James, A2Z is the store — and the stuff — of legends.
"So we're in the toy store, learning tricks, and a gentleman walked in with a gray beard, late 70s, long gray beard, longer hair, standing around," James said. "And he started doing trapezes, double or nothing, and I was like, 'Wow, look at this.' And I was like, 'How did you get this good?' And he said he was the 1968 champion, and I got all the kids to come and look at him. And then he just walked away. He was like a ghost."
As O'Donnell recounted for me the legend of the ancient yo-yoer, a man who may be a legend-in-the-making was doing some tricks at the other end of the corridor. Jon Robinson, a.k.a. JonRob, who'd traveled from Delaware for the competition, was surrounded by a group of admirers, though what JonRob was doing didn't look like any yo-yoing I'd ever seen. He competes in the counterweight division, in which the toy has a string attached to the yo-yo, but also has a counterweight at the end, meaning it's not attached to competitor's finger.
"Counterweight" combines the arts of yo-yoing, juggling and three-card Monte, which, in JonRob's case, at least, seems a reasonable comparison: "I don't come up here for the money," Robinson said. "I come up here for pats on the back, but if they give money, I'll be happy to take it from them."
When asked if yo-yoers ever put any side action on the competition, Robinson says it happens.
"Last year, we had some contests with some underground betting, but it's more for the bragging rights and who's better," he said. "But I do it for the pride, and the recognition, of course."
That's a good thing. There were multiple divisions based on age and expertise at Sunday's regionals, but nobody who topped any of them got anything but a trophy or a medal. Apparently that was motivation enough for JonRob, who finished first in the 5A Division with a perfect score of 100 — a convincing 16 points ahead of the second place finisher.
Another success in the adult division was Timothy Tilstra, who yo-yos the old fashioned way. At 33, Tilstra says it doesn't bother him when most of the competitors are less than half his age.
"I think it's great." Tilstra said. "In fact all the kids, the 10- and 11-year-old kids, they're all better than me. I think that's wonderful. When I get to learn something from them, that's great."
Tilstra says he's been seriously into yo-yoing for about two and a half years. He writes Web applications for the New York State Archives in Albany, and I asked him if holding down a full-time job put him at a disadvantage, as far as practicing his passion.
"Oh, no," he said. "My job involves a lot of thinking, and I get up and walk around and I play the yo-yo, and I do other things to get my mind clear, to give me better insight into my projects. My supervisor loves it. My old supervisor requested that I teach him to solve a Rubik's Cube."
This sort of tolerance, even celebration, of the toy-related skills of an adult in the workplace made me wonder if it's ever necessary to outgrow yo-yoing. Finn, Mr. Yo-Yo himself, as far as the Northeast Regional is concerned, gave me my answer.
"You don't have to," the toy store owner said. "I didn't start yo-yoing until I was 50, so I got a really slow start there. Compared to these kids, no, I'm not (good). I'm wishing."
This program aired on May 1, 2010.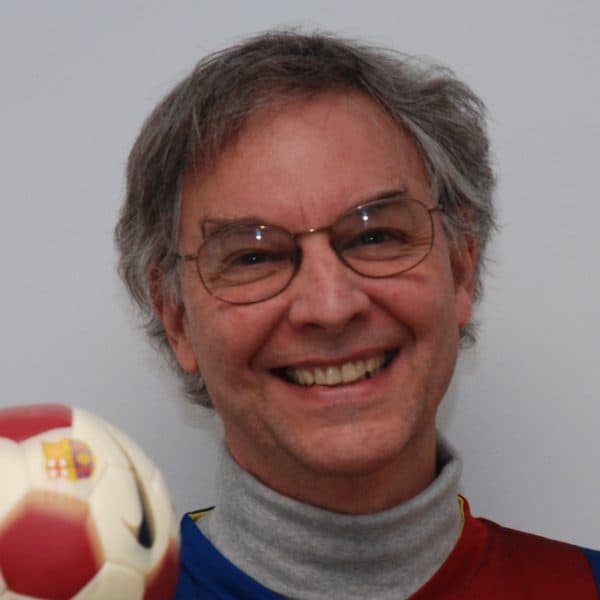 Bill Littlefield Host, Only A Game
Bill Littlefield was the host of Only A Game from 1993 until 2018.