Boston Pops Provides Soundtrack For Famous Kennedy Words
04:23
Play
This article is more than 10 years old.
And so, my fellow Americans, ask not what your country can do for you. Ask what you can do for your country.
-- President John F. Kennedy
...what we need in the United States is not violence and lawlessness, but love and wisdom, and compassion toward one another...
-- Sen. Robert F. Kennedy
It is the glory and the greatness of our tradition to speak for those who have no voice, to remember those who are forgotten, to respond to the frustrations and fulfill the aspirations of all Americans seeking a better life in a better land.
-- Sen. Edward M. Kennedy
---
BOSTON — Judging from the boxes of tissues on the tables inside Symphony Hall, it seems plenty of emotion — and tears — were expected at the premiere of "The Dream Lives On: A Portrait of the Kennedy Brothers."
Famous speeches by John, Robert and Edward Kennedy inspired the work's commission. It combines their well-crafted words with a cinematic orchestral score.
Boston Pops Conductor Keith Lockhart has been fantasizing about bringing this ambitious composition to life for 10 years. And, with the passing of his friend, Sen. Edward Kennedy, last August, Lockhart made it a reality. At Tuesday night's premiere the conductor introduced the work with some words of his own:
"This piece is not a political statement," Lockhart said. "It is hard to imagine any good American of any political persuasion finding fault with the noble concepts espoused here. This piece is, rather, a very human vision of what our country can be, and should never stop aspiring to be."
But pulling this together was no small task for Lockhart. Eight months ago he tapped Tony Award-winning librettist Lynn Ahrens to choose quotations from speeches by Edward, Robert and John.
"There are such a wealth of words that it's quite a daunting challenge to try to boil down what three Kennedy brothers had to say over the course of their careers to something that works dramatically and emotionally," she said.
But Ahrens didn't go it alone. She collaborated — long-distance — with composer and self-admitted Kennedy fanatic Peter Boyer.
"Very early on in the process it seemed to me that there were certain quotes that had to be included," Boyer said. "The Inaugural was one, and then, 'We choose to go to the moon, we choose to go to the moon in this decade and do the other things not because they are easy but because they are hard.' I don't know how old I was when I first heard that quote, but I mean, that quote has run in my ears my whole life."
So together the composer and the librettist labored to pick and arrange the quotations in a meaningful way. Ahrens crafted some poetic but simple language to connect the weighty words and Boyer wrote sweeping music to carry them along.
Then, Lockhart needed narrators.
"You're not looking for people to imitate the voices of the Kennedys," he said. "We're not looking for a 'Saturday Night Live' sketch of Massachusetts accents or anything like that, either, obviously. These words deserve to be read seriously by somebody who really knows how to take words off a page and make them go straight to somebody's heart, so you want great actors."
And Lockhart got them. Cherry Jones introduces and wraps up the piece. Robert De Niro, Ed Harris and Morgan Freeman read the immortal lines. At a news conference Tuesday, they shared their experiences with and feelings for the Kennedy brothers.
"I don't think I'm any different than any other American who knows or was around when these men were sort of guiding our — what's the word I'm looking for — the sense of ourselves in the world, what it means to be American," Freeman said.
When Boyer stepped up to the mic, he also cried. It's clearly a deeply personal and emotional project for everyone involved. They all feel a great sense of responsibility to get it right — especially since members of the Kennedy family were invited to the premiere.
Backstage at Symphony Hall on Tuesday, where he was "waiting with great anticipation for this evening's performance," Edward Kennedy, Jr. said Lockhart's concept makes sense to him.
"You know, I think the brothers, even though they were very (much) their own people, and achieved things in their own way, they really represented a constellation of ideas that were similar," he said. "And so it's kind of fitting that they're all together again in music."
And Kennedy, Jr. said he was prepared to be moved by the words of his uncles — and his father.
"You know you never know when emotion is going to hit you," he said.
Reads Jones during the premiere: "They were athletes and scholars, practical jokers, sailors and singers with tales to tell. We called them by their nicknames, reveled in their exploits, followed in their footsteps and mourned as they fell."
The 15-minute journey through time continued, drawing a lot of wet eyes.
De Niro picked it up: "The sea changes, and the light changes and ships change. We are tied to the ocean. And we go back to the sea, we are going back from whence we came. Jack. 1917 to 1963."
"Only those who dare to fail greatly can ever achieve greatly. Bobby. 1925 to 1968," Harris said.
"There were hard hours on our journey and often we sailed against the wind. But always we kept our rudder true. Ted. 1932 to 2009," Freeman said.
At the end on Tuesday night, the whole audience rose for a very long standing ovation.
The Kennedy clan, sitting together in the middle of the hall, headed upstairs for a celebratory reception. Joseph Kennedy III had this reaction:
"To be honest with you, I can't even say," he said. "It was just a spectacular performance by De Niro, Harris and Morgan Freeman. And to see it all put together was just a tremendously powerful evening."
And when I asked Edward Kennedy, Jr. to share his thoughts, he only said he wanted the piece to speak for itself.
Yes, we are all Americans. This is what we do. We reach the moon. We scale the heights. I know it. I've seen it. I've lived it. And we can do it again.
...if we set our compass true, we will reach our destination...The work begins anew. The hope rises again. And the dream lives on.
-- Sen. Edward M. Kennedy
The Boston Pops stages a repeat performance of "The Dream Lives On: A Portrait of the Kennedy Brothers" Wednesday night at Symphony Hall.
This program aired on May 19, 2010.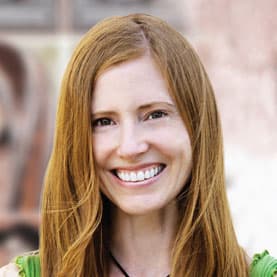 Andrea Shea Senior Arts Reporter
Andrea Shea is WBUR's arts reporter.