Cambridge School Sends Soccer Balls To Africa
01:36
Play
This article is more than 10 years old.
Soccer fans have been warming up for the World Cup in various ways; some by reading about their favorite teams, some by filling out their brackets — just as they might for the NCAA basketball tournaments, for amusement purposes only.

Last month, in the case of the students at the Cambridge Friends School, World Cup preparation meant kicking soccer balls around their gym.

But these hundred or so soccer balls didn't stay in Cambridge. When the kicking was over, the students, most of them 9 or 10, wrote messages like "good luck" and "have fun" on the balls, deflated them, and packed them into crates which would be sent off to fellow soccer players in Nigeria, Zambia and elsewhere on the African continent — part of a program sponsored by World Vision that will send a quarter of a million soccer balls to kids all over the planet.

It's probably going to be like Christmas times a million."

-- Boston Breaker Chioma Igwe

Chioma Igwe, a midfielder with the Boston Breakers, of the Women's Professional Soccer league, was particularly appreciative of the school's mission when she visited.

"My dad actually was from Nigeria," she said. "He would say they would wrap up rags or get a bunch of orange peels and wrap those up, and that's what they would use to play. So the fact that we have people who are fortunate enough to have balls and send them over to African countries is a pretty big deal, and it means more to them than I think we can even understand, because it's just the game they love."

Some have argued that hosting the World Cup will increase South Africa's visibility as a tourist destination. Others have pointed to the monstrous cost overruns that have sometimes characterized sports spectacles such as the Olympics and the World Cup elsewhere, and proclaimed that South Africans would be better off if the cup were being contested in somebody else's stadiums. But according to Igwe — whose name means "God is good" in Nigerian — when the soccer balls reach the fields upon which they will next be kicked, the consequences of the school's latest project will be unambiguously positive.

"It's probably going to be like Christmas times a million," she said, "because it's the biggest sport in the world, so when they open those boxes, I can't even imagine how much gratitude they're going to feel toward the school."

We are on the eve of the tournament that will entertain an estimated billion people around the world for several weeks. Inevitably, the results will disappoint a lot more people than they delight. That's the way elimination events work. So as the anticipation of the World Cup builds, it's kind of fun to realize that no matter which teams are winning, across Africa youngsters will very shortly be opening up boxes full of the first soccer balls they've had the opportunity to own.
This program aired on June 10, 2010.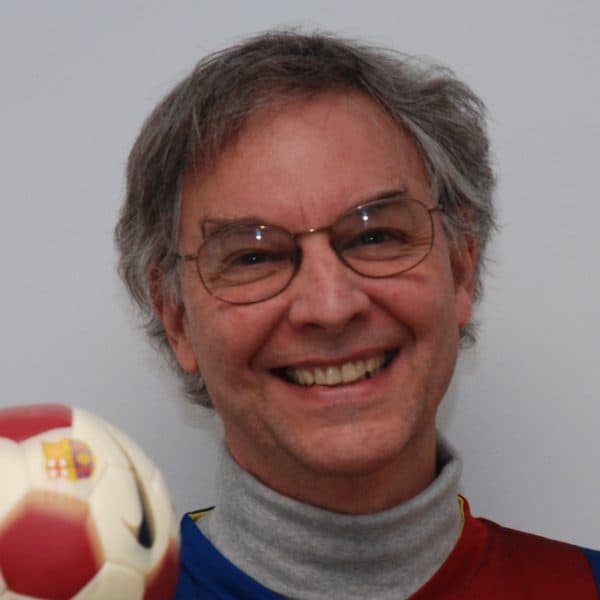 Bill Littlefield Host, Only A Game
Bill Littlefield was the host of Only A Game from 1993 until 2018.