A Fiddle In The Palace: High And Low Jam In 'Chambergrass'
06:01
Play
This article is more than 11 years old.
http://www.youtube.com/watch?v=clxuMrVFYT0
On Thursday night, the Isabella Stewart Gardner Museum hosts a concert of chamber music performed by four young, highly skilled string players. But the Folk Arts Quartet might just incite something kind of radical in a classical setting: foot-stomping, possibly thigh-slapping, or even dancing!
The ornate Tapestry Room at the Gardner is the typical, intimate backdrop for chamber music, a classical music form historically performed in palace chambers. The Folk Arts Quartet's instruments — two violins, a viola and a cello — are typical, too.
But the group's music is not.
"We're set up like a classical quartet," explained 27-year-old Folk Arts Quartet co-founder Ivonne Hernandez, "but we play fiddle music. Arranged fiddle music."
At a rehearsal this week, Hernandez talked about creating the Folk Arts Quartet, or FAQ, with Liz Davis Maxfield less than a year ago.
At the time, they were at Berklee College of Music, studying traditional Scottish, Irish, Celtic and American folk forms.
Davis Maxfield, now 23, plays the cello.  "I've always really loved the groove and the soul of traditional music, but on the other hand the complexity and the beautiful part writing of chamber music," Davis Maxfield said.
The same goes for Hernandez. So the two musicians forged a middle ground — or sub-genre.
"We like to call it Chambergrass," the young cellist said, with a smile.
The name "Chambergrass" sounds fun, but mashing together two extremely different genres isn't easy. In fact, it almost seems counter-intuitive. But the result is surprising, passionate and more than lovely.
All of the FAQ members are steeped in fiddling and studied classical music seriously as kids. Hernandez grew up in Victoria, British Columbia and she spent grueling hours learning precision and structure via great composers like Beethoven and Bach.
But then Hernandez recalled hearing her neighbor playing the fiddle on his front porch. She was taken by the music, and eventually learned traditional techniques from him. At that point, she could compliment her more reserved classical training with jamming.
"The good news is that they don't suffer from comparison to anything else, because there's never been anything else like this."
-- Matt Glaser, Berklee College
"I'd go to sessions, and fiddle playing is, you know, dirty," she said, laughing.
Hernandez likes loose and improvisational. It's the the opposite of classical chamber music, which most always relies heavily on sticking with sheet music. Regardless, Hernandez managed to move with relative ease between both worlds.
But it hasn't been quite as easy for cellist Davis Maxfield. Last year, she was on a Fulbright Fellowship to explore traditional Irish music with her cello.
She said she would lug her instrument's bulky case to jam sessions at crowded pubs. The amazing, gritty musicians there weren't sure what to make of her refined instrument, but they managed to get along.
"It's really fun to play along with fiddlers who are steeped in the Irish tradition and who are very set in their ways of this is an Irish instrument and that isn't." But then Davis Maxfield found, "they tend to really love the cello because I think it has the same vibe as the fiddle."
People in America can be confused by Chambergrass, too, according to Hernandez. She books FAQ's concerts and says it can be hard to explain.
"They either relate to it as, oh, a classical quartet, or a fiddle group," the fiddler said, but rarely both.
Matt Glaser, the artistic director of the American Roots Music Program at Berklee, isn't surprised.
"The good news is that they don't suffer from comparison to anything else," he said, "because there's never been anything else like this."
Glaser has known the FAQ since its inception, and says Chambergrass is indeed a new genre. While it's been a success in the hands of the four dedicated, young musicians, Glaser believes the fusion was inevitable. Today's generation of musicians, he said, are freer to ignore boundaries between styles.
"I'm an old geezer, I would have never thought to do this," the fiddler admitted, "like, let's have a string quartet play folk music. You know they're younger, they live in a world where everything is possible, and they have immediate access to all of these different musical styles, and they hear it all being played at a very high level technically. So all I can do is sit back in my rocker and cluck my tongue in wonderment."
But, as one of the newer members of the group sees it, there are still significant boundaries to push. Twenty-one-year-old Lea Kirstein plays the viola.
"I heard once that fiddle music is the kind of music that comes up through the feet and classical music is the kind of music that stems from the intellect and goes down. And I think in this group it's the best possible way to explore both of those things," she said.
The Folk Arts Quartet performs Thursday at the Isabella Stewart Gardner Museum.
This program aired on June 17, 2010.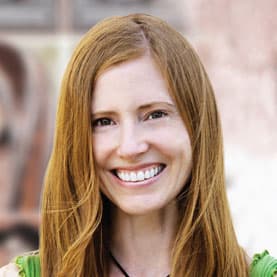 Andrea Shea Senior Arts Reporter
Andrea Shea is WBUR's arts reporter.