Being Worldly While Watching The World Cup
01:23
Play
This article is more than 10 years old.
Over the years, watching the World Cup has provided me with various thrills. I've taken in a game involving England in a bar full of English fans chanting and singing ever-more unrepeatable rimes and jingles as the game went on. I've watched Brazil play in the company of a dozen supremely confident Brazilians, all eating supremely delicious Brazilian baked goods.
As it happened, on Saturday I was in a Mexican restaurant when it came time for Spain to play Paraguay. Though the other dozen or so patrons were all Anglos like me, the proprietor, the cook, and the waitress were Latino, so the broadcast was in Spanish.
This was fine with me, as I am currently trying to improve my very poor Spanish by listening to CDs, memorizing the forms of irregular verbs, and reading a book of poems in Spanish. Or sort of in Spanish, since each facing page features the English translation.
If Spain v. Paraguay had been an unexceptional game,  I'd probably have been fine with the Spanish broadcast, content to capture the odd word or phrase as the chatter raced by, happy to nod, smile, and say "Gracias" to the proprietor as he brought more food and drink to our table.
But shortly after the second half began, it became apparent that this game would not be unexceptional.
With both teams scoreless, in short order, Paraguay was awarded a penalty kick, which they could not convert; Spain was awarded a penalty kick, which they did convert, except that the referee detected encroachment and awarded Spain another penalty kick, which they could not convert.
Somehow this mad series of events inspired me to try to say something in Spanish to my host. I don't know why. It just happened.
I turned to him and I hope I said, "In all your life, you might never see another game like this…nothing but surprises."
Of course, given the CDs to which I've been listening in my car, I may have said, "In my niece's life, she has been married. Twice. Summer is smiling in Chile."
Or perhaps, "This is too much. A dry-cleaning establishment in the hotel? What is he studying?"
I will never know, of course. That's part of the adventure. But before he turned his attention back the game, the proprietor smiled. I took this as a good sign.
This program aired on July 7, 2010.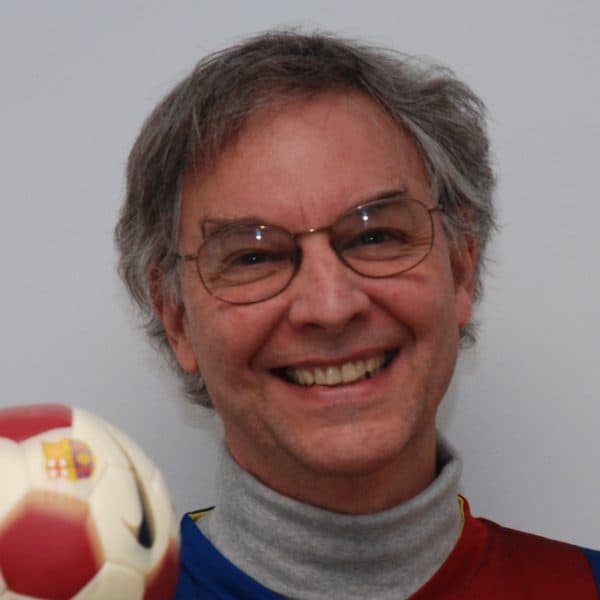 Bill Littlefield Host, Only A Game
Bill Littlefield was the host of Only A Game from 1993 until 2018.