Candidates For Gov. Pound Positions On Jobs, Taxes And Health Care
02:33
Play
This article is more than 10 years old.
Jobs, health care and taxes dominated the first televised debate in this year's race for governor, and it wasn't a chatty conversation. With the latest poll showing Republican Charlie Baker closing in on front-runner Gov. Deval Patrick, the candidates are jockeying now for edge.
Taxes, Education And Health Care
This November, jobs, taxes, and the role of state government define substantial differences among the candidates on the ballot. Baker says he'll work to reduce the state income, sales and corporate tax rates, all to 5 percent, and would cut 5,000 state jobs.
"The quickest way to produce job growth is get spending under control, deal with the $2 billion deficit that the next governor is going to inherit from this governor and this treasurer, and get real about the fact that we can't possibly spend and tax our way out of this," Baker says.
Patrick says he would make different choices based on different values.
"We believe that investing in education, and health care and job creation is the way to make a stronger and better commonwealth, and we've got the results to show for it," Patrick says.
Patrick talks about student achievement, health care coverage and signs the state economy is rebounding. He challenges Baker to point to specific programs he would cut, and the services that would disappear. Baker pushes back on the impact of tax increases Patrick has signed into law.
"When you talk about the fact that people are behind some of these, well there are people who are behind a lot of these tax increases, too. These tax increases have hurt them," he says.
Independent candidate Tim Cahill would also cut taxes as a strategy to create jobs.
"I believe in supply-side theory of economics where if people are able to keep more of their money they can spend it, they can invest it. I also believe that we should sign a gaming bill," he says.
Cahill says his success in revamping and reducing spending in the state's school construction program proves he could take on vested interests and manage efficiently.
Green-Rainbow Party candidate Dr. Jill Stein would raise taxes on upper income residents and says the state needs jobs that will build a more sustainable future, "not low wage, dead end insecure casino jobs in three communities, but green jobs throughout the commonwealth that we can create in every community and which basically pay for themselves," she says.
The candidates focused on rising health care costs several times during the debate. Patrick tried to pin the problem on Baker, who ran Harvard Pilgrim Health Care before leaving to campaign for governor.
"Health care costs are the single biggest concern of businesses, it's what I hear everywhere, and you've been at the center of that. You've raised premiums 150 percent," Patrick says.
Baker points out that Harvard Pilgrim was even with, or less expensive than other private insurers during his tenure.
"Harvard Pilgrim grew by 45 percent over the last seven years I was there because our premiums were priced competitively, but there were a lot of issues with regard to the rules, regs and requirements that haven't solved the health care problem in Massachusetts and most of those rest with state government," he says.
Stein supports putting all Americans into Medicare-styled coverage. Cahill ignores that option and Stein challenges him.
"Would you move to a single payer system then?" Stein asks Cahill.
Cahill balks, suggesting he's worried about the cost.
"Medicaid costs have gone up almost $4 billion since health care reform was passed, so there's a significant cost to putting everyone in Medicaid, that was part of the solution to health care reform, was opening up eligibility, and dumping about 100,000 more people in," Cahill replies.
A Heated Exchange
The polite veneer we saw in earlier debates between the candidates is cracking. At one point during an exchange, Baker challenges Patrick's ability to consolidate and clean up state government — the pension system in particular.
Patrick begins his response with a small swipe at Cahill.
"Tim has talked about the pension system, we're the only ones who actually got it done, and we ended abuse in the pension system on account of it," Patrick says.
"OK, that was a bunt, when we should be swinging away, we still have a $22 billion unfunded liability" Cahill interrupts as Patrick continues speaking.
"Let me just say, you know, you call it a bunt, you've never even swung at the ball," Patrick retorts.
Cahill opts out of the tit for tat.
"I think I'll let these two guys fight it out," he says.
But Stein jumps in.
"I'll just say, this is the kind of bickering that we've come to expect from 'business as usual' on Beacon Hill," she says.
There were other testy exchanges about Baker's responsibilities during the Weld administration in a Big Dig financing plan that the other candidates say increased transportation costs for future generations. Baker claims his was a small role in the lengthy project.
Immigration
The last question of the debate switched to immigration. Patrick and Stein say it's a national issue the federal government must resolve. Cahill does not support any public benefits for illegal immigrants and urges more background checks using E-verify, a national database that advocates for immigrants say is often inaccurate.
"We have to put our people first in this state," Patrick says.
"This is another example of the difference between Tim the Treasurer and Tim the Candidate.  When Tim was the treasurer he endorsed the governor," Baker says.
It's also another example of Baker attacking Cahill, who has a base of support among independents and conservatives that may make it difficult for Baker to move ahead of Patrick.   But there will be lots of opportunities for candidates to sink or swim in live debates later this month and next.
ElectionWire Analysis:
This program aired on September 8, 2010.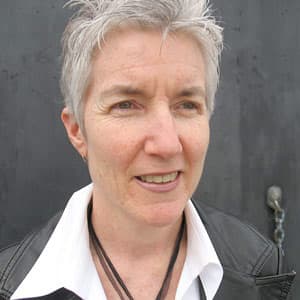 Martha Bebinger Reporter
Martha Bebinger covers health care and other general assignments for WBUR.