Special Report: Psych Respite Run By Staff Who've 'Been There'
This article is more than 10 years old.
Locked away in a psychiatric ward, he felt trapped, helpless. Isolated from his loved ones and worthless to society. He was terrified of the injections forced on him. More than anything, he wished someone helping him could have said, "I've been there. I know what it's like."
It was forty years ago that Dr. Daniel Fisher, then a neuroscience researcher with a doctorate in biochemistry, was confined three times to the hospital, during tumultuous psychiatric crises that sank him into psychosis and catatonia. As he slowly recovered, he recalls, "All I could think of was, 'I'm going to become a psychiatrist and create alternatives to psychiatric hospitals.'"
He did become a psychiatrist. And now, Massachusetts is on the verge of creating a new institution that fulfills many of his long-ago wishes, and aims to correct many of the problems with psychiatric hospitals that he encountered.
It is called a "peer-run respite" — peer-run because the staff will be "peers" with their own personal experience of mental illness, and  respite because it is meant for short-term retreats where people can rest and recover without entering a locked facility.
The state Department of Mental Health plans to issue a request for proposals next month for the state's first peer respite, to be set up in central or Western Massachusetts, said Marcia Fowler, deputy commissioner for mental health services.
The contract would begin as of this coming July 1, she said, and despite the state's budget problems, the plan is going "full-steam ahead" and "we're completely committed to it."
The respite will have no more than six bedrooms, and is budgeted for roughly $400,000, about the same as other state respite facilities. Many of the specifics will be up to the groups that submit proposals, Ms. Fowler said, but all the staff members in contact with clients should have personal experience of mental illness.
If the idea strikes you as radical, consider the many millions of Americans who get help from 12-step programs. Just as a current alcoholic leans on a sponsor who is a "recovering alcoholic," the thinking goes, patients in current psychiatric crises can lean on people who have emerged from them.
That concept is a central tenet of the national "recovery movement" in mental health, a sweeping shift toward greater optimism that people with serious mental illness can improve or recover, and toward giving them more control over the help they get. People need not be passive patients, the thinking goes; they can help themselves and as they get better, they can help others.
The recovery movement has gained acceptance at the federal level, including the landmark "President's New Freedom Commission on Mental Health" appointed by President George Bush. The commission envisioned recovery as possible for everyone, saying, "For some individuals, recovery is the ability to live a fulfilling and productive life despite a disability. For others, recovery implies the reduction or complete remission of symptoms."
Dr. Fisher served on the New Freedom panel, he now advises the Obama administration, and he heads one of the recovery movement's leading bodies, The National Empowerment Center in Lawrence. And for the last couple of years, he has been a Groundhog.
The Groundhogs
Beginning in early 2009, a group of activists — every one of them with personal experience of mental health treatment — began to gather at Dr. Fisher's antique Cambridge house every month or so to push forward the idea of creating peer-run respites in Massachusetts. It was not a wildly radical idea — a handful of states already had them — but it was not business as usual either.
The Groundhogs — so named because they formed around Groundhog's Day, 2009 — gathered information, strategized and built support. On a personal note: they welcomed me to sit in on Groundhogs meetings as a reporter. My overwhelming impression was: This is a group of extremely smart, kind, funny people who happen to have met with major mental illness and been galvanized by it to try to make the system better.
One of the group's leaders, Cathy Levin, told me: "It's important to us that our suffering was not for nothing. It's important to say that we've grown deep, healed and become stronger. Now we have our strength to offer others."
The Groundhogs' idea gained a warm reception from the state Department of Mental Health, which strongly supports the concept of employing "peer specialists" --people who have experience with mental illness and have been trained to help others.
When the department re-procured almost its entire community mental health system last year, it mandated in its contracts that agencies employ some peer specialists.
"Not only are we doing it philosophically in Massachusetts, but we're doing it with teeth as well," Ms. Fowler said. One recovery movement slogan is "Nothing about us without us," she said, and "we completely sign on to that."
The only opposition to peer respites that the department has encountered has come from traditional mental health providers, she said, who see peer respites as "cutting into their business." But while the traditional providers offer great services, she said, they simply do not fit the model: they are not peer-staffed and peer-led.
So what does an alternative to psychiatric hospitalization look like when it is run by "people who've been there?"
Cathy Levin, who is coordinator of special projects at the National Empowerment Center, sketched it out. I've distilled her description into two scenarios: the usual way and the peer respite way.
The usual way:
You feel yourself plummeting into an emotional crisis. Chances are, you call 911 or go to the emergency room. You wait hours. You tell your story repeatedly to one staffer after another: "I need someone to talk to. I feel like hurting myself." You're in a johnny, watched by a security guard. The staffers do a "psych eval" to see if you should be admitted to the hospital, and a doctor — probably a young resident — is deciding your fate. You're asked if you want to hurt yourself or others. If you want to go into the hospital, you know to say yes.
"If there were alternatives, where the staff could be sure people would be safe and cared for, they would not put people in hospitals as much," Ms. Levin noted. "There are not enough in-between areas, between full hospitalization and discharging someone onto the street. and the peer-run respite serves that function beautifully.
Back to your crisis. You're put in a hospital — possibly a distant one, if a bed can be found — and medicated heavily. You spend a week adjusting to the new medications, then your insurance runs out and you're discharged. You struggle to pick up the pieces of your life.
The peer respite way:
You feel yourself plummeting, and you call a "warm-line" that triages people in crisis. A peer counselor decides you're a good candidate for the peer-run respite. (For at least the first year, the Department of Mental Health will control referrals to the peer-run respite, Ms. Fowler said.)
You walk in the door of a little house, and get a tour. If you want to spend a couple of days sleeping, you can; sleep seems to help people through crises, but hospitals tend to require patients to adhere to a strict "program" that includes group therapy and other activities. You have communal meals. The doors are not locked; you can leave to see your psychiatrist or therapist or loved ones. You can even still keep working if you have a job. The staff doesn't tell you what to do. They just talk with you. They're just there with you.
So many questions arise: Is this safe? How do peer staffers take care of their own mental health while serving others? And more. Rather than run on further at this point, I suggest this: Write in your questions or thoughts as comments at the bottom of this post, and if you like, address them to Marcia Fowler, Daniel Fisher or Cathy Levin. We'll pass them all on, and post again soon with their answers — or they can post their replies directly.
This program aired on October 18, 2010. The audio for this program is not available.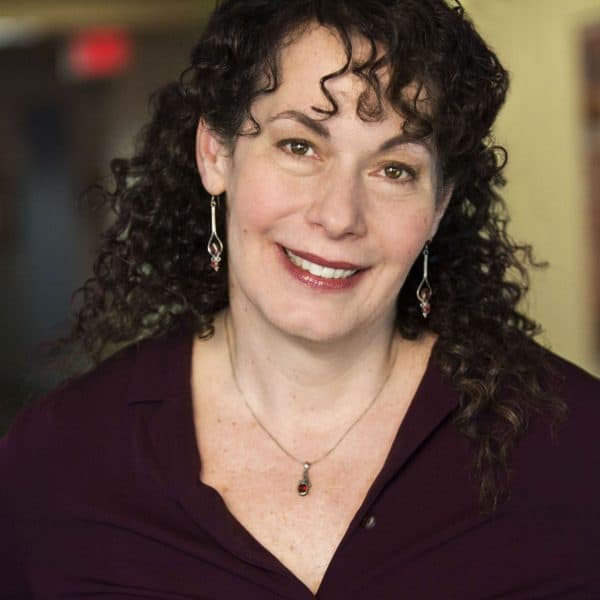 Carey Goldberg Editor, CommonHealth
Carey Goldberg is the editor of WBUR's CommonHealth section.