Mass. Residents Cope With Piles Of Snow And No Power
03:45
Play
This article is more than 10 years old.
Power is gradually returning to most homes and businesses across the state Thursday, following Wednesday's powerful nor'easter. Just under 4,000 homes remain in the dark Thursday morning, but the number appears to be dropping steadily.
At one point during the storm, 110,000 homes and businesses were offline, mostly in the southeastern part of the state.
In the Bridgewater area, a faulty transmission line cut electricity to almost all homes and businesses. At least three shelters were set up for those without power.
Shirley Bradford said she woke up around 3 a.m. Wednesday with a sense that something was wrong.
"The radio wasn't working, 'cause I keep the radio on all night, that's when I realized I didn't have any power," Bradford said. "So I bundled up and stayed in bed."
As the morning wore on, Bradford couldn't fight off the clutching cold. She got up and banged on the wall she shares in Bridgewater's senior housing complex with her neighbor.
The neighbor yelled back, "'Why don't your answer your phone'," Bradford said. "She had been calling me but I couldn't hear anything 'cause it wasn't ringing."
The neighbor told Bradford a policeman would drive her to an emergency shelter.
"He helped me button my coat up," Bradford said fondly. "He put the hat on my head. I said, 'Oh, I look horrible in a hat,' but he stuck it on my head, put the gloves on and said, 'Is every finger in there?' "
Another neighbor, Martha Bell, got a ride, too.
"I wanted a cup of coffee, I wanted to cook," Bell said. "I wanted to take a shower, I wanted to curl my hair. You know, without electricity what do you do?"
You settle in at the Williams Middle School cafeteria where members of the Bridgewater Citizens Emergency Response team hand out hot coffee, snacks and games. Shelter manager, Dennise Caratazzola, said her own family is also coping without power.
"My husband is here and my daughter went to a friend who has a generator," Caratazzola said. "My daughter was cold, and she wanted access to a computer, so they can go on Facebook. Gotta have the computer. Have to have the computer." Caratazzola laughed.
Caratazzola stood next to a pile of board games for kids at the shelter suffering from electronics withdrawal. Gabryella Serrano and her brother Etienne pulled out checkers.
Gabryella said what she misses most without power is..."the TV."
"When's the last time you played checkers?" I ask.
"Ummm, last year," Gabryella said.
"Well, once a year's not bad," I respond.
The storm and power outages did not interfere with one daily routine.
"'Neither rain, nor sleet, nor snow, nor gloom of night,' — Oh yeah we're going out" said Robert Neas, paraphrasing the unofficial postal service creed.
Neas said the roads are fine. His problem is finding businesses that are open for deliveries.
"Unfortunately, nobody went to work, everything's locked up," Neas said. "Looks like I have a check I want to get delivered. Gotta get those checks delivered."
A few intrepid store owners are trying not to lose a day's business. Vinny Patel waits patiently in the cold, quiet darkness of his Town Line General Store. Patel said business is, "Yeah good, very good."
"How do you run the register?" I ask.
"No register, I use a calculator," he said.
"Does it feel funny to be standing here in the darkness?" I ask him.
"Very funny, very funny, yep," Patel said.
But not everyone is maintaining a sense of humor about coping without power.
"I really don't believe that National Grid was prepared for it or attacking this problem the right way," said James Novak, who has been without electricity for 12 hours when I interrupt his shoveling. "The resources they have and we don't have any power — please."
National Grid said they have extra crews working to resolve the Bridgewater area outage. Novak and other residents are waiting for an explanation of the transmission line failure that made storm-related problems even worse.
Earlier Coverage:
This program aired on January 13, 2011.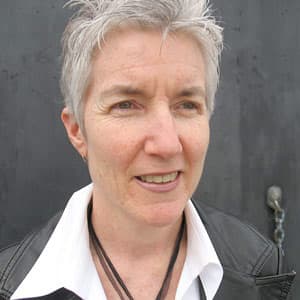 Martha Bebinger Reporter
Martha Bebinger covers health care and other general assignments for WBUR.