Giants' Rising Star Victor Cruz Spotlights UMass Football
05:00
Play
This article is more than 9 years old.
One of the best Massachusetts products to play in the Super Bowl on Sunday will suit up against the New England Patriots.
New York Giants wide receiver Victor Cruz played for the Division 1-AA Minutemen at the University of Massachusetts before going undrafted to the NFL. Now he's a rising star playing in the big game on Sunday.
Cruz said it's weird that he's playing in the Super Bowl against New England, considering that his UMass Minutemen are moving to Division I football next year, and moving their games to Gillette Stadium in Foxborough, the home of the Patriots.
"It's amazing, man. Just to come from where I come from. Being from Massachusetts and the irony of it all, is just amazing," Cruz said.
New York Giants wide receiver Victor Cruz played for the Division 1-AA Minutemen at the University of Massachusetts before going undrafted to the NFL.
Cruz spent four-and-a-half years in central Massachusetts. He grew up in Paterson, N.J., with one parent Puerto Rican, the other African-American.
"Growing up, I always wished I was 6-2. That was always the target height for me. Unfortunately I got to be 6 feet with cleats on," he said.
Cruz had other shortcomings that he could control, but almost didn't before it was too late. UMass made him improve his grades at a prep school before he could enroll.
"You know, at that moment I had no thoughts of the Super Bowl, nothing like that. You know, you're sitting up at Bridgton Academy in Maine, and you're just thinking about what you can do to get yourself in college."
Once he got there, Cruz didn't exactly sail through academic life. UMass kicked him out for dismal grades. But after a stint in community college, he returned to Amherst and excelled enough on the field to get some NFL tryouts as an undrafted free agent.
Last year, he played three games for the Giants without making a grab. This year he broke out, with electric catches and elusive running. He scored nine touchdowns, and danced the salsa after each one. It's made him a star with Spanish-language media.
Cruz has also earned the attention of Patriots coach Bill Belichick.
"Well, Cruz is an outstanding player. He's made a lot of big plays for the Giants, not only down the field but also on catch-and-run plays. He's a hard guy to tackle. He's a good route runner," Belichick said. "He's strong. Whoever we have on him, it'll be a big challenge for him."
Belichick could almost be describing Patriots wide receiver Wes Welker. Welker and Cruz both play in the slot position. They're both relatively short. And they're both undrafted free agents.
Welker said he sees a lot of his own qualities in Cruz.
"Coming from a free agent standpoint, you don't get as many opportunities as a higher draft pick. So every chance you get out there, it's an opportunity, and you have to take full advantage of it," Welker said. "And I think you develop good habits in doing that. Really helps you out down the line, understanding what it took to get there and how you have to keep that edge about you."
That's what Cruz now has to show: that he can stay at this level, that he won't fall short and need second chances, like the ones UMass Amherst gave him.
Cruz won't be the only former Minuteman on the field on Sunday. Cruz says he's been texting with Patriots defensive back James Ihedigbo.
"He actually texted me before the NFC Championship Game, and goes: 'You know, we're going to win our game and you're going to win yours, so I'll see you in Indy.' So here we are, and it's gonna be a great match-up," Cruz said.
A match-up that some of Cruz's old college buddies will be watching back at Antonio's Pizza, his late-night college hangout in Amherst.
"It's amazing to have people, especially everybody at UMass, just watching me and watching everything I do. Just following my career. It's been an amazing journey for me, I don't want it to end," he said.
Certainly not before the Super Bowl on Sunday. Cruz has yet to catch a touchdown in playoffs. He'd like to dance salsa in the end zone.
This program aired on February 2, 2012.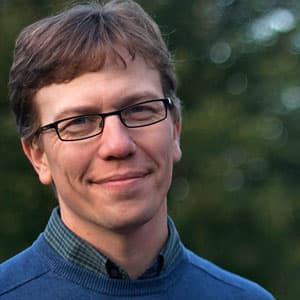 Curt Nickisch Business & Technology Reporter
Curt Nickisch was formerly WBUR's business and technology reporter.