Kerry: A 'Dangerous Time' With Iran; Urges Continued Diplomacy
03:27
Play
This article is more than 9 years old.
One member of the Senate Foreign Relations Committee says the international community should still rely on diplomacy to diffuse the crisis with Iran.
Sen. John Kerry joined WBUR's All Things Considered host Sacha Pfeiffer Monday to discuss the continued instability across the Middle East, most notably in Syria and Egypt, and also involving Iran's nuclear weapons threat. Kerry says it would be unacceptable for Iran to develop a nuclear weapon — not only for the protection of Israel, but because it would spark an arms race in the Middle East.
---
Sen. John Kerry: I believe that until proven otherwise, you hold out hope for diplomatic efforts to try to produce something. The fact is that there is a very real cross-section of interests in Iran. Most people believe there are differences of opinions today between the Supreme Leader [Khamenei] and [President Mahmoud] Ahmadinejad and others in Iran, and there's a tug-of-war going on, I think, for what direction they will take.
But if, indeed, it is critical to many nations that Iran not have a nuclear weapon — and that is the stated policy of Israel, of Arab states in the Gulf region in the Mideast, as well as the United States and the allies of the United States — then you're going to have to be prepared to back that up. And the Iranians, I think, understand that. So this is a dangerous time. It is a time, I hope, for people to be careful about the rhetoric and to allow for the diplomatic possibilities to take hold.
Sacha Pfeiffer: In Egypt, as we know, there are up to 19, possibly more, Americans who work for NGOs who may be subjected to criminal trials, including the son of U.S. Transportation Secretary Ray LaHood. Given that situation in Egypt, how concerned are you about the U.S. relationship with Egypt, this very important political partner in the Middle East?
Well, we're very concerned about it. I've been to Egypt now three times in the last months. I've met with all the top leaders, including members of the Muslim Brotherhood. There's a lot of communication going on with them right now. I just can't tell you how it's going to come out, because it seems to be at the moment that we're in more of a stand-off posture than a resolution posture. Needless to say, it is going to have an impact, ultimately, if they persist in this, on the American people's response to Egypt and to our willingness to continue the kind of aid program we have.
Given all the hope that there had been about the Arab Spring, and to some degree still is, are you surprised by this turn of events?
Not completely, no. I mean, I think we all have to steel ourselves and recognize that that's the nature of a revolution. And I wouldn't be at all surprised to see one or two or three iterations of this revolutionary process.
On Syria, Sen. Kerry, and what seems to be the sustained violence there, the United Nations, of course, tried to pass a resolution that would pressure Syria's president to leave. Russia and China have made that not possible, at least for now. Do you have a sense of anything else the U.S. can do to change what's going on in that country?
Well, yes. I think there's a lot that we can continue to do by speaking out, by organizing with the Turks, with the Gulf states and others who are very interested in the potential of change in Syria. And even though Russia and China have taken this, I think, very historically incorrect position, my hope is that they're going to change. There's talk of a contact group being created that might provide support to the Free Syrian Army and others, and so there are a lot of options still available on the table. And we're going to continue to work with the Gulf states and with other neighbors in the region and with our allies and see what can be constructed here.
This program aired on February 6, 2012.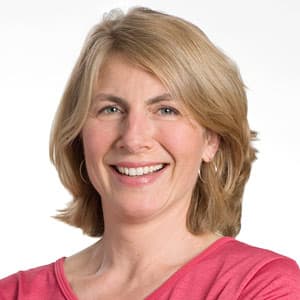 Sacha Pfeiffer Host, All Things Considered
Sacha Pfeiffer was formerly the host of WBUR's All Things Considered.