Heat Forces Some Marathoners To Sit This One Out
05:16
Play
This article is more than 8 years old.
The Boston Athletic Association says 2,500 people sought medical treatment along the marathon route Monday while 152 ended up in local hospitals.
And while the 2012 race turned out to be one of the hottest race days in history, race organizers say it was not as bad as 2004, when hundreds of runners ended up in emergency rooms.
You could see the lessons from 2004, that unexpectedly hot Patriot's Day, all along this year's 26.2-mile course.
"We have four tents throughout the course: one in Natick, Wellesley and two in Newton," said Keith Lindsay, site commander for one of the four mini-emergency room tents the Boston Athletic Association added to the course route after 2004. Lindsay says these air conditioned tents, along with 26 first aid stations run by the Red Cross, offer faster treatment for runners and relieve some of the strain on local hospitals.
"We do have a lot emergency supplies — oxygen, IV therapy, medications — and we have the ability to cool patients in ice immersion tubs and pools," Lindsay said, walking to the corner of the tent where a large gray tub was filled with icy water.
For runners who don't need the pools, there are giant fans blowing mist along the route. The mist is new this year, added as race organizers looked for ways to fight a terribly hot day on the blacktop.
Outside the Wellesley medical tent, EMS commander Dana Gerrans coaxed runners to pause and cool down. "Ice, get your ice, take whatever you need, make it last to the finish line," Gerrans bellowed.
Runners stopped to tuck ice chips into their tops and shorts or plunge their arms into open buckets of ice. By mid-afternoon, this Wellesley tent, just past the halfway point, is the busiest on the race route. It's here that the costumes come off, a clown gets down off his stilts and Charlie Sherman, who's running with a giant toothbrush strapped to his back, stops to have it adjusted.
"You know, I think I won the toothbrush category," Sherman jokes to the EMT who straightens the brush, "and of course I'm running at the back of the plaque."
One runner approaches the tent with a worried look on her face. "I can't really tell if I'm still sweating or not," she said. An EMT confirms that she's stopped, a sign of dehydration. While she's whisked into the medical tent, another patient, Mary Hawkins, from Tennessee, steps out and sits down in the recovery area.
"[I was] nauseous and throwing up, but they took care of me so I'm feeling better now," Hawkins said. "I don't do too well in heat, so I thought, well, it'll be cool up there in Boston, but it didn't work out that way."
Hawkins and Tom Pratt, from Hanover, hope to get back on the course.
"My foot hurts like hell but I feel great," Pratt said as as a nurse taped his foot.
Pratt's among the thousands of charity runners who raised money while they trained the race.
"I'm running for Children's Hospital," Pratt said. "It's a great organization and I don't want to let my patient down."
Linda Ozier, from West Roxbury, sits on a folding chair across from Pratt gripping her legs.
"From the waist up I'm good, but from the knees down, not so good," Ozier said as she waited for a bus ride to the finish line. "It is sad, but that's the way it goes. So, this was going to be a special day, but it's not meant to be."
As these runners recover, the tent fills up.
"We were busy last year, but not like this," Gerrans said. "The dropout rate, if you notice, people are just saying, 'That's it, I'm done.' "
Gerrans pauses and squints at a form about 50 yards away.
"Yeah," he nods to a colleague, "I been looking at that. I can't tell if someone's laying in the road."
Gerans heads off to investigate; turns out there's no problem.
The medical tents treated about 2,500 runners Monday, more than last year and more than 2004, but the total number of runners was much higher this year.
"The BAA did a lot of early notification to ask less experienced runners to stay off the course. Certainly all the logistics, these cooling fans, the proximity of the tents, all the water and ice has to have helped," said Wellesley tent medic Steve Monteiro. "People are looking out for each other. All in all, people are using their heads and it's turning out OK."
Of the roughly 27,000 who registered, approximately 4,300 runners opted not to pound the pavement under the searing sunshine Monday. If they do return next year, more than 1,300 doctors, nurses, EMTs and other medical personnel who volunteer along the course will be there to support them.
This program aired on April 17, 2012.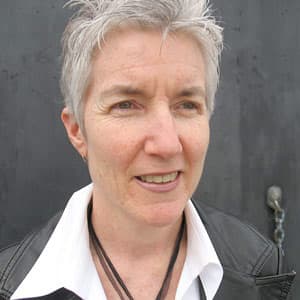 Martha Bebinger Reporter
Martha Bebinger covers health care and other general assignments for WBUR.