'The Life Of Riley': Sharing Some Of Her Joys, Cats And Chickens
This article is more than 9 years old.
This is the fifth and near-final installment in a special CommonHealth/WBUR series, The Life Of RIley: A Rare Girl, A Rare Disease.
In the video by WBUR's Jesse Costa above, Riley shares some of her joys, and discusses how she responds when people ask her about her disease, CLOVES Syndrome. In our final — for now — series post next week, we plan to explore how Riley's family copes with the demands of daily life with a "medically complex" child, punctuated by one frightening medical crisis after another.
---
Riley Cerabona lives with her parents and brother in a cozy gray house by the blueberry plains of Kennebunk, Maine. The family has a dog, three cats and four backyard chickens that give them fresh eggs for breakfast. One of the cats, Mongoose, is Riley's most loyal animal friend.
"Even when I'm crying he runs, jumps on my bed and snuggles with me," Riley said.
The fresh eggs are the good part of breakfast. The bad part is that Riley has to swallow down her morning dose of an oily, rancid-tasting medicine. According to Riley, "It tastes horrible. like moldy peanut butter."
"One of the things that happens with us with this syndrome is that we get told things are OK and then we hear later on, 'Actually no, that's not true.'"

Kristen, Riley's mother
But the nasty flavor may be worth it. The medicine is called sirolimus, and right now Riley is taking it as part of a clinical trial at Children's Hospital Boston. The hope is that her disease can be treated by medicine instead of surgery. Cole, Riley's 12-year-old brother, has watched her endure one operation after another.
"And my first thought is quack, quack, quack, because I didn't think it would be able to do anything, because I had never heard of anything that could treat malformations other than operations," Cole said.
Cole and Riley's mother, Kristen, pushed hard for Riley to join the trial, but even she has her own doubts.
"I really want to be hopeful about this trial, I really do," Kristen said. "I also feel like nothing else has worked, so why would this?"
Finding Out Something Was Wrong
Kristen was 18 weeks pregnant with Riley when she and her husband, Marc, got the first signal something might be wrong.
Kristen had an ultrasound exam, and the doctor said everything looked fine.
"And I'm cooking later that night and it's a phone call and he says, 'We don't know what's wrong but there's something big, like a big mass on Riley's belly," Kristen said.
"She looked like a little, like, linebacker," Kristen continued.
Surgeons removed the growth and predicted it would not recur. But a few months later, another huge lump began to grow, making Riley look like a pregnant toddler. Again, an operation and more reassurance.
"One of the things that happens with us with this syndrome is that we get told things are OK and then we hear later on, 'Actually no, that's not true,'" Kristen said.
When she was 3, Riley developed a dangerous lesion on her spine that paralyzed her arm. At the age of 5, she needed another spinal operation that took 14 hours. It left her struggling to breathe and unable to walk. This ordeal led to her greatest triumph.
"The best moment was when I walked from my doorway to my bed, in the 2008 surgery, which was when I couldn't walk very well," Riley said.
After 16 operations in her nine years, Riley approaches each medical challenge with hard-won wisdom — and acceptance.
"You're gonna get through it, and you're gonna have to potentially do this at one point, so just relax and do it, and it'll be over," she said.
CLOVES
At Children's Hospital Boston, where Riley has had all her operations, the staff knows her and her family well. And it's here that her syndrome, CLOVES, was first defined.
"CLOVES is a very unusual collection of symptoms; to try to explain how one biologic process would explain all of those is fascinating to try to uncover," said Dr. Cameron Trenor, who's overseeing Riley's drug trial.
In 2006, Trenor's colleague at Children's identified a small but growing number of patients with the same constellation of symptoms as Riley.
"So you're born with overgrowth of fat tissue — big lumps — there are abnormalities in the way blood vessels are formed, and then there are problems with the spine," Trenor said.
Now the doctors at Children's are exploring a possible alternative to surgery.
"I'm sort of the cheerleader for doing drug trials," said Dr. Steven Fishman, one of Riley's surgeons, "because those of us, like myself, who cut things off, we're hoping for more modern things than these crude things us surgeons do."
Fishman said he's also a cheerleader for Riley's family, and their coping skills in the face of one medical crisis after another.
The Cerabonas, A Resilient Family
"They just have incredible resilience. I've noticed that parents who are resilient end up having kids who grow up being able to cope with their physical challenges they were given through no fault of their own," he said.
For their part, Riley's parents don't pretend it's easy, the extreme parenting involved in caring for a "medically complex" child.
"We're just used to the drama," Kristen said. "In some ways that makes it easier, in some ways it's just really depressing that we know what it's like and we have a repertoire to deal with it."
Part of Marc and Kristen's repertoire is the dark humor they share about all they've been through.
"Hello, terror, come and sit with me again," Kristen said, laughing.
And you can hear how they support each other, even in a story Marc tells about the frightening aftermath of Riley's riskiest operation.
"And it's late at night and the only doctors there are the fellows..." Marc said.
"Who are not moving nearly quickly enough for me..." Kristen continued.
"Who are not moving nearly quickly enough. So this is when they learned a lesson, which is you don't put Kristen off when she wants some answers!"
As for Riley, Marc said her ability to express herself helps him cope.
Marc said that Riley has missed out on a lot because of her condition. But ultimately: "She gets to be her, and she's a smart, talented little girl and her health is just one thing about her, it's not who she is."
Riley describes her own life much the same way.
"It's sometimes difficult but it's also fun, because there are so many things that are fun and are good in my life," she said. "I like to do art, I like to do singing, I like to do dance. I'm glad I have family, I'm glad I have friends, I'm glad I have all the pets."
So, unless some complication disqualifies her, Riley will continue in the experimental drug trial at Chidlren's for the rest of the year. So far, she's tolerating the medicine well. She and her family are keeping their fingers crossed.
"I sometimes feel like I'm hopeful, but sometimes I'm like, 'Hmm, I wonder,'" Riley said.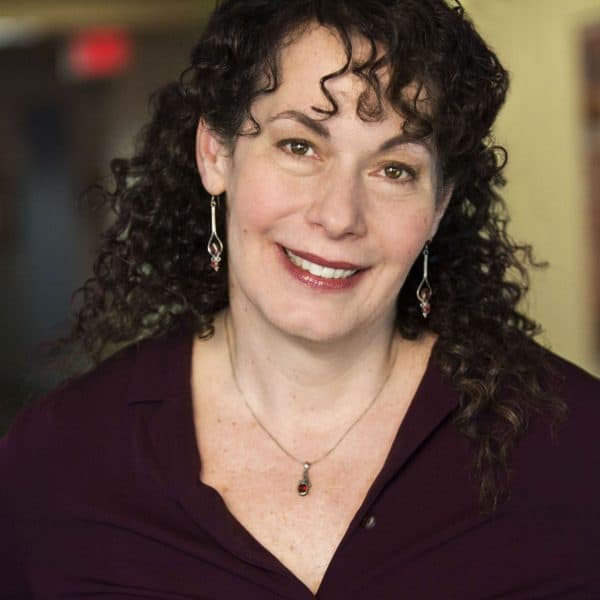 Carey Goldberg Editor, CommonHealth
Carey Goldberg is the editor of WBUR's CommonHealth section.