Needham Celebrating Gymnastics Gold Again
03:30
Play
Try as some residents might, the town of Needham is having a hard time avoiding the latest from London before watching Tuesday night's broadcast, and they have more reason to celebrate. Their Olympic gymnast, Aly Raisman, won gold Tuesday for her floor routine and a bronze medal on the balance beam. That follows the team gold last week.
"I ran out into the office and said, 'Aly won the gold! Aly won the gold!' to our bookkeeper and secretary. And they said, 'We know. You're nine minutes late,' " recounted Needham High School principal Jonathan Pizzi. He couldn't hold it in once he read the news on his phone. His coworkers had managed to keep it quiet. Pizzi's former student, Raisman — who graduated this year — had just won another gold medal in gymnastics.
"It's really surreal," Pizzi said.
This time, Raisman won for her floor routine. She also captured a bronze on the balance beam — a week after her team, which she captained, won gold.
Pizzi said the awards couldn't have come to a more deserving person.
"She's always very modest, very polite, and is very hard working," he said. "Never once did she try to use her extensive schedule as an excuse for anything or as a means to maybe get out of an assignment or something. She always did everything that was expected of her. She's quite an incredible young woman."
In downtown Needham, Taylor's Stationery is decked out with signs in the windows congratulating Raisman and is selling "Needham Loves Aly" T-shirts. In the midst of all the excitement, 15-year-old employee Annie Malloy was trying, hours after Raisman's win, to not to find out the news.
"Some people want to blurt it out and I'm like, 'Ahh! I don't want to hear!' It's exciting, and I like to watch it at night," Malloy said.
But her boss, Jack McQuillan, said someone else from my industry spilled the beans to him. That's OK, though, he added, because it makes watching later less stressful. And, he pointed out, he was plenty proud of Raisman before today's events — when she came in fourth in the all-around.
"You're still fourth in the world. I mean, that's pretty exciting," McQuillan said. "So this finish is just unbelievable. And she should be so proud of herself, and her family should be equally as proud."
Across the street at Treat cupcake bar, employee Hunter Dicarlo has been following Raisman's tweets throughout the games and is feeling proud. She's known Raisman for seven years.
"You go to school with her and each year she kind of like took less and less classes actually in school, so it's like really exciting to see that it actually brought her somewhere really far," Dicarlo said. "And we all hoped. I remember freshman year she was in my biology class, and she was like, 'My biggest dream would be to go to the Olympics,' and we're like, 'Yeah, you're probably going to go.' So it's great to see that she's winning."
"I'm ecstatic. I mean, it's great that she won her individual gold, and it's just really exciting," said 13-year-old James Benner of Needham, who was spending the afternoon with his mom and brother at the Rosemary pool. Benner said Raisman's wins give him a little more inspiration in his short track speed skating.
"Like anyone in a small town, I know Needham is not a really small town, but it just shows that anyone can do it if they try for it," said Benner.
That small but not-so-small town is now planning a big celebration for Raisman. First, though, they have to find out when they can fit it into the very busy calendar of their Olympic champion.
This program aired on August 7, 2012.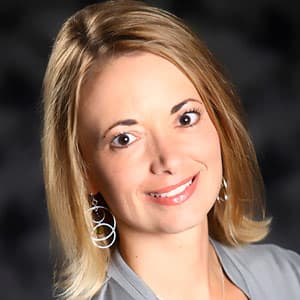 Lynn Jolicoeur Producer/Reporter
Lynn Jolicoeur is the field producer for WBUR's All Things Considered. She also reports for the station's various local news broadcasts.