Casino Mogul Wynn Tours Site In Everett
02:47
Play
This article is more than 8 years old.
A big-name Las Vegas casino developer is still interested in building a casino in Massachusetts, despite a major setback in one community here.
Steve Wynn was back in eastern Massachusetts Wednesday, this time to explore a possible deal in Everett.
Wynn says he wants to expand his gambling enterprise into Massachusetts, but only under the right circumstances.
Voters in Foxborough rejected a Wynn plan for a casino in that town. And he says his company will only go where the community supports it.
Wynn toured a 30-plus acre site with Everett Mayor Carlo DeMaria Wednesday.
Speaking at a news conference with the mayor, Wynn made no commitment to build a resort casino there, but he did make a a strong pitch for it.
"I'll remind you that my company has a 45-year history of developing destination kinds of hotel developments that have casinos in them," Wynn said. "That's who we are, we haven't been a riverboat or a racino company in our 45-year history because I understand hotels and recreational development."
Eastern Massachusetts is designated as the location for one of three casino licenses. And until this week Suffolk Downs in East Boston was the only formal applicant for that license.
A Wynn proposal in Everett would create the competition in the region that the Massachusetts Gaming Commission is hoping for.
DeMaria described Wednesday's conversation with Wynn as very healthy. He touted the potential economic opportunity.
"But at the end of the day I want to make sure that my community is behind this 100 percent," he said. "Until they all can be behind this 100 percent, they need to know what that agreement is."
Some in the city fret about potential problems and traffic and infrastructure needs a casino might create.
City Councilor Michael McLaughlin represents the district where the site is located.
"It's a tremendous opportunity for the community as a whole," McLaughlin said. "There's a lot of great benefit. But there are some concerns that we need to address. The traffic and the parking concerns are definitely a concern. The lower Broadway area is definitely a congested area. We need to address those concerns. But I believe that Mr. Wynn coming here today to the city of Everett shows how committed he is to doing what needs to happen."
DeMaria said he hopes to work out a plan over the next month and have more details by the end of January.
The proposed waterfront site is privately owned. It used to be home to a chemical company. Wynn said the current owner would have to clean it up before it's sold.
This post was updated with the All Things Considered feature version.
This article was originally published on November 28, 2012.
This program aired on November 28, 2012.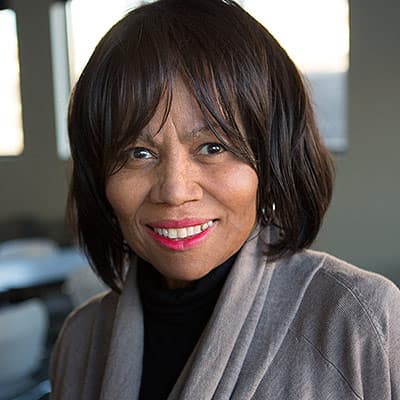 Delores Handy Reporter
Delores Handy was formerly a host and reporter at WBUR.