In Interview, Alleged Mattapan Gunman Maintains Innocence
04:53
Play
This article is more than 8 years old.
The lone survivor of the so-called Mattapan Massacre is expected to testify Monday as the state resumes its case in the retrial of one of the suspects.
Five people were shot in the early morning hours of Sept. 28, 2010, in a drug robbery that turned deadly. Four of the victims died, including a mother and her 2-year-old boy.
WBUR's Delores Handy recently went to the Suffolk County Jail in Boston to interview the man on trial, alleged gunman Dwayne Moore.
---
BOSTON — Dwayne Moore is on trial again. He faces four counts of first-degree murder. His first trial ended in a hung jury for Moore, and an acquittal for his co-defendant, Edward Washington.
Moore claims he'd never even met his co-defendant before that first trial.
"I first seen Eddie Washington the first day, right before, um, right as we were beginning for trial and it was pertinent that we had to come in together for the last motions," Moore said. "That was the very first time. ... I just knew they had arrested someone else. ... I don't know this person I'm sitting next to, but yet the commonwealth is spending millions of dollars, at least I know for myself, trying to convict innocent people."
Moore says he did know one of the victims of the murders, Simba Martin. Moore says Martin, whom he calls Sim, befriended him when Moore was staying at a homeless shelter, looking for a place of his own. Moore had just completed a 15-year prison term for involuntary manslaughter.
"Me and Sim was talking, I told him that's where I was at," Moore said. "I said, 'I mean I really want my own.' He said, 'Well, listen, you can come stay here sometime too if you want, you know what I'm saying, you're welcome as my guest.' So I took him up on that every now and then."
Martin was one of the men forced to strip naked that 2010 night in Mattapan, and then marched out of his home, around the corner, and shot dead.
"This is someone that I really cared about, this is someone that I've talked to," Moore said, "had genuine conversations of substance with, uh, and for you to turn around and say because his phone number is inside my phone and because I did try to get in contact with him that night, that this is the reason why I'm responsible for him being murdered."
He added: "You have the whole world, the whole entire world believing that you was responsible for something that you wasn't. That is so heavy. That is literally so heavy."
At the time of the murders, Moore was living the next street over from Martin and working at the Pine Street Inn.
In the first trial and in his retrial so far, prosecutors have not presented forensic or ballistic evidence tying Moore to the murders.
The state is linking Moore to the murders based on his cellphone calls in the hours surrounding the murders. And prosecutors are relying on two men who were at the crime scene that night to testify against Moore. One is Kimani Washington, an admitted career criminal, who admitted to participating in the robbery and who struck a deal with prosecutors that he would get a 16- 18-year sentence. The other is the shooting victim who survived as a quadriplegic, who on the night of the shootings — and in the first trial — said he did not know who shot him.
Moore insists there is no valid evidence against him and says he did not commit the crime.
"I mean, just to the victims' families, if no one else listens, I really urge them to listen to the evidence, listen to the evidence, don't hate me because of what the commonwealth is saying, listen to the evidence, and if the evidence is telling y'all and proving to y'all that I'm the one that did all this stuff, then hate me.
"I know the evidence doesn't," Moore added. "Nothing points to me. ... I'm innocent."
Moore, now 35 years old, did not testify in the first trial. And there's no decision yet on whether he'll take the stand in this one.
And this is what he said when asked why he's doing this interview:
In light of all the media and the press, everyone is, you know, constantly beating me down. The family members believing the fact that I had something to do with harming their family members, even in the face of cold, hard evidence that not suggests, but proves, otherwise.
Moore has been held at the Suffolk County Jail since his arrest in 2010. If convicted of the charges against him, he faces life in prison without the possibility of parole.
This program aired on December 3, 2012.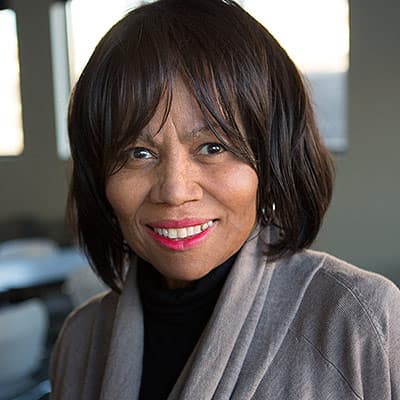 Delores Handy Reporter
Delores Handy was formerly a host and reporter at WBUR.