Thornton Wilder's 'Our Town' Comes Home
07:01
Play
This article is more than 8 years old.
When Thornton Wilder's "Our Town" premiered in Boston before heading to Broadway in 1938, it tanked. Now it's a classic.
Seventy-five years later, the play about life, marriage and death in a quintessential New England town is back. The Huntington Theatre Company opens the drama Friday night with a large cast of local actors playing the citizens of Grover's Corners. It's part of director David Cromer's ongoing mission to challenge our long-held notions about "Our Town."
Cromer, the recipient of a MacArthur Genius Grant, has come up against a common response when he tells people about his re-imagined production of the famous work:
"I know what that is, so that can't get me."
Well Cromer bets it can.
Revisiting A Classic
If you're like a lot of us you probably read "Our Town" in high school. Or maybe even had a role in a community production. It's said to be the most read, most produced play in America.
There's also the 1940 film version in which the all-seeing, fourth-wall-breaking narrator — called the stage manager — speaks directly to us as he introduces the residents of Grover's Corners, N.H., circa 1901.
"There's Mrs. Gibbs coming downstairs to get breakfast," he explains like a tour guide. "Later on, about 1910, she's going to visit her daughter Rebecca in Canton, Ohio. Mrs. Gibbs is going to die there. Pneumonia. But she's going to be brought back here and she's going to be buried in the cemetery right here in our town with a whole mess of Gibbes and Herseys."
"I kind of like that movie," Cromer said. "I think it has some of the edgy spirit of the play."
"'Our Town,' and all of Thornton Wilder, does very well when times are raw, and we live in raw times."

Tappan Wilder, nephew of playwright Thornton Wilder
"Edgy" isn't one of the adjectives people usually choose to describe "Our Town." They're more apt to use words like folksy, charming, sleepy, quaint, nostalgic.
The word Cromer strives for is authentic. His unadorned, updated production digs deep into the characters and their struggles to strip away preconceived beliefs that define "Our Town" as a well-worn, American chestnut.
It is a classic tale, though. Boy courts, then marries, the girl next door in a tight-knit town. Emily Webb and George Gibbs are the high school sweethearts. But then there's Simon Stimson.
"I assure you Simon Stimson feels no nostalgia for his time in Grover's Corners," Cromer explained. "Simon Stimson was profoundly miserable. There's nothing nostalgic about that."
The director said Stimson is the first hint of darkness and dissatisfaction in Grover's Corners. The choirmaster drinks too much and is not cut out for small town living.
Nael Nacer plays Stimson in Cromer's production. He even learned to play the piano for his part.
"And you really get the heart of Simon in that music," the actor said. "He's expressing his agony and his sadness and his rage."
The 31-year-old read the play in college, but said at the time it didn't speak to him.
"I think it was youth. When I got cast in this I read it again, and it broke my heart," Nacer said. "And we started rehearsing the play and it became very clear that David Cromer's vision for the play was instantly something that I related to and could appreciate even though I'm from Paris. I'm from a big city that's not in America."
Nacer's been working in Boston for 12 years. He's one of about 30 local actors in the new production.
"They know each other," Cromer said of the homegrown casting. "They live in a community and they're portraying a community. Now, that's the case with any play, but this play forces you to discuss and think about the really basic dynamics of how people live in a community. And so on a real subliminal level, I think it informs the show."
Actress Therese Plaehn, 32, agrees.
"I mean I grew up in Scituate, so I feel a real sense of community," she said.
Plaehn plays Emily in "Our Town" and knows the New England-set work well.
"I memorized the play when I was in high school and so that's been kind of an interesting challenge. I can sort of hear my 17-year-old self sometimes," Plaehn said. "It always felt strangely familiar, and maybe that's because my parents are from Maine, and visually I sort of picture my grandfather's house."
Even with that familiarity, Plaehn said being in "Our Town" as a grownup is very different, and a little scary.
"It's so complicated and I think that's what I've been learning since rehearsals have started, that I thought I knew this play," Plaehn said.
'The Great American High School Play'
"'Our Town' has always been associated, particularly in the public mind, as the great American high school play," said Tappan Wilder, nephew of playwright Thornton Wilder. "And from the critical point of view, I think because of that association, it got a chocolate milkshake reputation."
Wilder rejoices whenever a professional theater takes on the play. He's executor of the writer's estate, and has seen Cromer's previous, much-raved about productions of "Our Town" in New York and California, staged in the midst of the recession.
"'Our Town,' and all of Thornton Wilder, does very well when times are raw, and we live in very raw times," Wilder said. "I think David Cromer is one of those key players who has discovered the depth and complexity and loneliness and all the dark side of 'Our Town,' as well as the human side, and given it a special life in our time."
And now the play is being reanimated on its home turf: New England.
"It will be very interesting to see the play done in the mythic locale in which it was placed," Wilder mused.
Coming Home
David Cromer thinks so. In one more bid for authenticity the director cast himself as the controlling stage manager (through December). It's pretty clear Cromer feels a deep sense of connection to "Our Town."
"One of the reasons it's so produced, and one of the reasons it doesn't leave our life, is not because eh, it's fine. It's because it's actually exquisite," Cromer said. "And also because, like any great piece of writing, 'Our Town' deals with things that are timeless and undeniably universal."
The play also raises a big question: whether we human beings realize life while we're living it.
To that David Cromer quoted a line Emily Gibbs delivers in the play's heart-wrenching final scene: "It goes so fast. We don't have time to look at one another."
This program aired on December 7, 2012.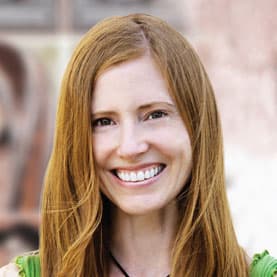 Andrea Shea Senior Arts Reporter
Andrea Shea is WBUR's arts reporter.