Getting An Unexpected, Close Up Look At Border Security
06:05
Play
This article is more than 8 years old.
A routine trip home from a brief vacation in Canada turned into a bit of an adventure for WBUR's Steve Brown. Here's a lesson you might draw from his adventure: If you share a name with someone wanted by law enforcement, you may run into some trouble at the border. Steve picks up the story in Maine, where he got an unexpected and close-up look at U.S. border security.
After a perfect and worry-free trip to Saint John, New Brunswick, where I had some delicious meals, did some sightseeing, and met up with relatives, I handed my passport to U.S. Customs agent at the border in Calais, Maine, and alarms started going off.
I was told by the agent he had to do some things that were going to be very embarrassing. I was instructed to get out of my car and walk slowly to the rear of the vehicle. The officer told me to place my hands on the back window as he gave me a quick pat-down. The officer, who was professional and courteous the entire time, told me to place one hand behind my back and then the other, as he placed a set of handcuffs on my wrists. As this surreal scene unfolded, I knew I had to find out why this was happening to me.
"Unfortunately when we are out there on the land borders, at the various crossings, we really don't know who's coming at us," said Kevin Weeks, director of field operations for the U.S. Customs and Border Protection in New England. "And so we get a quick alert, based on some very preliminary information."
While at the border, I was paraded through a waiting room with long lines of people waiting to process their papers, my hands cuffed behind my back. Everybody was looking at me as if I was some sort of a criminal — probably thought I was, that I had robbed a bank or maybe murdered somebody. I was then told to sit down on a granite seat near a window in this large room as the border officers began typing frantically into some computers.
"Once the issue is transferred to what we call our secondary area, then we can do some more research and we will have much more information off of your travel documents and other identifying pieces of information," Weeks explained.
Weeks sat down with me after I returned to Boston. He refused to speak to the specifics of my detainment at the border, citing agency policy. He did allude to what sometimes can happen when that preliminary information gleaned from my passport looks very similar to information in the agency's criminal databases.
"Once we have more time to reconcile that information, date of birth, things of that nature, then it gives us a comfort level that this is the individual that we're not looking for," Weeks told me.
And as I knew from the beginning, I was not the individual they were looking for.
After about 15 minutes an officer removed the handcuffs and told me that next time he'd use them on a "real bad guy." They returned to me my passport and pocketknife, and told me I could be on my way. But still it troubled me that I — an individual who never as much got a speeding ticket — would be handcuffed and perp-walked through a crowded customs hall.
"I was a bit surprised to hear the fact that you were put in handcuffs," said Northeastern University law professor Daniel Medwed. "But nevertheless, since the origin of the republic, even before the passage of the Fourth Amendment, the first Congress provided the sovereign with the right to conduct border searches."
Medwed says Customs and Border officers must have reasonable suspicion to go beyond a routine search.
"Clearly, there was a mistake. Your name, which is a relatively common one — Steve Brown — and your date of birth, presumably triggered something in their database. Maybe there's a Steven Brown, meets a similar demographic profile, who is wanted for something. Who's been arrested, or maybe there's a warrant," Medwed said. "So, based on those facts, perhaps the authorities had reasonable suspicion, even though it was flawed. There was a mistake in the system. Had the system been accurate, perhaps somebody who had been a threat to the country might have been apprehended."
So while still perturbed to have been placed in handcuffs by my government, I'm assured it is very rare. Customs and Border Protection claim they don't know how many people like me are detained. One officer in Calais mentioned to me it happens there about three times a week, however officials will not confirm that figure.
Official statistics show that of the more than 1.6 million people who entered the U.S. through the port of Calais, Maine, in fiscal 2012, about 50 actual arrests were made for various offenses. Still, if being detained in handcuffs can happen to me, it can happen to anyone, especially if you share a name with a wanted criminal. That's a fact that isn't lost on field director Weeks, who just happens to share the same name as James "Whitey" Bulger's longtime aide-de-camp. Weeks says detainees are placed in handcuffs to keep a situation from getting out of control.
"Really, the use of handcuffs is to keep the circumstances of why that person is being detained, and to deescalate what could be a very escalated discussion, very animated. Could even cause some unanticipated actions being detained which would cause a response by the officers," Weeks said.
The government has not told me exactly why I was detained in handcuffs or who, if anyone, they first thought I might have been.
Weeks assures me now that Customs and Border Protection has a little more information about me, it is highly unlikely I would be put through this again next time I re-enter the country. As a little extra insurance, I have his business card paper clipped to back cover of my passport. I may want to return to Canada for a visit sometime in the future, but I'll never cross the border back into my home country without reliving this experience.
This program aired on December 26, 2012.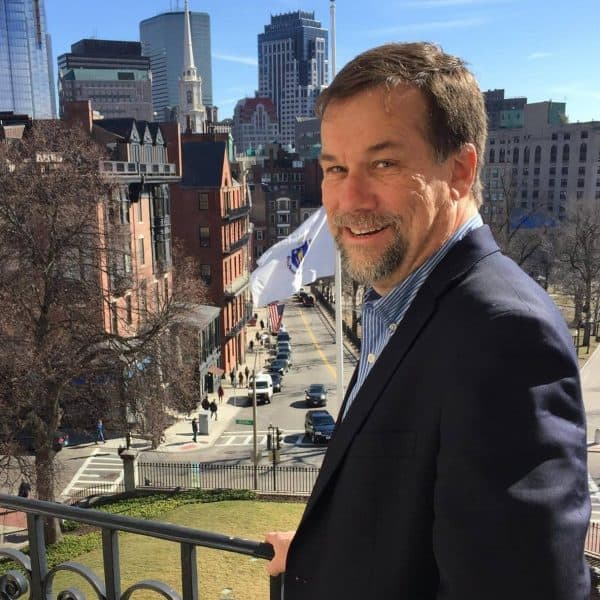 Steve Brown Senior Reporter/Anchor
Steve Brown is a veteran broadcast journalist who serves as WBUR's senior State House reporter.